FENTON GIFT SHOP
SPECIAL OFFERINGS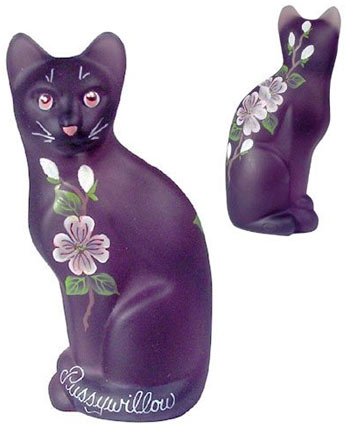 160007
5'' Featured Artist
Limited Edition Pussywillow Cat
$80.00, Buy Now!
Internet Exclusive - This Limited Edition of 15 pieces was designed and handpainted by Featured Artist Susan Bryan. The Aubergine Satin cat with a "Pussywillow" design is numbered.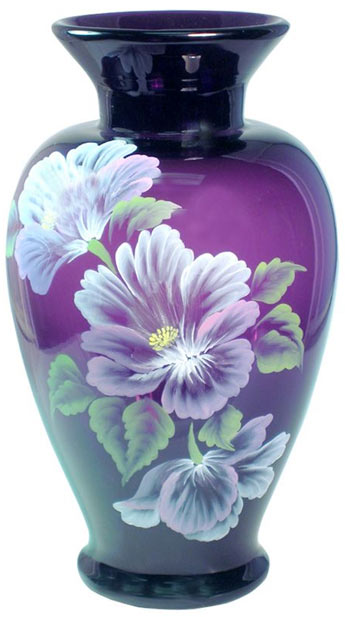 220012
13'' Aubergine Handpainted Vase, $149.50 Buy Now!
This 13" Aubergine Vase with a beautiful handpainted floral design will be a standout in your Fenton collection. The large vase is sure to attract the attention of guests who see such a stately piece in your home.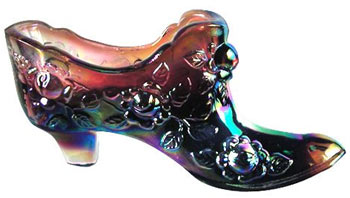 Z9295IP
6'' Plum Opalescent Iridized
Rose Slipper, $24.75, Buy Now!

If the glass slipper fits, add it to your collection! This iridized Plum Opalescent Rose pattern Slipper (6" long) proudly displays the Fenton USA logo that will be on pieces made in Williamstown, West Virginia. Produced as a 2008 Fenton Gift Shop Exclusive.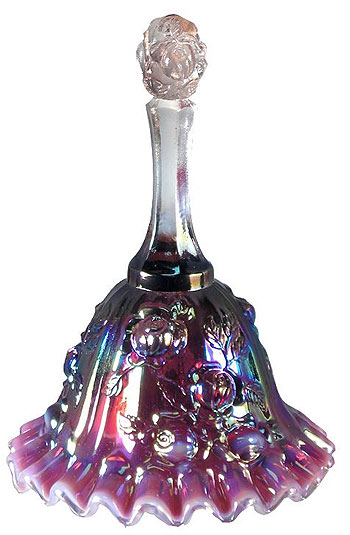 Z9262IP
6-1/4'' Plum Opalescent Iridized Rose Pattern Bell
$37.25
Here's a real bell ringer of
an item
in iridized Plum Opalescent glass! Our Rose pattern 6-1/4" bell is beautifully crimped and iridized with a spray of metallic salts to create a most vivid effect. Produced as a 2008 Fenton Gift Shop Exclusive.
Fenton USA Presents. . . Limited Edition Nautilus Vase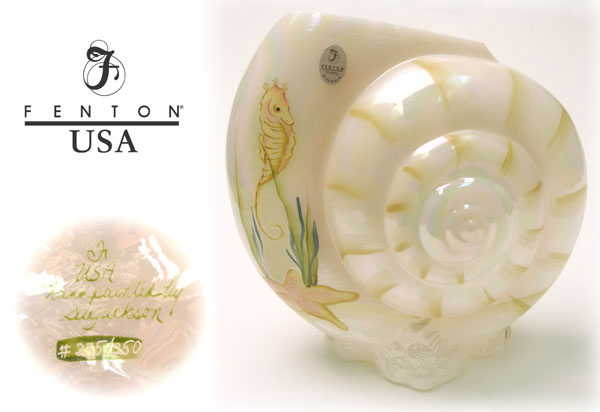 Our Limited Edition Nautilus Vase in iridized Opal captures all the beauty within the ocean! A spray of metallic salts creates the iridescent finish that resembles the Mother of Pearl look found on seashells. This magnificent 7-1/2'' vase features designer Kim Barley's beautiful handpainted underwater motif with a seahorse and a starfish amongst sea grasses.
Similar decorations were favorites of Frank M. Fenton, son of our company founder. Small shells on the bottom of the vase are part of the mould. This Nautilus Vase is handcrafted from an original Cambridge mould which Fenton purchased from the Imperial Glass Company in the mid-1980s. Produced as a Limited Edition, each vase is numbered and personally signed by the artist who handpainted it. We only have a dozen vases remaining in our inventory! Click on the image for details or click here to view items from our Fenton USA 2009 product line.
Internet Special: Fenton Glass Especially for QVC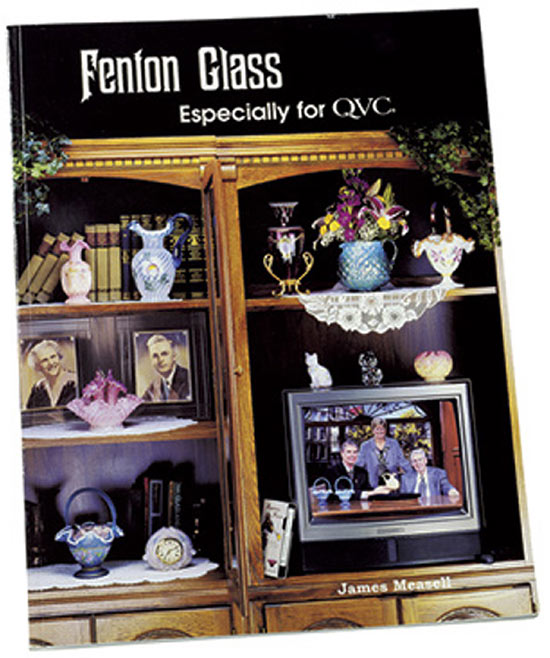 If you've purchased Fenton items from QVC or just want to learn more about Fenton and QVC, we have an excellent reference book for you! Fenton Glass Especially for QVC illustrates items sold on QVC from 1988 through August 2002.
More than 1,350 items are shown in this 176-page book which has 96 pages in color. Click here or click on the image to order. Now $24.95 postage paid!
Fenton eBay Auctions...
Own a unique Fenton creation, including one-of-a-kind pieces, through our weekly eBay Auctions! Items featured this week...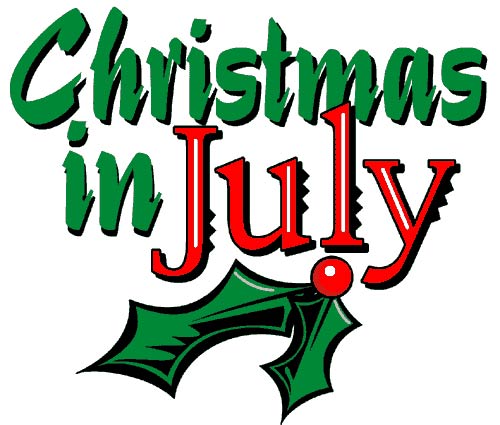 Click on each image for details on this week's Christmas in July Specials!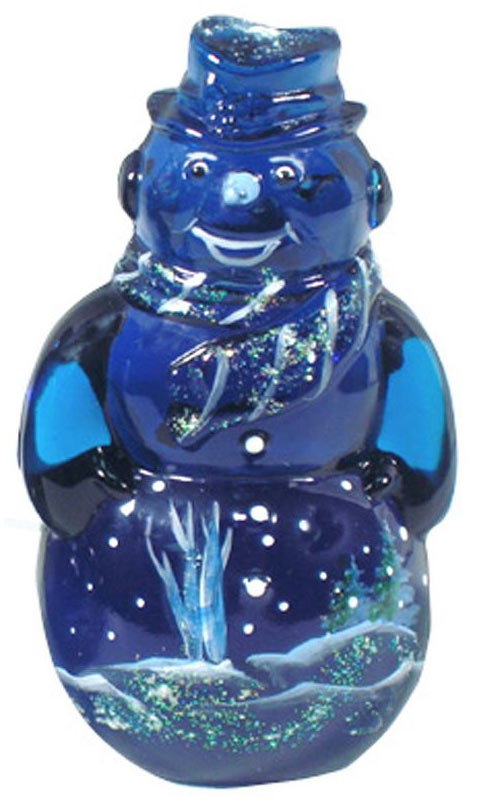 Z5268KH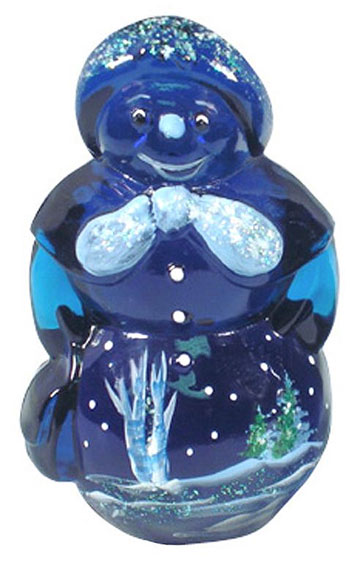 4'' Indigo Blue
Silver Birch Snowman
One week only!
Original price $39.50
Now $30.00
Z5269KH
4'' Indigo Blue
Silver Birch Snowlady
One week only!
Original price $39.50
Now $30.00
A shimmering winter wonderland on Indigo Blue! Our new Gift Shop Exclusive Snowman
and Snowlady feature a wintry scene of birch trees
and newly-fallen snow glittering in the moonlight.
NOTICE: Due to a long wait list, a second Glassmaking School will be held on Thursday August 6 at 6:30 am. Limited tickets are still available. Buy now http://www.fentongiftshop.com/glassmakingschool2009.htm

NEW! Fenton Glass Beadmaking Schools: Tuesday, Aug. 4 at 11:30 and Thursday, Aug. 6 at 11:30. Fee $75. For details and tickets contact jena@fentongiftshop.com