FENTON GIFT SHOP
SPECIAL OFFERINGS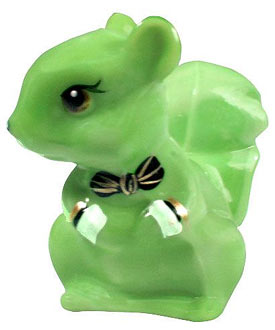 Z5215HPB
2-3/4'' Chameleon Green Squirrel
with Bow Tie
$32.00
Buy Now!
Handpainted with a charming bowtie and cuffs, this delightful Chameleon Green squirrel features beautiful green color variations that make each piece a one-of-a-kind treasure.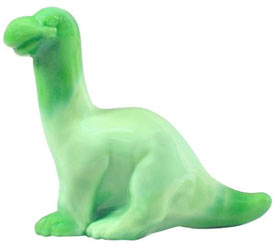 Z5056XE
3-1/2'' Chameleon Green Dinosaur
$27.50
What could be cuter than a Chameleon Green Dinosaur? Produced as a Gift Shop Exclusive, this piece is a perfect addition to your critter collection.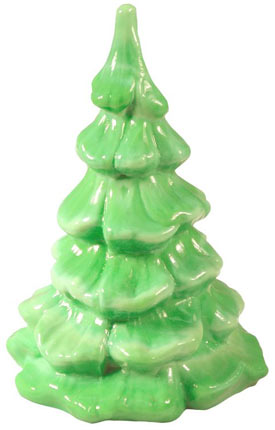 Z5535XE
6-1/2'' Chameleon Green Tree
$28.25
Buy Now!

A favorite shape with collectors, this lovely Chameleon Green Christmas tree features the beautiful green color variations of this unique color. A perfect complement to your holiday decor.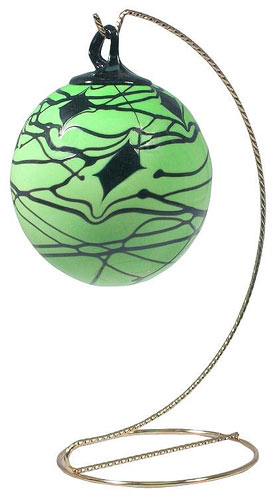 260051
4'' Dave Fetty
Black and Chameleon Green Ornament
$100.00
Our Black and Chameleon Green glass colors combine perfectly in this handsome ornament created by master glass artisan Dave Fetty. The diamond design and random threading are Dave's special touches. Each ornament is about 4" in diameter and comes with an attractive display stand. Dave Fetty personally signed each ornament "Dave Fetty 08".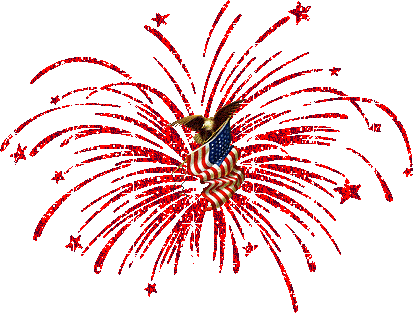 Happy July 4th from All of Us at Fenton!
Fenton USA Presents. . . Family Signature Ginger Jar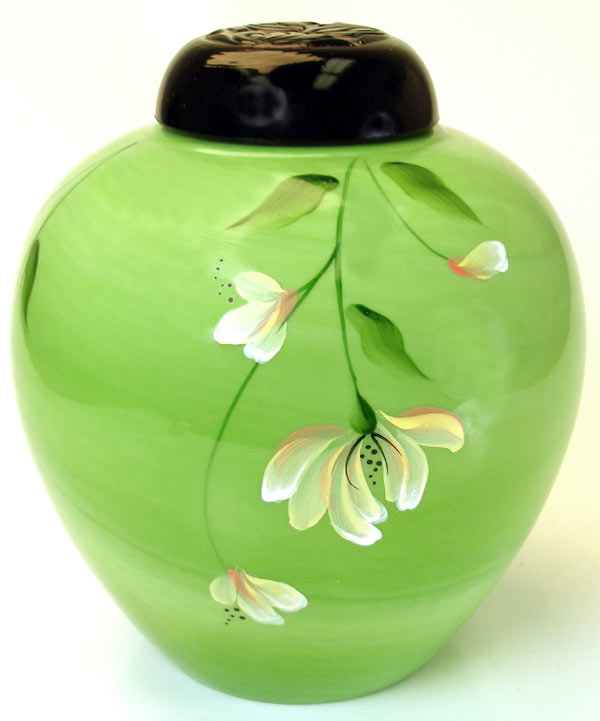 We have a very limited quantity of this elegant Ginger Jar handcrafted in our Chameleon Green glass. Fewer than a dozen remain!
This 7'' Ginger Jar, topped with a
lid in our lustrous Black glass, is handpainted in a beautiful floral design by Michelle Kibbe. The bottom of the Jar is inscribed with the signature of Nancy Fenton. The original mould for this Ginger Jar was made in the 1930s, so you can own a piece of history with a contemporary look!
As its name implies, our opaque Chameleon Green glass features subtle color changes amidst the characteristic striations of this interesting hue. Our first factory manager, Jacob Rosenthal, developed an opaque Nile Green before he joined Fenton, and it became a collector favorite. We're pleased to offer this contemporary version of his original color. Click on the image for details or click here to view items from our Fenton USA 2009 product line.
Internet Special: Fenton Glass Especially for QVC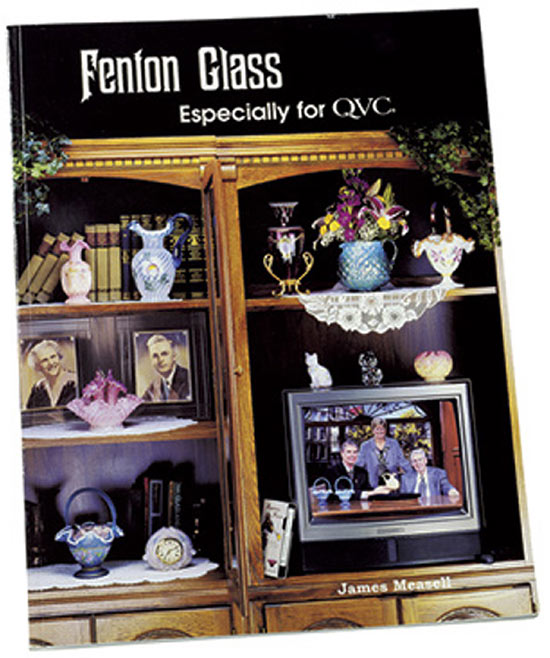 If you've purchased Fenton items from QVC or just want to learn more about Fenton and QVC, we have an excellent reference book for you! Fenton Glass Especially for QVC illustrates items sold on QVC from 1988 through August 2002. More than 1,350 items are shown in this 176-page book which has 96 pages in color. Click here or click on the image to order.
Originally $36.95, now $24.95 postage paid!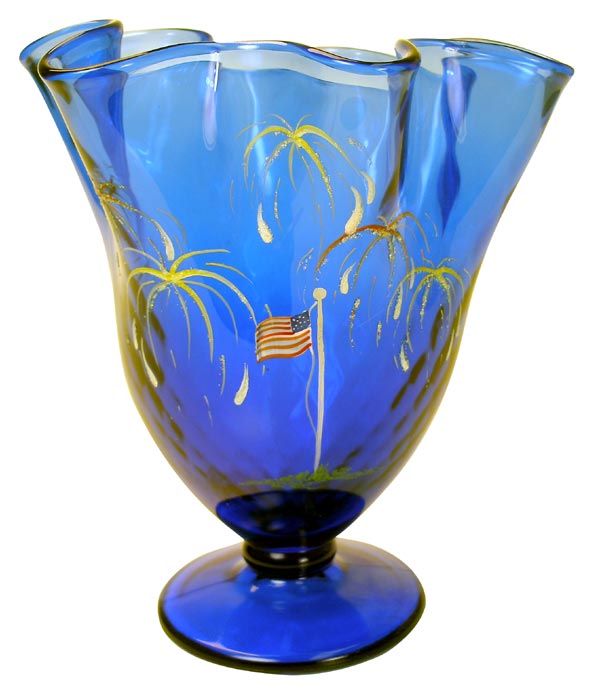 Watch Fenton on QVC July 4th!
Tune in to QVC on July 4th to watch guest host
George Fenton introduce this patriotic tribute to America! Our Cobalt Blue is a perfect canvas for Michelle Kibbe's handpainted American flag and fireworks design on this footed Swung Vase.
For a preview of all items to be featured on the shows, click here! To view Fenton USA items currently available on QVC.com, click here.
Fenton eBay Auctions...
Own a unique Fenton creation, including one-of-a-kind pieces, through our weekly eBay Auctions! Items featured this week...
CV53613
6'' Aquamarine Flip Vase
Original Price $107.00
Now $90.00

Click on each image
for details on this week's
Special Offer!

Z5161CK
4'' Chocolate Swan
Original price $31.25
Now $23.50