FENTON GIFT SHOP
SPECIAL OFFERINGS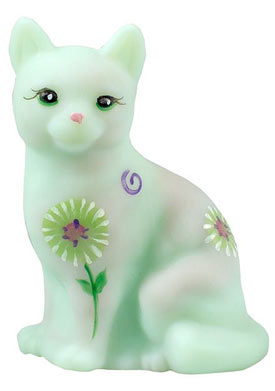 Z5165HPB
3-3/4'' Lotus Mist Burmese Cat
with Flower, $41.75, Buy Now!
MEOW! Upbeat, whimsical florals handpainted on a precious Lotus Mist Burmese collectible cat. This Fenton Gift Shop Exclusive is purrfect for a special collector!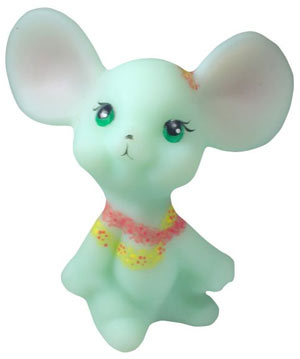 Z5148HPA
3'' Sea Mist Green Lei Mouse
$35.75, Buy Now!
This Gift Shop Exclusive hand-painted Sea Mist Mouse has a colorful lei around its neck. It will add a little delight to your Fenton collection.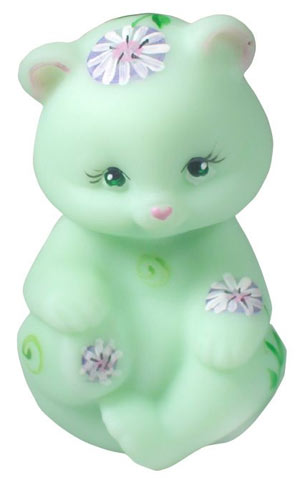 Z5151HPV6
3-1/2'' Sea Mist Green Bear
$42.75, Buy Now!

Collectible and oh-h so cute... Sea Mist Green Bear with handpainted upbeat whimsical floral design.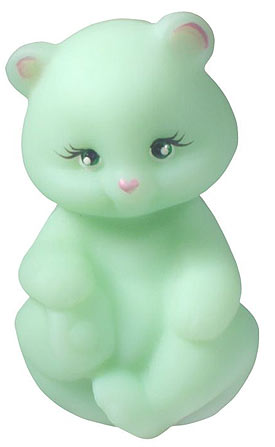 Z5251HPA
2-3/4'' Sea Mist Green Mini Bear
$25.50, Buy Now!
Collectible and oh-h so cute... This Sea Mist Green Mini Bear is a 2009 Fenton Gift Shop Exclusive and will make a beary special gift or addition to your Fenton Figurine collection!
Fenton eBay Auctions...
Own a unique Fenton creation, including one-of-a-kind pieces, through our weekly eBay Auctions!
Items featured this week...
Fenton USA Presents. . . Dave Fetty's Stars & Stripes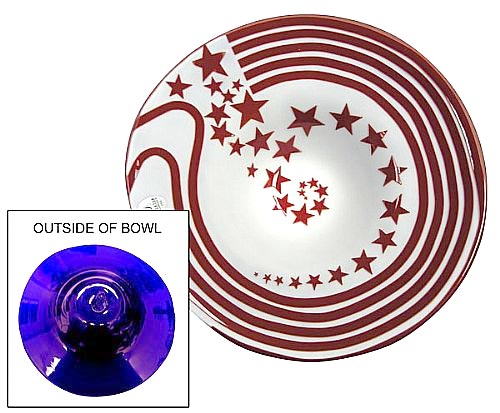 Here's a spectacular piece of Fenton glass that will make you stand tall and salute! Master glass artisan Dave Fetty combined three glass colors (Cobalt Blue, Milk Glass and Ruby) in separate layers to produce an exquisite flared bowl (9-3/4''-10'' d.). Then, the talented artists in Fenton's sandcarving area took over, creating an elaborate stars and stripes motif on the interior. This piece is a true one-of-a-kind from Fenton Art Glass, and it really makes a statement about the pride and patriotism of all of us! Dave Fetty's backstamp appears on the bottom of the bowl. This bowl is an "off hand" piece. This means Dave worked by using special glassblowing techniques, tools and no moulds to create the finished bowl. We have just two of these bowls. Click on the image for details or click here to view items from our Fenton USA 2009 product line.
Create a spectacular July 4th picnic
with Fireworks from Fenton International!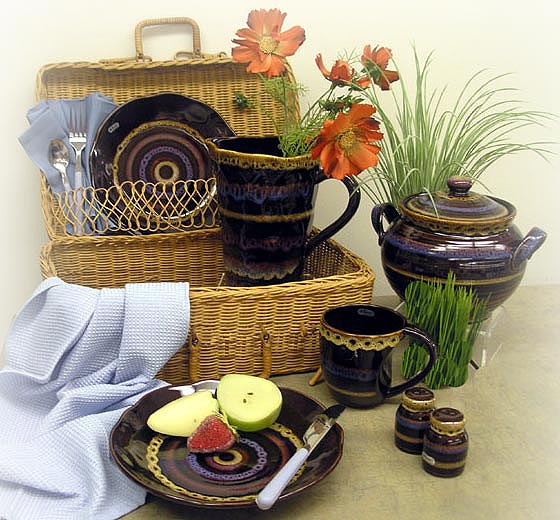 Fireworks! What an appropriate name for this collection! Like colorful minerals drawn from the earth, this collection from Fenton International glows with natural beauty. Three kiln firings are required to achieve the artistic blend of colors. Reactive glazing separates the colors into droplets of texture, while the final glaze ensures safety in use. This unique collection fits casual tabletop trends everywhere. Fenton International features artistic handcrafted gifts from around the world. Click each image for details or Click here to view all our ceramic items.
Internet Exclusives. . .Our napping cat missed getting the birds
but you still have time to get yours. . .while supplies last!

Our cuddly cat settled down for a nap and missed chasing the birds! Don't catnap or you'll miss your chance to own one of these very limited quantity Internet Exclusive figurines. Click each image for details or click here for all Internet Exclusives. Each figurine is signed by the artist who handpainted it. The 3-3/4'' Songbird figurine is pretty in pink! This cute bird has a pink and white floral necklace as well as a pretty pink and white bow on top of her head. Pink remains a leading color in home decor and our dreamy Rosemilk complements our Violet, Aubergine, and Hyacinth colors. Our 5'' Sparrow in Sea Mist Green features a Michelle Kibbe design of gold and green vines. The adorable 3-1/2'' napping Cat figurine in French Opalescent has a colorful floral design.
Fenton Art Glass on QVC July 4th!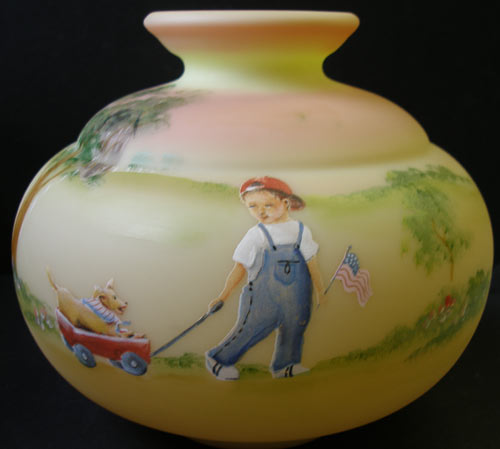 Tune in to QVC on July 4th to watch guest host
George Fenton introduce this beautiful Burmese Vase! The 6-1/2" vase is handpainted with a nostalgic scene, designed by Stacy Williams, depicting a boy with a flag pulling his puppy in a wagon. . .perhaps they're on their way to a July 4th parade! The vase also is inscribed with George Fenton's signature. To view Fenton USA items currently available on QVC.com, click here.
DS794HP1
3-1/2'' Opal Satin July 4th Bear, $45.00
Free Shipping!

Click on each image
for details on this week's
Special Offer!

DS794HP2
2-3/4'' Opal Satin July 4th
Mini Bear, $35.00
Free Shipping!