FENTON GIFT SHOP
SPECIAL OFFERINGS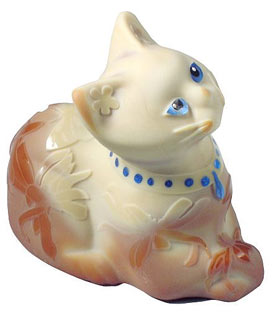 220013
3-1/4'' Chocolate
Sandcarved Cat
$99.00, Buy Now!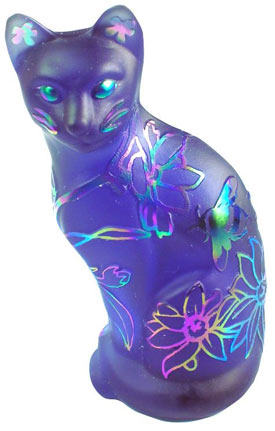 220014
5'' Hyacinth
Sandcarved Cat
$99.00, Buy Now!
Limited quantities remain of these two sandcarved Cat figurines. Produced for the Fenton Gift Shop, this exclusive is a must have for any cat collection.
Cameo carving is a painstaking process. After the glass has been annealed, a special mask is taped to the surface of the glass. Using an advanced vignetting technique, each piece is carefully sand-carved by hand, using aluminum oxide crystal under pressure to take away some of the surface. Great individual skill and experience are needed to control this operation, as many distinct stages of successive cameo carving are required to create the remarkable depth and the intricate details.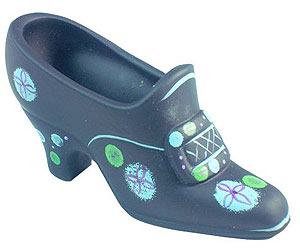 I7737HPE
4-1/2" Black Satin
Handpainted Slipper
$29.50, Buy Now!
This 4-1/2" Black Satin Slipper has been handpainted with a whimsical blue and green design. A charming gift for someone special or yourself!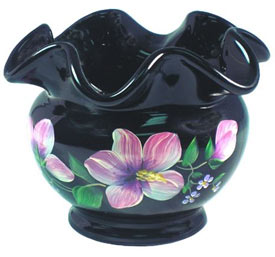 I7241HP
3-1/2'' Fenton Gift Shop Black Handpainted Vase
$55.00, Buy Now!
The contrast of the handpainted pink floral design is striking on our classic Black Vase. Numbered and limited to 150 pieces.
Fenton USA Presents. . . The Birthstone Bears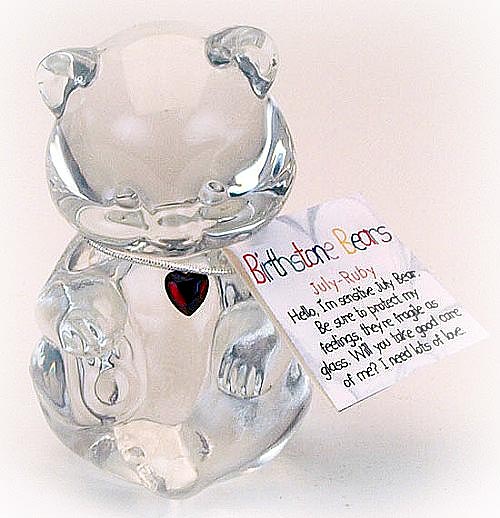 Long a collector favorite, our
Birthstone Bear figurines are the perfect sentiment gift for someone special! Also a great way to introduce
a young collector to Fenton Art Glass. Made in crystal, these handcrafted figurines feature a birthstone colored crystal heart and a special personality tag for each calendar month.
They debuted in June 1987 as part of our regular product line. In 1988 the Birthstone Bears were introduced on QVC as part of their Collector's Corner show. They proved to be a success during the broadcast and were quickly reordered. The success of this show led to QVC requesting more products from Fenton. Our relationship with QVC continues today with George Fenton appearing as co-host on the upcoming July 4th show. Click on the image for details or click here to view more items from Fenton USA 2009.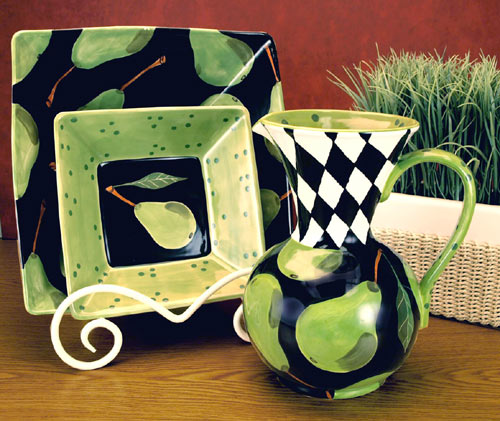 The Perfect "Pear" from Romy and Clare

Much loved gallery designers
Romy and Clare joined with Fenton International to create dramatic additions to their signature Pear line of ceramics. Fenton International's Pear grouping represents sophisticated styling in handmade accessories. Click on each image for details.
For more items from the Romy and Clare collection, click here. Fenton International features artistic handcrafted gifts from around the world.
An Internet Exclusive!
Capture her heart with Fenton Chocolate. . .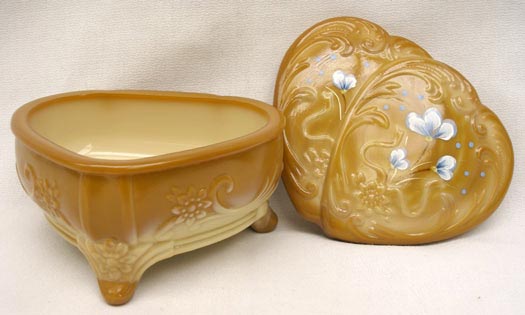 Fill our Chocolate Treasure Box with real chocolates or
a special keepsake to create
the perfect gift for an anniversary, birthday, engagement, wedding. . .
or treat yourself!
Chocolate is an historic Fenton color dating back to 1907. The Treasure Box cover features a handpainted floral design by Michelle Kibbe. Signed by the artist who painted it, this Treasure Box measures 3" high x 5" wide. A limited quantity remains in our inventory, so don't delay...order yours today! Click on the image to order.
Fenton Art Glass to be featured on QVC July 4th!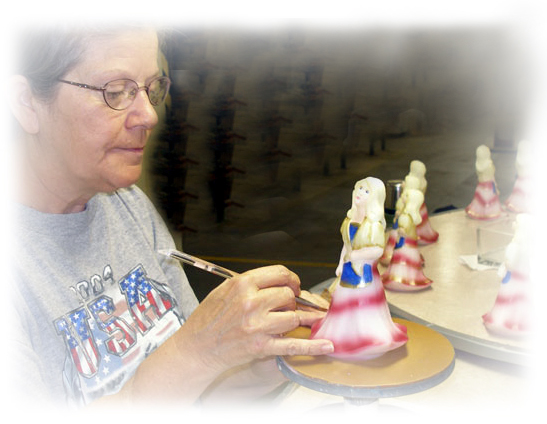 Doll collectors Alert!
Tune in to QVC on July 4th to watch guest host George Fenton introduce our new Ellie Doll figurine! QVC is the perfect venue for collectors to meet Ellie, our daydreaming doll handpainted in festive patriotic attire! The image at left shows decorator Julia Powell hand-painting the final touches on
the Ellie Doll's dress.
For show details, click here! To view Fenton USA items currently available on QVC.com, click here.
Fenton eBay Auctions...
Own a unique Fenton creation, including one-of-a-kind pieces, through our weekly eBay Auctions! Items featured this week...
IDF213
10'' Dave Fetty
Mosaic Vase
Sale Price $200

Click on each image
for details on this week's
Special Offer!

IDF214
7'' Dave Fetty Mosaic Pitcher
Sale Price $250