FENTON GIFT SHOP
SPECIAL OFFERINGS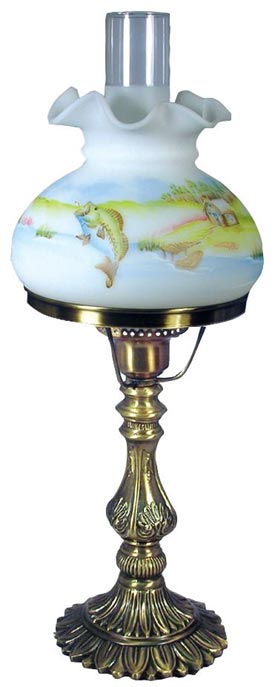 M6525HP07
21'' Opal Satin Handpainted
Scenic Student Lamp, $325.00

A limited quantity was produced of this 2008 Gift Shop Exclusive Student Lamp. Reminiscent of lazy days spent fishing by the pond, this hand-painted Opal Satin Lamp is sure to become a treasured family heirloom.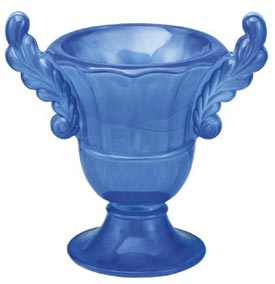 04252P2
8-1/4'' Periwinkle Blue Urn
Original price $89.50, Now $58.00
Buy Now!

A vivid opaque blue that works well in American Country or French Country decor, this striking blue medley is an original Fenton color developed by Paul Rosenthal during the 1930s. The heat-sensitive glass ranges from light to dark blue to create beautiful gradations of color - a true art glass treatment.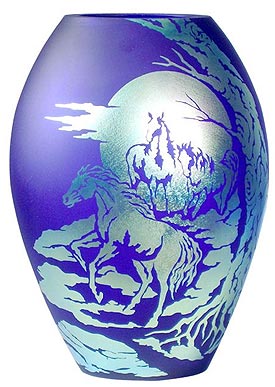 214223
12'' Wild Horses Favrene Vase
$250.00, Buy Now!
Preferred Second. This large Favrene vase is the perfect canvas for majestic horses frolicking against a moonlit sky created by the shimmering tones of pure silver in the batch.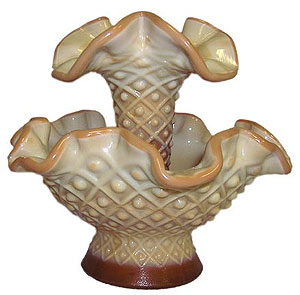 Z4807CK
4'' Chocolate Mini Epergne
Original Price $75.00, Now $60.00
Our pleasantly petite 4" Chocolate Epergne, produced as a Fenton Gift Shop Exclusive for our 100th Anniversary, bears the FGS 2005 Centennial Exclusive logo. The Diamond Lace pattern was designed by Frank L. Fenton in 1948 and has been popular ever since with collectors.
Fenton USA Presents. . . Whispers on Blue Lagoon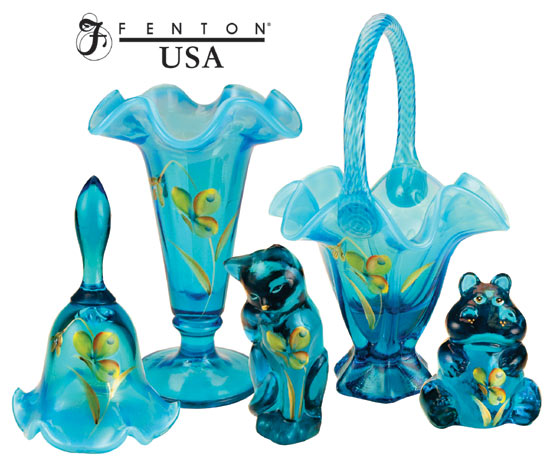 Our Whispers on Blue Lagoon grouping for 2009 includes two animal figurines, a basket, a bell, and two vases (hexagonal and trumpet). Created especially for the Blue Lagoon glass color, Fenton designer Kim Barley's Whispers motif features sheer colors floating effortlessly on the surface...you can almost hear the whispers in the breeze! All of these items are also available unadorned in Blue Lagoon - a new color for 2009. Click on each image for details or click here to view more items from Fenton USA 2009.
Jewel-toned Optics from Fenton International. . .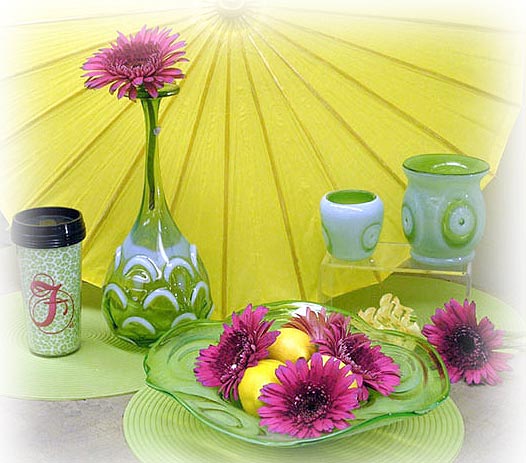 Ahhh, the lazy days of summer! Perfect for entertaining friends and family! Create an attractive tabletop display with lemons and flowers using our Optics glass from Fenton International. Optics is truly artistic handmade glass. Few glass manufacturers in the world can make this special glass that becomes white only in areas where it has been cooled and reheated. These functional pieces feature retro designs at a reasonable price. Intense jewel tones of green and violet are layered with opalescent glass to form the white to whispy oval patterns. Beautiful vases, bowls and candle votives for everyday use in the home. The Fenton International logo is on the bottom of each piece. Click on each image for details or click here to view more glass from Fenton International.
Be sure to tune in to our QVC show on July 4th!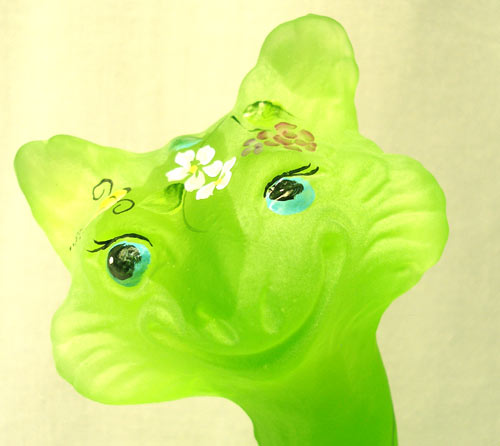 This smiling Key Lime Alley Cat will be waiting for you to order him on July 4th! For show details, click here! To view Fenton USA items currently available on QVC.com, click here.
Fenton eBay Auctions...
Own a unique Fenton creation, including one-of-a-kind pieces, through our weekly eBay Auctions! Items featured this week...
Fenton Gift Shop's "Beary" Special Father's Day Gifts!
DS759LG
3-1/2'' Opal Satin Father's Day Bear, $45.00
Free Shipping!

DS759SM
2-3/4'' Opal Satin Father's Day
Mini Bear, $35.00
Free Shipping!

DS837LG
3-1/2'' Opal Satin Farmer Bear $45.00
Free Shipping!

DS837SM
2-3/4'' Opal Satin Farmer's Daughter Bear, $35.00
Free Shipping!