FENTON GIFT SHOP
SPECIAL OFFERINGS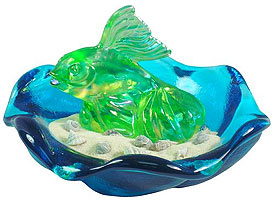 200018
Blue Lagoon and Key Lime
Seascape
$37.50, Buy Now!

PREFERRED SECONDS...SPECIAL BUY! Born of Sand from the Seas and Flames from the Fire! If you love the ocean...love to fish...or just love Fenton, then you'll love this refreshing conversational seascape. Our new Blue Lagoon wave bowl is accented with our Gift Shop exclusive Key Lime Koi Fish, sea shells, and sand from our factory in Williamstown, WV!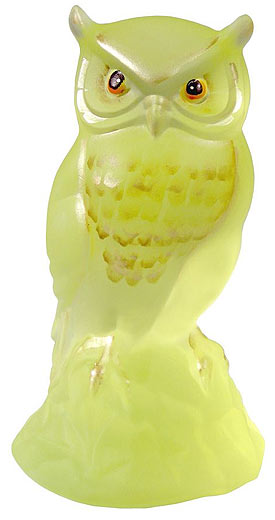 Z5258HP
6'' Yellow Topaz Satin
Decorated Owl
$65.25, Buy Now!

Moony the Owl was produced as a new Fenton Gift Shop Exclusive. Stunning Topaz Opalescent glass with a satin finish has been handpainted with a natural look. The addition of depleted Uranium in the glass formula gives this classic color its yellow hue and produces a fluorescent glow if placed under black light.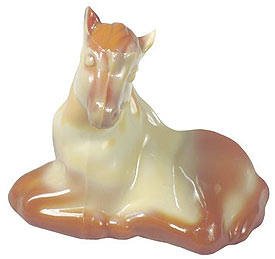 05057CK
4'' Chocolate Foal
Randy Fenton Signature
$29.00, Buy Now!
Hay!! Here's your chance to be the proud owner of a Chocolate Foal that never needs feeding! This unique Chocolate Gift Shop Exclusive, personally signed by Randy Fenton, is a sure bet to win over the hearts of many...and be around for many generations to come!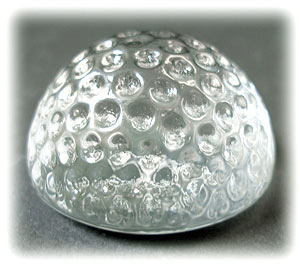 DS450CY
1-1/2'' Mini Crystal Golf Ball
Paperweight, $5.00, Buy Now!
This Crystal mini glass golf ball paperweight will make a great novelty piece for your desk top!
A Cameo Carved Masterpiece!
Our 2009 Fenton Studio collection includes cameo carved masterpieces from Kelsey Murphy and Robert Bomkamp. Limited to 350 pieces, this breathtaking and aptly named 8'' Sunset Sail Vase is sure to become a family heirloom. It is made with our classic Fenton Burmese glass which contains pure gold in the formula. The resulting pink blush is indeed a sight to behold. The vase features an
all-around scene of cameo carved sailboats and gliding birds that seems never to end.
Cameo carving is a a painstaking process. After the glass has been annealed, a special mask is taped to the surface of the glass. Using an advanced vignetting technique, each piece is carefully sandcarved, by hand, using aluminum oxide crystals under pressure to take away some of the surface. Great individual skill and experience are needed to control this operation, as many distinct stages of successive cameo carving are required to create the remarkable depth and the intricate details. To learn more about Kelsey and Robert, click here. Click on the image for details or click here to view items from Fenton USA 2009.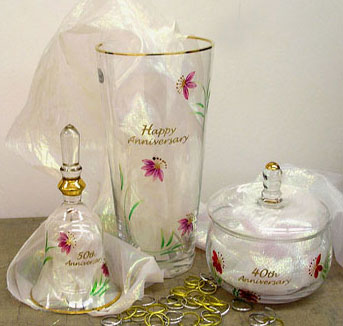 Fenton International's Anniversary Glassware
June. . . the month
most popular for celebrating a couple's time spent together! Our line of Anniversary glassware from Fenton International features beautiful floral designs. Each flower is hand cut into the glass. Precious metal lettering is applied and the design is then handpainted and fired to create the brilliantly sparkling image. Click on each image for details of click here to view more glass from Fenton International.

Internet Special: Butterfly Dreams!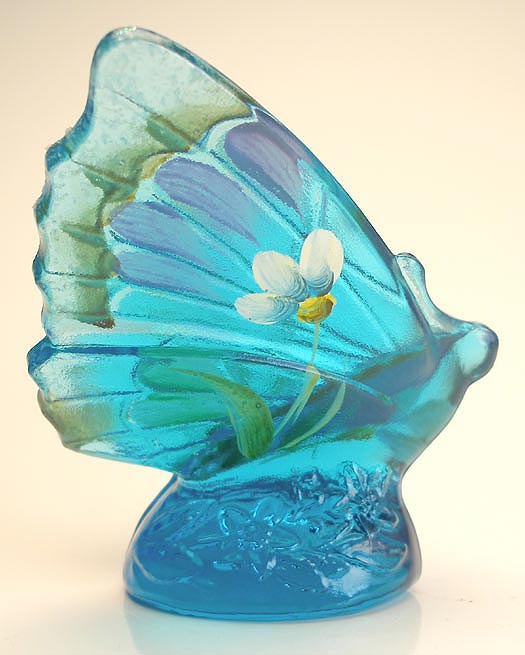 Only a dozen remain of this beautiful Butterfly figurine and it's offered at a very special price through the Internet this week. Please click on the image to order!
In 2009, Blue Lagoon joined the more than 60 different blues in our color history. The Butterfly is
a symbol of rebirth and what better way to thank someone special than with our 3'' Butterfly figurine
in Blue Lagoon! The mould, designed by Jon Saffell in 2001, has flowers around the base and the wings
are posed as if in flight. Kim Barley's handpainted design features shades of lavender, green and gold with gold glitter added to the wingtips. The Fenton USA logo is in the mould. Click here to view other Internet Exclusive offers.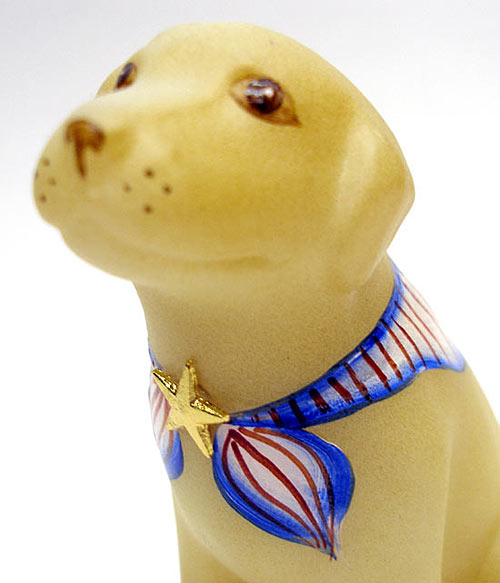 Be sure to tune in
to our QVC show on July 4th!
Watch for our adorable Lab Puppy, who's all dressed up
for the July 4th celebration! Click here for show details!
To view Fenton USA items currently available on QVC.com, click here.
Fenton eBay Auctions. . .
Own a unique Fenton creation, including one-of-a-kind pieces, through our weekly eBay Auctions! Items featured this week...
Fenton Gift Shop's "Beary" Special Father's Day Gifts!
DS759LG
3-1/2'' Opal Satin Father's Day Bear, $45.00
Free Shipping!

DS759SM
2-3/4'' Opal Satin Father's Day
Mini Bear, $35.00
Free Shipping!

DS837LG
3-1/2'' Opal Satin Farmer Bear $45.00
Free Shipping!

DS837SM
2-3/4'' Opal Satin Farmer's Daughter Bear, $35.00
Free Shipping!