FENTON GIFT SHOP
SPECIAL OFFERINGS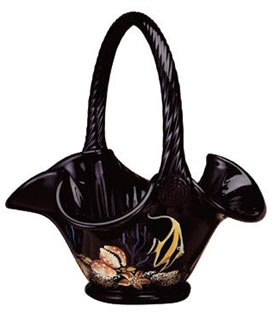 05439HK
8'' Paradise Collection
Black Ribbed Basket
Original Price $109.50
Now $82.00, Buy Now!

Robin Spindler's lush tropical seascape complements the Koi Fish shown at right. Fill this Black glass basket with seashells or a favorite treat
for someone special!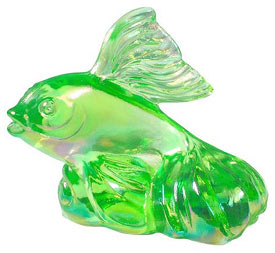 Z5276HJ
5'' Key Lime Koi Fish
$29.75, Buy Now!
Refreshing in our Iridized Key Lime, a new Fenton green that features both beauty and depth. This Koi Fish has been produced as a new Gift Shop Exclusive and will be an outstanding addition to any collection.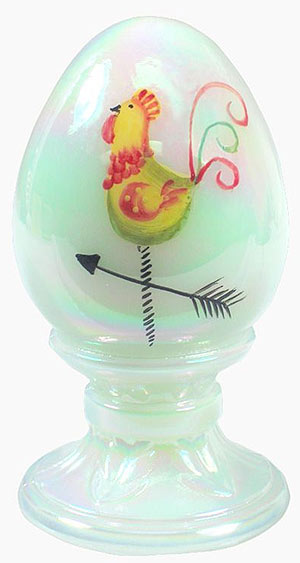 Z5145HPD
3-3/4'' Opal Iridized
Rooster Egg $41.25, Buy Now!

The handpainted folk art rooster scene on this Opal Iridized Egg is reminiscent of simple country moments. Produced as a new Gift Shop Exclusive, this piece will be a colorful accent to your home.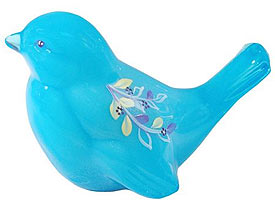 A5163HP
4'' Sky Blue Bird
$23.75, Buy Now!
Sky Blue glass requires a special manufacturing process that creates both a wonderful translucent quality and interesting striations in each piece. This handpainted bird is a 2008 Gift Shop Exclusive.
Fenton USA Presents. . . Unique Father's Day Gifts
Fill our Tobacco Jar with Dad's favorite homemade treats for
a unique Father's Day gift!
Based on an original Northwood design
(ca. 1910), the Fenton Grape and Cable Tobacco Jar
is one of the most collectible items we've ever produced. A great conversation piece as well, our rich Marigold Carnival on Ruby glass really brings out the details on this spectacular piece.
Our Periwinkle Blue is a vivid opaque blue that works well in American Country or French Country decor. This striking blue medley is an original Fenton color developed by Paul Rosenthal during the 1930s. The heat-sensitive glass ranges from light to dark blue to create the beautiful gradations of color - a true art glass treatment. Click on each image for details or click here to view items from Fenton USA 2009.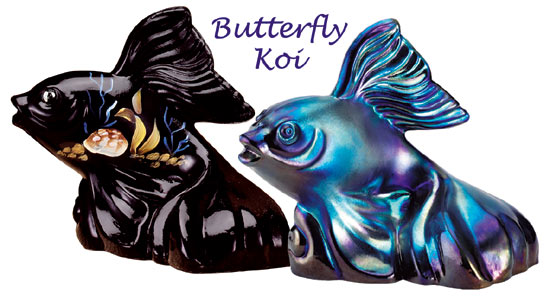 The Elegance of Fenton Fish. . .
The long flowing fins of the Butterfly Koi are resplendent in Fenton glass. These prized fish are the most elegant of the Koi family, yet also the most hardy. Jon Saffell's sculpture captures their graceful beauty.
Robin Spindler's love
of travel inspired our Paradise Collection, which includes this 5'' Koi Fish in Black glass. Each element is painstakingly handpainted with delicate shading so lifelike...they beg to be touched! The lush tropical underwater scene carries us into Robin's world of exotic beauty.
Our Favrene glass is made with silver that is coaxed to the surface in a special reheating process. When sprayed with metallic salts it develops a silvery-blue satin luster. The silver shimmer of Favrene shows in our Koi Fish shown above. Originally produced as a Limited Edition (2500 pieces) for our 2005 Platinum Collection, fewer than a dozen remain! Click on each image to order.
Internet Specials: You'll Crow with Delight!
Limited quantities are available only through the Internet at these very special prices! Don't delay, click image to order! The Hen on Nest covered box first appeared in the Fenton line in 1968 and is a collector favorite. This 5" Hen on Nest has a base made in Aubergine with a sanded Ivory top. Robin Spindler's handpainted design for the top features fuschia florals and ribbons with golden eggs and greenery. Fewer than a dozen remain on this delightful piece, so order now before they're gone!!
Our refreshing Key Lime (new for 2009!) is the perfect canvas for Michelle Kibbe's delightful handpainted design of yellow and white daffodils. This 3-1/2" Rooster figurine has a sanded finish. Priced at under $20, it's makes a great just because gift for someone special or treat yourself!
Fenton eBay Auctions...
Own a unique Fenton creation, including one-of-a-kind pieces, through our weekly eBay Auctions! Items featured this week...
M39227BHM
7'' dia. Sky Blue Bowl
Only $14.50!

Click on each image
for details on this week's
Gift Shop Special Offer!

Z43917B
8'' Sky Blue Peacock Vase
Original price $124.00
Now $99.50