FENTON GIFT SHOP
SPECIAL OFFERINGS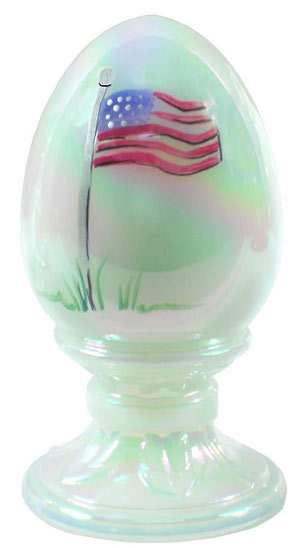 Z5145HPC
3-3/4''
Opal Iridized
American Flag Handpainted Egg, $38.50
Buy Now!

This new
Gift Shop Exclusive is
a lasting symbol of American pride!
The handpainted American flag on this Opal Iridized Egg is a perfect addition to any patriotic collection. Hand-crafted in Williamstown by the artisans at Fenton.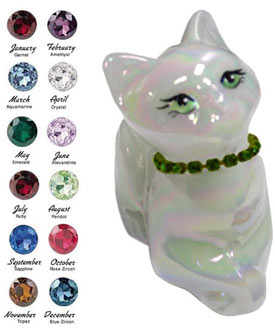 Z5318HPE
3-1/4'' Opal Iridized
Birthstone Kitten
with Green Eyes
$29.50, Buy Now!

How adorable is this opal iridized birthstone kitten with handpainted green eyes? Produced as a new Gift Shop Exclusive with YOUR CHOICE of birthstone necklace. Please be sure to note the birth month you wish in the comment box upon checkout.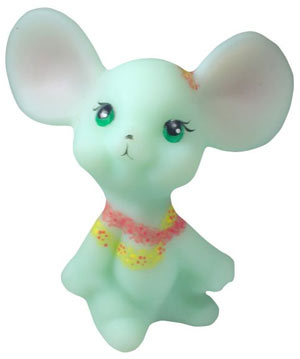 Z5148HPA
3'' Sea Mist Green Lei Mouse
$35.75, Buy Now!
This Gift Shop Exclusive Sea Mist Mouse, with a colorful lei around its neck, will add a little delight to your Fenton collection.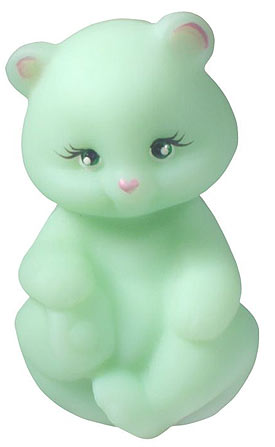 Z5251HPA
2-3/4''
Sea Mist Green
Mini Bear
$25.50,
Buy Now!
Collectible and oh-h so cute... This Sea Mist Green Mini Bear is a 2009 Fenton Gift Shop Exclusive and will make a beary special gift or addition to your Fenton Figurine collection!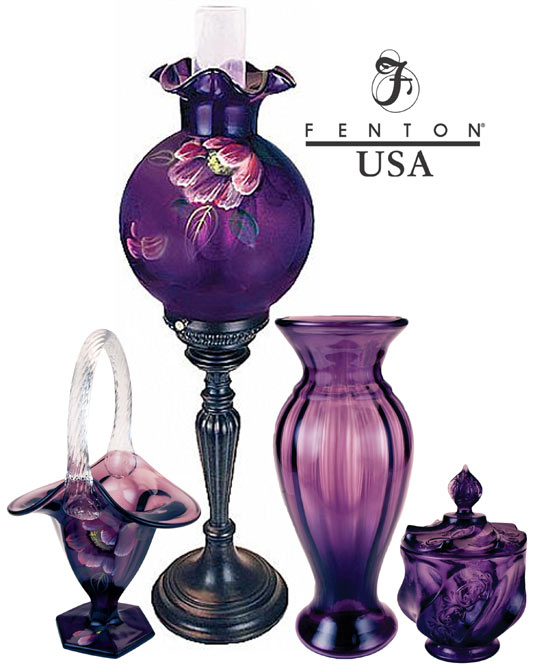 Fenton USA Presents. . .Regal Aubergine Glass
One of our most popular glass colors gets a fresh, new handpainted look for 2009. Since its introduction in 2006, our Aubergine has quickly emerged to become a collector favorite. The deep, rich Aubergine color will add a note of elegance to any room. Inspired by fashion, this color was quickly embraced by home decorators.
For 2009, our Gentle Breeze on Aubergine grouping features Stacy Williams' design of a large, lush flower and petals gently blowing in the breeze. Not shown are three vases, a rectangular covered box,
as well as bird and cat figurines. These items are also available undecorated...
mix and match for an attractive display! Click each image for details or click here to view more Fenton USA for 2009.
Internet Specials: "Just Ducky" Figurines!
A limited quantity of these two Duck figurines are available only
through the Internet at very special prices! Don't delay, click image to order!
Featuring Michelle Kibbe's handpainted pink and white lattice and floral design, our delightful 3-3/4'' Duck figurine is handcrafted in Burmese glass from a new mould. Burmese glass contains pure gold in the formula which creates the soft pink blush.
For Chocolate glass collectors, we have a 5'' Mallard Duck figurine in our historic Chocolate glass. Robin Spindler's realistic design features green, red, brown, and white tones. The mallard mould was introduced into the Fenton line in 1985 as part of the Natural Animals grouping. This figurine makes an excellent Father's Day gift!
Sorry, the Chocolate Mallard has sold out.
Fenton eBay Auctions...
Own a unique Fenton creation, including one-of-a-kind pieces, through our weekly eBay Auctions! Items featured this week...
Z51654B
3-3/4'' Indigo Blue
Cherry Blossom Cat
Original price $39.50,
Now $32.00

Click on each image
for details on this week's
Special Offer!

Z5186ZW
5'' Indigo Blue
Hen on a Nest
Original price $55.75,
Now $49.50