FENTON GIFT SHOP
SPECIAL OFFERINGS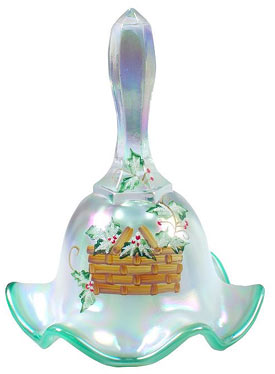 Z4694HP
6'' French Opal Iridized
Basket Bell
$37.50, Buy Now!

Our French Opal Iridized glass is just the right background for this beautiful basket of holly. The handpainted details are incredible. This bell is further accented by an emerald ring.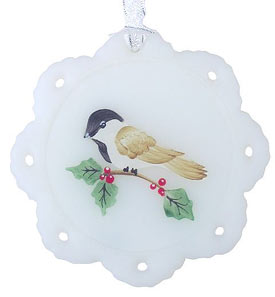 Z1714HPC
3-1/2'' White Satin Bird Ornament, $15.00, Buy Now!
Enjoy the beauty of hand-crafted artistry with this White Satin Ornament featuring a handpainted bird in winter design. This ornament is the perfect gift for your home or a friend's.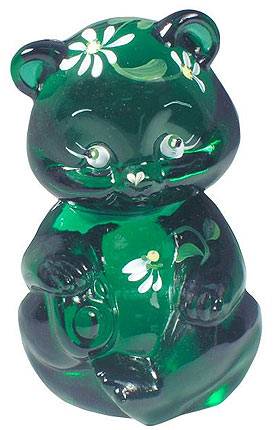 Z5151HPE
3-1/2'' Emerald Green
Bear with Daisy
$34.75, Buy Now!

This adorable 3-1/2" Emerald Green Bear has been handpainted with a fresh daisy pattern. This new Fenton Gift Shop Exclusive for 2009 makes a beary special gift or addition to your Fenton figurine collection!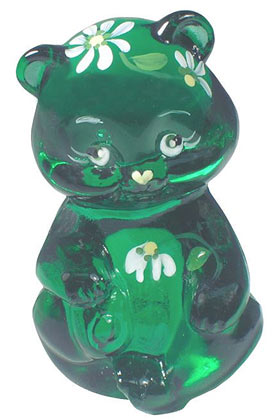 Z5251HPE
2-3/4'' Mini Emerald Green Bear with Daisy
$24.75, Buy Now!
Our adorable 2-3/4" Emerald Green Mini Bear is handpainted with a refreshing daisy pattern. This new 2009 Fenton Gift Shop Exclusive will make a beary special gift or addition to a figurine collection!
Fenton USA Presents. . . Lovely, Languid Fenton Blues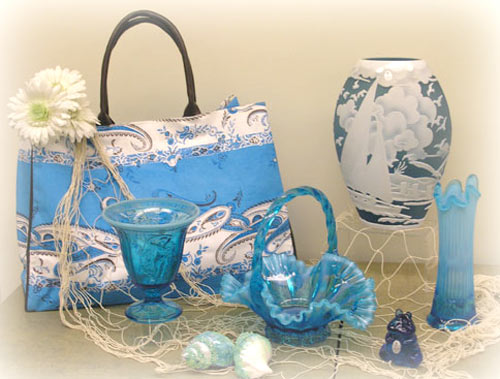 Summer is just around the corner and our lovely, languid blue glass colors complement today's home decor styles. All of the items shown, except for the Sail Away Vase, are in our new Blue Lagoon color for 2009. As pictured from left to right: the 6-1/2'' Dancing Ladies Comport; our 10'' Basket with beautifully crimped edge; the cute 3'' Hippo figurine; and our 9''-10-1/2'' Mitre & Circle Swung Vase, which is made from an historic Fenton mould (circa 1910).
Last, but definitely not least, our breathtaking cameo carved 12'' Sail Away Vase in Indigo Blue by Kelsey Murphy and Robert Bomkamp is sure to become a treasured heirloom. Kelsey and Robert specialize in glass cameo carving, an exacting art that demands both skill in design and great dexterity in execution. You'll see for yourself when you view the spectacular detail on this 12" vase. Click each image for details or click here to view more Fenton USA glass for 2009.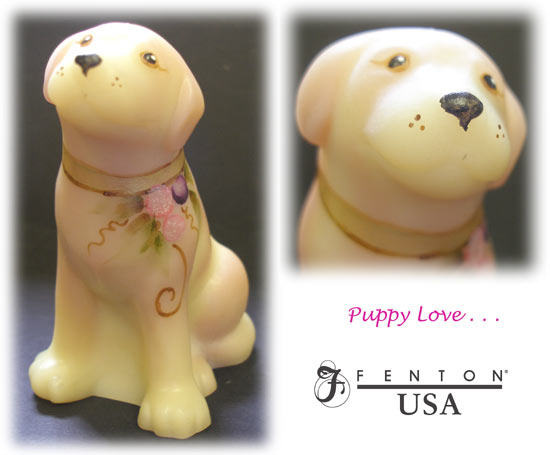 Internet Special: Burmese Puppy!
We have a limited quantity of our adorable 4'' Labrador Puppy figurine in Burmese. . . a must for figurine and Burmese glass collectors! Burmese glass contains pure gold in the formula which creates the soft pink blush. Featuring Kim Barley's handpainted design, this puppy sports a festive ribbon collar with glitter accents. . .you won't be able to resist his yearning for a friend expression!
C5085O9 4'' Burmese Lab Puppy Figurine; Original price $49.00, Now $32.54
Sorry, this figurine has sold out!
Fenton Gift Shop's Glassmaking School
Don't miss this special opportunity to join our skilled Fenton artisans for a unique glassmaking experience on Tuesday, August 4, 2009! Fenton's skilled craftsmen will carefully guide you through each step to create your own unique piece of Fenton glass. Due to the personal hands-on attention this event requires, we can offer just one school with only ten students, so please purchase your tickets early. Tickets available online beginning at noon on May 30. Click here for details.
Fenton eBay Auctions...
Own a unique Fenton creation, including one-of-a-kind pieces, through our weekly eBay Auctions! Items featured this week...
Z51654B
3-3/4'' Indigo Blue
Cherry Blossom Cat
Original price $39.50
Now $32.00

Click on each image
for details on this week's
Special Offer!

Z5186ZW
5'' Indigo Blue
Hen on a Nest
Original price $55.75
Now $49.50