FENTON GIFT SHOP
SPECIAL OFFERINGS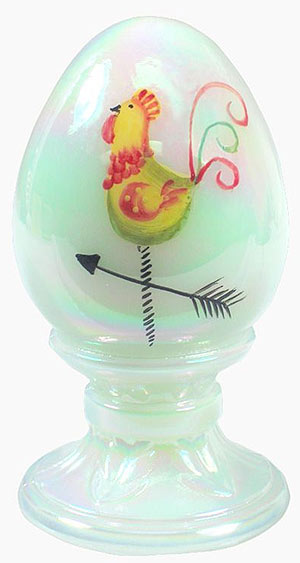 Z5145HPD
3-3/4'' Opal Iridized
Rooster Egg
$41.25, Buy Now!

Reminiscent of simple country moments with a handpainted folk art rooster scene on this Opal Iridized Egg. Produced as a new Gift Shop Exclusive, this piece will be a colorful accent to your home.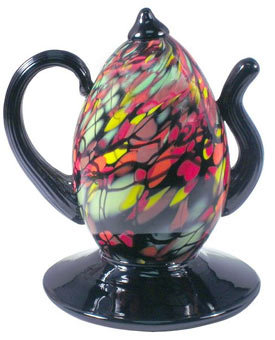 260070
5-1/2'' Dave Fetty
Mosaic Teapot
$230.00, Buy Now!
The Mosaic Teapot is among the latest art glass innovations from master glass artisan Dave Fetty. The teapot has striking mosaic combination of reds, greens, yellows & oranges. Bold black glass is used for the foot, handle and spout, a perfect finish to this unique piece. Embossed with Dave's personal stamp and signed by Dave, too ("Dave Fetty '08").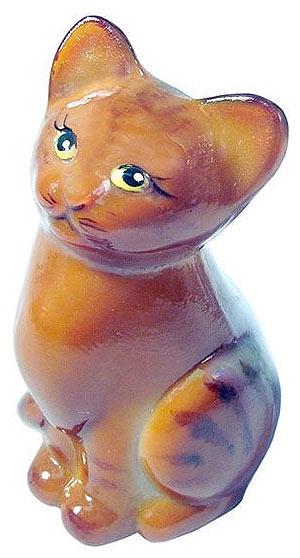 Z5365HPC
3'' Gift Shop Exclusive Chocolate ''Natural'' Kitten
$29.50, Buy Now!
This Gift Shop Exclusive 3'' Chocolate Kitten figurine has been handpainted to resemble a natural kitten. Proudly handcrafted by the artisans at Fenton.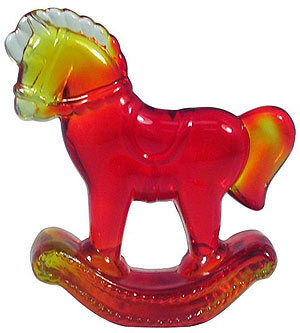 Z5135RU
2-3/4'' Fenton Gift Shop
Ruby Amberina Hobby Horse
$22.00, Buy Now!
This 3" Ruby Amberina Hobby Horse will make the perfect keepsake for all ages. Ruby glass is very sensitive to heat and this feature creates the wonderful amberina effect. Color may vary.
Fenton eBay Auctions...
Own a unique Fenton creation, including one-of-a-kind pieces, through our weekly eBay Auctions! Items featured this week...

Fenton USA Presents. . . "Buttercream Beauty" Vase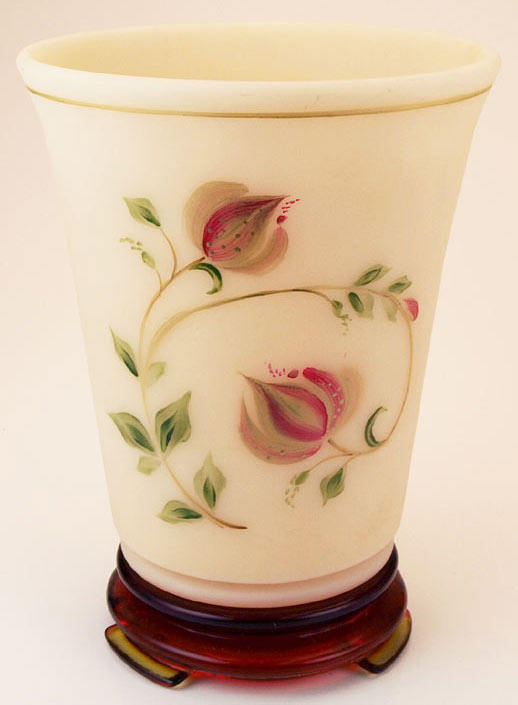 First introduced in 2007, the Fenton Horizons Collection features designs for a new generation − large contemporary shapes with exquisite handpainted decorations.
Our 7-1/2'' Buttercream Beauty Vase was made for the 2009 Horizons Collection. It comes with a Ruby base and features a floral design by Michelle Kibbe on sanded Cameo glass. Click image for details or
click here to view other 2009 items.

0481097
7-1/2'' Buttercream Beauty
Vase with Ruby Base
$99.50 U.S.
Pretty in Pink Gift Ideas from Fenton. . .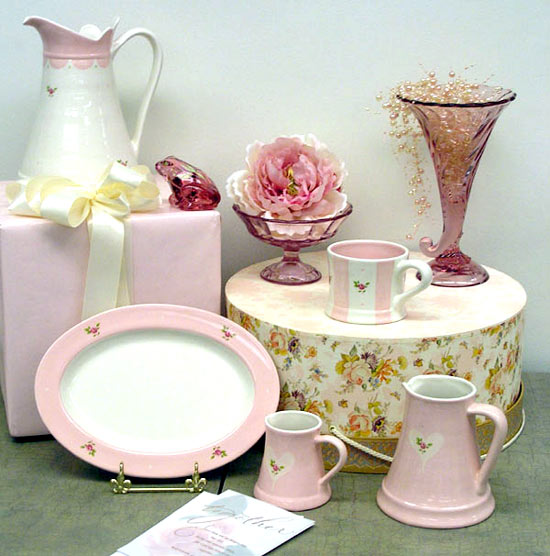 For functional, yet beautiful giftware that's perfect for weddings, housewarmings, or just because, mix and match Fenton's glass and ceramics for a lovely gift sure to please!
Our Pink ceramics line from European ceramicist Gabriella Miller includes designs of soft scallops, stripes, delicate flowers, and enchanting hearts on a creamy background in three retro styles. Shown at left are a Pink Flora Dairy Jug, Portia Pink Platter, Pink Heart Creamer, Pitcher and a Rose Stripe mug.
Add a touch of glass with our Panel Dot Comport or Colony Vase in Madras Pink. For a unique shower gift, try our Meadow Berry on Madras Pink Frog figurine with a cute message on the card: Kiss a Fenton Frog and Marry Your Prince! Click each image for details or click here for more Gabriella Miller ceramics from Fenton International.
Internet Special Offer - Hyacinth Pig Figurine!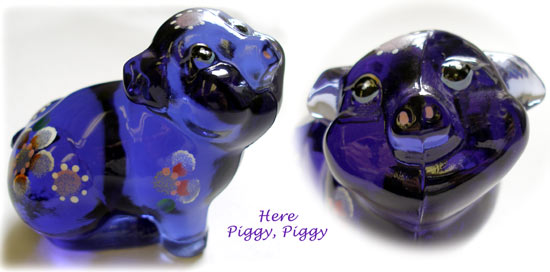 We've located a very limited supply - fewer than a dozen - of this adorable Pig figurine! Our Hyacinth glass provides just the right canvas for Kim Barley's handpainted design of florals and the pig's cute expression. Director of Design Nancy Fenton praises Fenton chemist Wayne King for developing this purple-toned blue that's perfect for today's decorating styles. "Hyacinth goes with pinks, yellows and greens," Nancy notes. "It's a very versatile color."
C5220WM 3'' Hyacinth Pig Figurine; Original price $29.50, Now $18.65
Fenton Gift Shop's Glassmaking School
Don't miss this special opportunity to join our skilled Fenton artisans for a unique glassmaking experience on Tuesday, August 4, 2009! Fenton's skilled craftsmen will carefully guide you through each step to create your own unique piece of Fenton glass. Due to the personal hands-on attention this event requires, we can offer just one school with only ten students, so please purchase your tickets early. Tickets available online beginning at noon on May 30. Click here for details.
0Z5040HP
4-1/2'' Fenton Gift Shop
Opal Baseball Cap, Blue
Original price $45.00
Now $35.00

Click on each image
for details on this week's
Special Offer!

Z5040HPM4
4-1/2'' Fenton Gift Shop
Opal Baseball Cap, Pink
Original price $45.00
Now $35.00