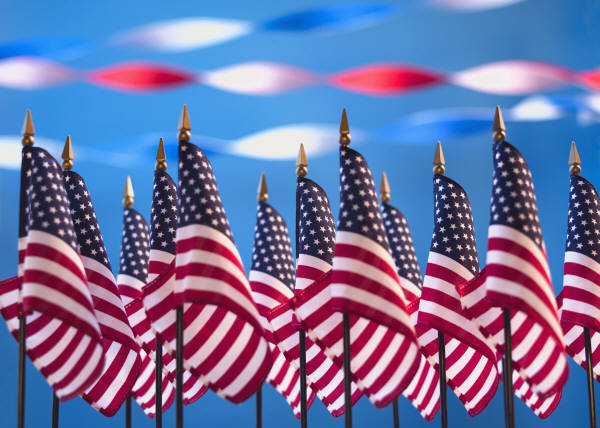 In Remembrance. . .
FENTON GIFT SHOP
SPECIAL OFFERINGS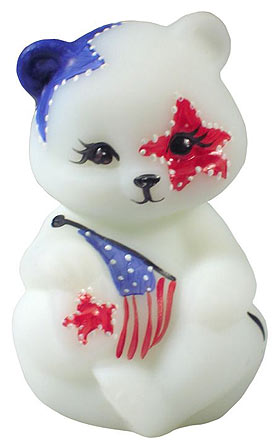 170015
3-1/2'' Memorial Day 2002
Opal Satin Patriotic Bear $45.00
Buy Now!

Recently discovered... very limited quantities of this Patriotic Bear, a Gift Shop Exclusive for Memorial Day 2002. Opal satin glass, handpainted and signed by the artist in a star-spangled design sure to be sought after for years to come.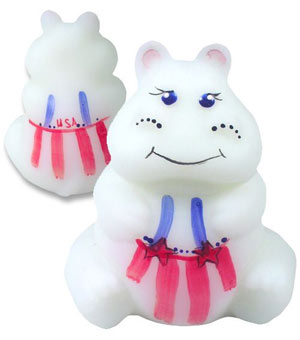 Z5063HPA
3'' Patriotic Hippo
$39.75, Buy Now!
Hip-Hip-Hooray...
it's the American Way! Handcrafted with pride
in Williamstown, WV. Handpainted and signed by the artist, this adorable Gift Shop Exclusive is sure to bring a smile to the face of any patriotic American!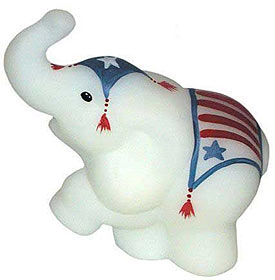 DS625HP
4'' Patriotic Opal Satin Elephant $35.00, Buy Now!
Whether you're a Republican or just love Fenton animal figurines, you'll want this Gift Shop Exclusive Elephant for your collection. Opal satin glass, handpainted and signed by the artist in a star-spangled design symbolizing the American dream.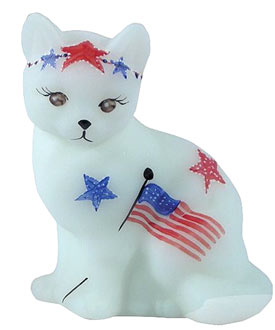 GS404HP
3-3/4'' Patriotic Presidents' Day Cat $45.00, Buy Now!
You'll want this Gift Shop Exclusive Patriotic Cat for your collection! Released for Presidents' Day and the last in a series of four. Opal satin glass, signed and handpainted by the artist in a star-spangled design.
Fenton USA Presents. . . Classic Ruby

Red remains a statement color in home decor, and our rich Ruby glass is suitable
for any occasion! During the first half of the twentieth century, glassmakers strived to make a uniform ruby color suitable for railroad signals, lantern globes and auto signal lights. Today, Fenton's ruby glass is made with selenium and cadmium. This glass batch is sensitive to heat and interesting color variations often occur. Collectors take great delight in the red-orange effect called "amberina."
Our Dolphin Comport and Ribbed Bowl show how the intense glow of Fenton's furnaces is captured forever in the shimmering iridescence and luster inherent in the magic of Ruby Amberina Stretch glass. First produced in the 1920s, the glamorous art deco style continues to captivate collectors. After the glass is sprayed with a solution of metallic salts to create the iridescent finish, the items are reheated so that they may be reshaped. As a skilled glassworker (called a finisher) reshapes the piece, the iridescent surface stretches, creating a myriad of striations and a delightful texture.
For figurine collectors, Fenton fans are aflutter over our beautiful butterfly. Designed by Kim Barley, it is decorated with rich, sheer metallic gold paint and a sprinkle of glitter. Our adorable Fenton Foal in vibrant Ruby continues to be popular and is also available decorated. Click on each image for details or click here to view 2009 items.
Retro Designs in Glass from Fenton International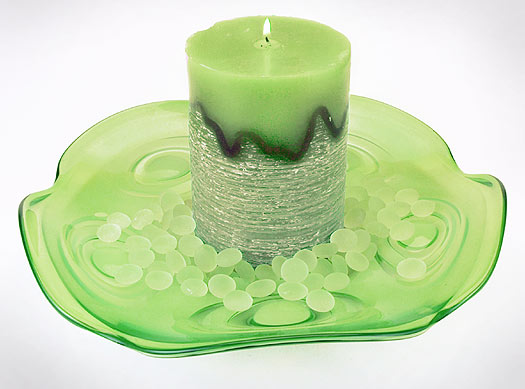 Optics is a grouping of truly artistic handmade glass from Fenton International. Very few glass manufacturers in the world can make this special glass that becomes white only in areas where it has been cooled and reheated.

These functional pieces feature retro designs that are perfect for younger consumers
and those seeking an art glass look at a reasonable price. The colors are intense jewel tones of green and violet that are layered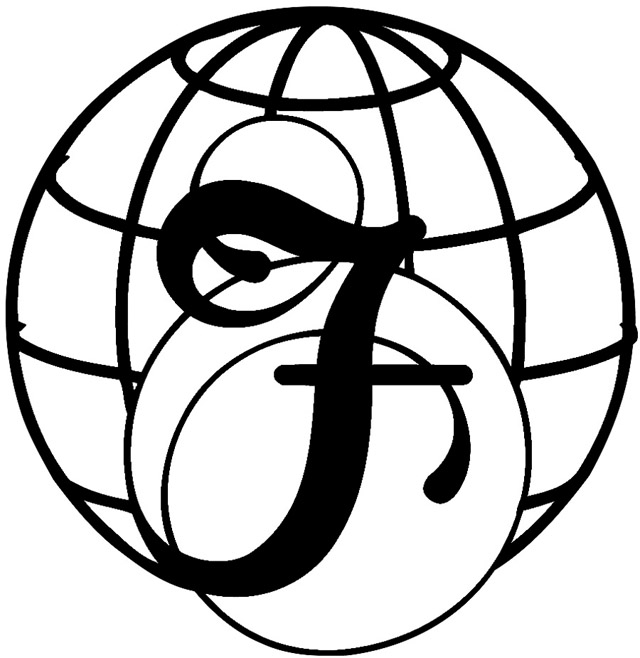 with opalescent glass to form the white to whispy oval patterns. The Fenton International logo is hot stamped into the bottom of each piece. Shown above is our 12-1/2'' Optics Candle Plate in Green Opalescent (candle/glass beads not included). Click image for details or click here for more glass from Fenton International. . . artistic, handcrafted gifts from around the world.
Fenton eBay Auctions. . .
Own a unique Fenton creation, including one-of-a-kind pieces, through our weekly eBay Auctions! Items featured this week...
Fenton Gift Shop's Glassmaking School
Don't miss this special opportunity to join our skilled Fenton artisans for a unique glassmaking experience on Tuesday, August 4, 2009! Fenton's skilled craftsmen will carefully guide you through each step to create your own unique piece of Fenton glass. Due to the personal hands-on attention this event requires, we can offer just one school with only ten students, so please purchase your tickets early. Tickets available online beginning at noon on May 30. Click here for details.
0Z5040HP
4-1/2'' Fenton Gift Shop
Opal Baseball Cap, Blue
One Week Only!
Original price $45.00
Now $35.00

Click on each image
for details on this week's
Special Offer!

Z5040HPM4
4-1/2'' Fenton Gift Shop
Opal Baseball Cap, Pink
One Week Only!
Original price $45.00
Now $35.00