IN THIS ISSUE:
FENTON GIFT SHOP
SPECIAL OFFERINGS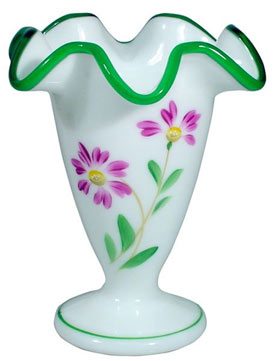 K2988HP2H
6'' Vase, Milk Glass
Purple Flowers & Emerald Green Ring, $49.50, Buy Now!

Just in time for spring! Handpainted with purple daisies on this Milk Glass Vase with an Emerald Green ring. Perfect for a summer arrangement fresh from your flower garden.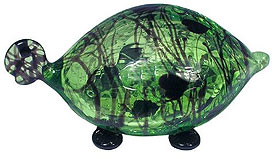 260069
6-1/2'' Dave Fetty Off Hand
Hanging Heart Turtle
$165.00, Buy Now!
Master glass artisan Dave Fetty has done it again, creating these fun and whimsical off-hand turtles! The Green turtle shown above has a hanging hearts shell and black accents. The one below features a mosaic shell with black accents. Each turtle is embossed with Dave Fetty's stamp ("DLF Fenton") and personally signed Dave Fetty 09.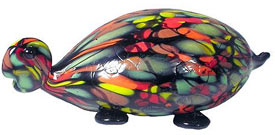 260068
6-1/2'' Dave Fetty
Off Hand Mosaic Turtle
$175.00, Buy Now!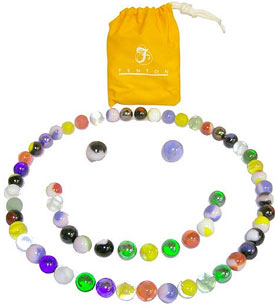 191512
Fenton Gift Shop Marbles with
3-3/4'' Storage Pouch
$10.50, Buy Now!
Got Marbles? We do! Made with Fenton Glass and proudly produced in West Virginia. A generous amount of regular size marbles and two shooters with storage pouch included.
Fenton eBay
Auctions. . .
Own a unique Fenton creation, including one-of-a-kind pieces, through our weekly eBay Auctions!
Items featured this week...
Fenton USA Presents. . .
Limited Edition Studio Fenton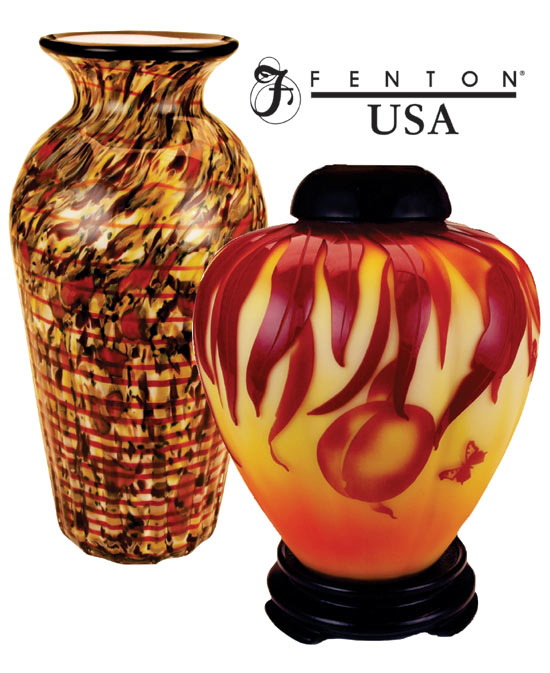 Fenton USA's Studio Fenton collection includes the artistry
of Dave Fetty and cameo carved masterpieces from Kelsey Murphy
and Robert Bomkamp.

Granite Rings is yet another
delight from master glass artisan Dave Fetty. Dave's 10-3/4'' Vase is limited to 350 pieces. It features an interior of simulated granite plus ruby threads that go round and round, all cased with pure crystal!
The spectacular cameo carved
8-1/2'' Just Ripe Ginger Jar by Kelsey Murphy and Robert Bomkamp exhibits remarkable red-orange-yellow hues revealed from the very depths of ruby glass! This beautiful sandcarved creation is limited to 350 pieces. Click on the image to order or click here to view more 2009 items.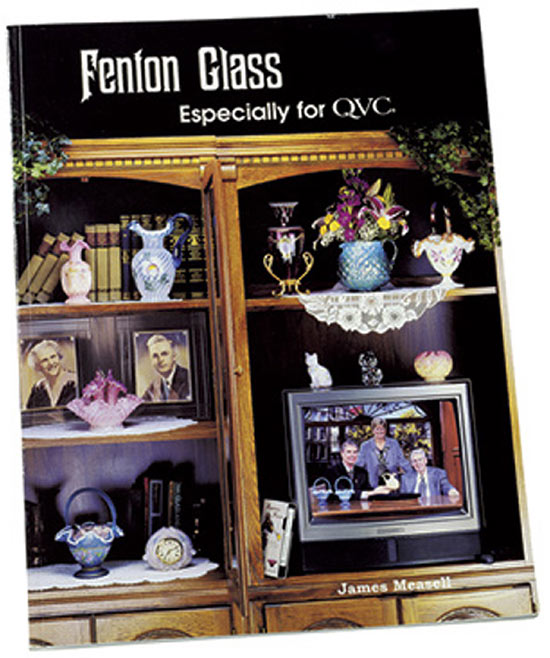 Internet Special: Fenton Glass
Especially for QVC

If you've purchased Fenton items from QVC or just want to learn more about Fenton and QVC, we have an excellent reference book for you! Fenton Glass Especially for QVC illustrates items sold on QVC from 1988 through August 2002. More than 1,350 items are shown in this 176-page book which has 96 pages in color. Originally $36.95, buy it now for $24.95 postage paid. Click on the image to place your order. SPECIAL NOTE: Our next QVC shows are scheduled for May 21! Watch for a preview of items to be featured on the broadcast in Thursday's e-Newsletter!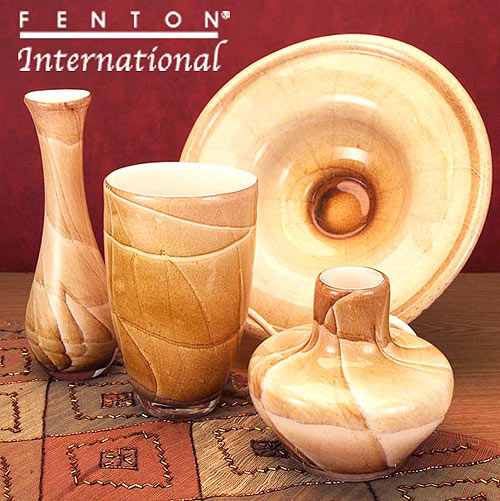 Golden Sand
from Fenton International. . .
Golden sand drifts across
the face of a milky white background in our Golden Sand collection from Fenton International. Each shape is both attractive and functional too! The Golden Sand line includes a bowl, three vases, and an urn.
Each Golden Sand piece bears the Fenton International Global Logo
and production has been personally checked by a member of the Fenton staff. Click on each item for details or, to view additional items available from Fenton International, click here.
Fenton Glassmaking School on Tuesday, August 4, 2009

Don't miss this special opportunity at the Fenton Gift Shop to join our skilled Fenton artisans for a unique glassmaking experience! Fenton craftsmen will carefully guide you through each step to create your own unique piece of Fenton glass. Due to the personal hands-on attention this event requires, we can only offer one school with only ten students, so please purchase your tickets early. Tickets available online beginning at noon on May 30. Click here for details.
C5033M2
4'' Handpainted Black
Elephant Treasure Box
One Week Only!
Original price $44.00
NOW $35.00

Click on each image
for details on this week's
Special Offer
from Fenton Gift Shop!

Z9650TO
10-1/2'' Yellow Topaz Opalescent Dogwood Vase
One Week Only!
Original price $84.50
NOW $64.50