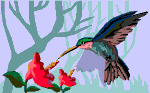 Happy Mother's Day!

IN THIS ISSUE:
FENTON GIFT SHOP
SPECIAL OFFERINGS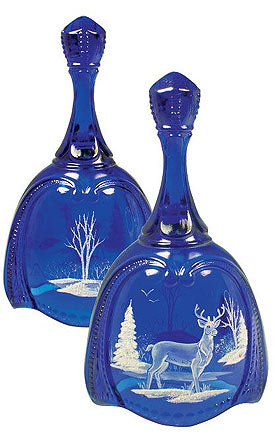 160006
7'' Dawn's Early Light
Cobalt Bell by Susan Bryan
$90.00, Buy Now!
If you collect Bells or Limited Edition Fenton, then Susan Bryan's newest creation, Dawn's Early Light Bell, is guaranteed to light up your home! Enhanced by the popular layered white technique and glitter, this jandpainted Cobalt bell is limited and numbered to 50 and signed by Susan Bryan.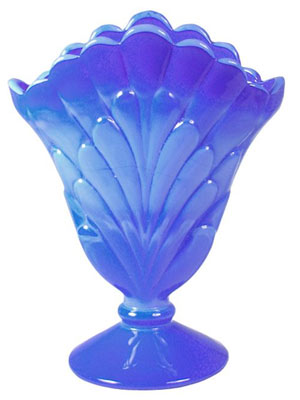 300037
8'' Periwinkle Blue
Plume Vase
Special Price $25.00, Buy Now!
Periwinkle Blue is a vivid opaque blue - an original Fenton color developed by Paul Rosenthal during the 1930s. The heat-sensitive glass ranges from light to dark blue to create the beautiful gradations of color - a true art glass treatment.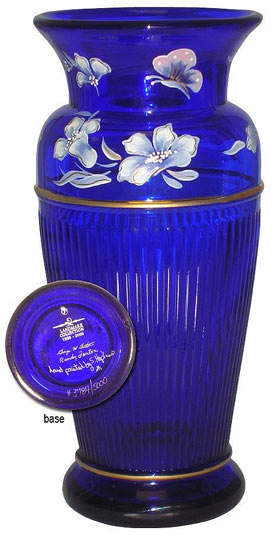 C6656K3
9'' Cobalt Adam's Rib Vase
Online Special!
$82.25
Handpainted Cobalt Signature Vase...Place your order today! Only a few remain of this limited and numbered Cobalt vase inscribed with the signatures of George Fenton, Randy Fenton and the artist who proudly handpainted this collectible beauty!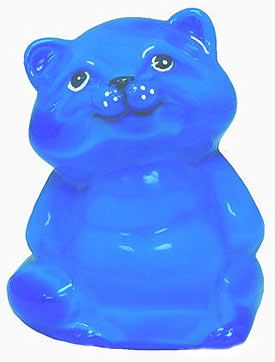 I5142HPP2
3-1/2'' Periwinkle Blue Raccoon Figurine $30.75
This playful Raccoon is a Fenton Gift Shop Exclusive. The vivid Periwinkle Blue color, originally produced in the 1930s, was reintroduced in 2004 and is popular with collectors. This Raccoon is signed by the artist.
Fenton USA Presents. . . 2009 Connoisseur Collection "Dreamy Glow" Limited Edition Plate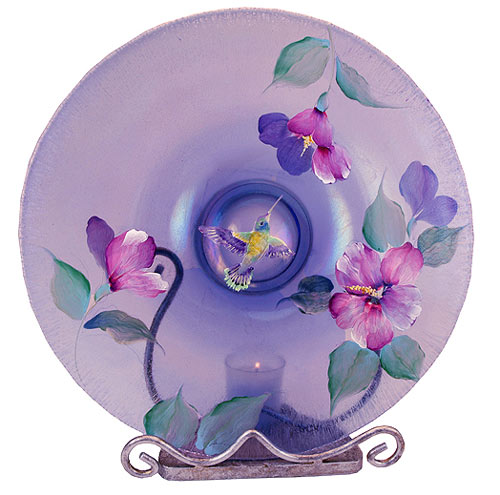 The Connoisseur Collection from Fenton … simply the best of the best! Each piece comes with a Connoisseur Collection certificate. This is the first of two Connoisseur groupings to be offered during 2009.

You'll bask in the dreamy glow
of our new Limited Edition Plate!
Made with our new Hyacinth color,
this decorated 11'' diameter plate is aptly named ''Dreamy Glow'' as
you can feel the warmth of the Hyacinth color reflected in the light. Kim Barley's beautiful handpainted design features a hummingbird hovering near lush nectar-rich blossoms. The plate comes with a metal stand and a 3'' candle. Limited to 750 pieces. Click on the image to order or click here to view more 2009 items.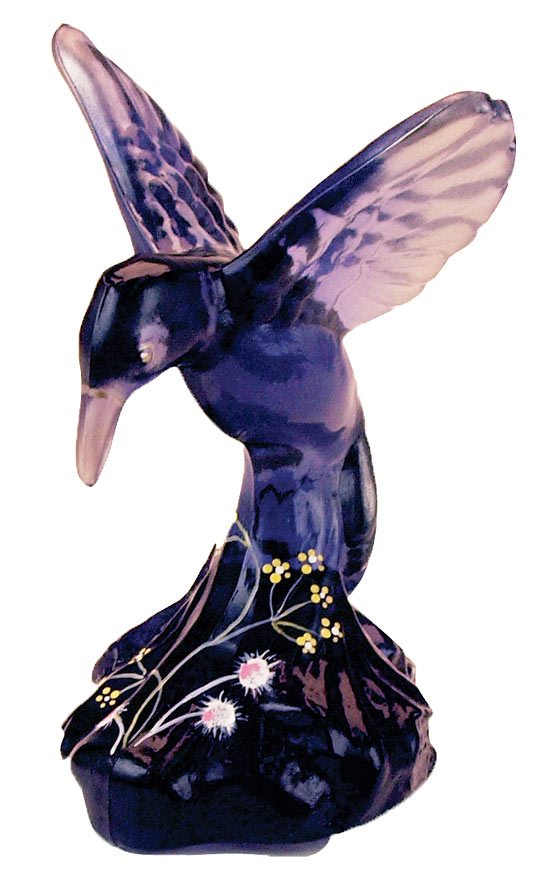 "It's a Colorful Life" Hummingbird

Included in the It's a Colorful Life 2009 grouping...
our 4-1/2'' Hummingbird figurine is perfect for gift giving
or as an addition to an established collection. The fresh Spring floral handpainted design by Michelle Kibbe complements our rich Hyacinth glass. Place this figurine near a window and watch it catch the sunlight and sparkle!

Click on image for details or click here to view more hummingbird designs from Fenton USA.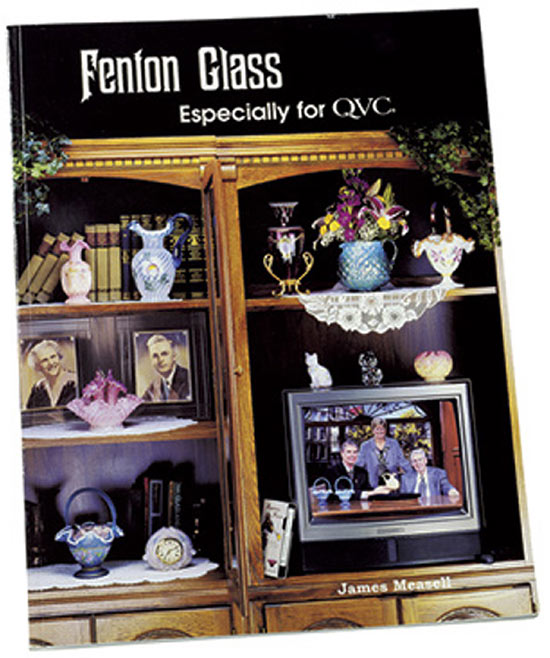 Internet Special: Fenton Glass
Especially for QVC

If you've purchased Fenton items from QVC or want to learn more about Fenton pieces sold on QVC, we have an excellent reference book for you! Fenton Glass Especially for QVC illustrates items sold on QVC from 1988 through August 2002. More than 1,350 items are shown in this 176-page book which has 96 pages in color. Originally $36.95, buy it now for $24.95 postage paid. Click on the image to place your order. SPECIAL NOTE: Our next QVC shows are scheduled for May 21! Watch for a preview of items to be featured on the broadcast in next week's Fenton e-Newsletter!
Anniversary Candy Box from Fenton International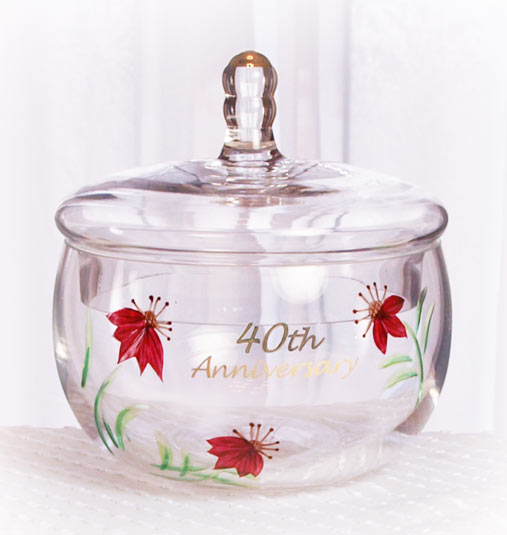 Our Anniversary giftware from Fenton International features a floral design with gold or silver lettering. Each flower is hand cut into the glass. Precious metal lettering is applied and the design is handpainted and fired to create the brilliantly sparkling image. Shapes range from a 9-1/4" bud vase to a
7-1/4" bell.
Shown is our 5-1/2" tall candy box with 40th Anniversary lettering. This candy box is available for the following Anniversaries: Happy Anniversary, 25th, 40th, 50th, and 60th Anniversary. To view more glass items from Fenton International, click here.
Fenton eBay Auctions. . .
Own a unique Fenton creation, including one-of-a-kind pieces, through our weekly eBay Auctions! Items featured this week...
C5033M2
4'' Handpainted Black
Elephant Treasure Box
One Week Only!
Original price $44.00
NOW $35.00

Click on each image
for details on this week's
Special Offer
from Fenton Gift Shop!

Z9650TO
10-1/2'' Yellow Topaz Opalescent Dogwood Vase
One Week Only!
Original price $84.50
NOW $64.50