IN THIS ISSUE:
FENTON GIFT SHOP
SPECIAL OFFERINGS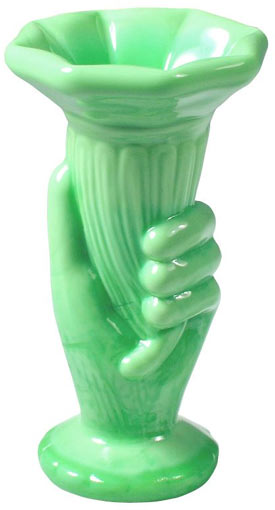 Z5153XE
3-1/2'' Mini Chameleon Green
Hand Vase, $49.50, Buy Now!
Hand vases have always been sought after by collectors and this Mini Chameleon Green Hand Vase is a must have. Very limited quantities have been produced of this new Gift Shop Exclusive.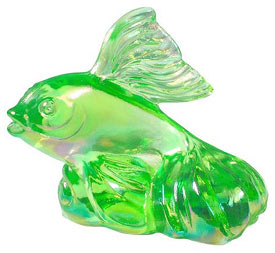 Z5276HJ
5'' Key Lime Koi Fish
$29.75, Buy Now!
Refreshing in our Iridized Key Lime color, a new Fenton green that features both beauty and depth. This Koi Fish has been produced as a new Gift Shop Exclusive and will be an outstanding addition to
any collection.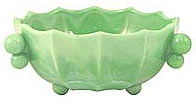 DP058XE
2'' h. x 4-1/2'' w.
Chameleon Green Nut Dish
$25.00, Buy Now!

This darling Nut Dish is made
in one of our newest colors - Chameleon Green - using an historic Fenton mould that originated in the 1930s. Why do we call it Chameleon Green, you ask? Because it changes from piece to piece, depending upon the glass temperature and other factors.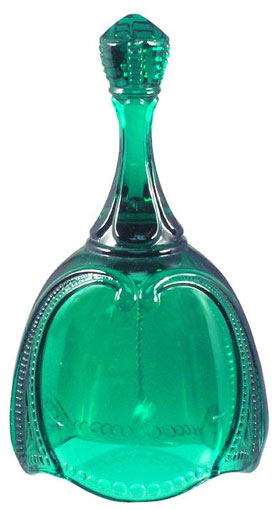 K7566EA
7'' Emerald Green Bell
Original price $35.00
Now $30.00, Buy Now!
The rich emerald green hue
of this classic oval bell is the perfect addition to your
home decor.
Fenton eBay Auctions. . .
Own a unique Fenton creation, including one-of-a-kind pieces, through our weekly eBay Auctions!
Items featured this week...
"Windblown" by
Frank Workman
Since joining Fenton in 1996, Fenton glass artisan Frank Workman has mastered all
the traditional skills of the glassmaker. In recent years, he has worked closely with master glass artisan Dave Fetty and taken on some of the most challenging jobs in our factory. However, Frank most enjoys working "off hand," producing vases and similar objects with a basic mould and creating vivid decorative motifs ranging from hanging hearts and thin threads to amazing swirls, twists and exaggerated geometric patterns.
His Windblown Vase, one of Frank's recent creations, begins with a core of Milk Glass. Frank applies molten green glass in various ways to create a unique interior that will vary somewhat from piece to piece. The exterior design is also applied molten glass, and Frank designed the overall look. The applied black foot is done by a special technique Frank has mastered. This 12'' footed Windblown Vase
is a Limited Edition of 250 pieces. Click here to learn more about Frank Workman or click here to view more of his creations.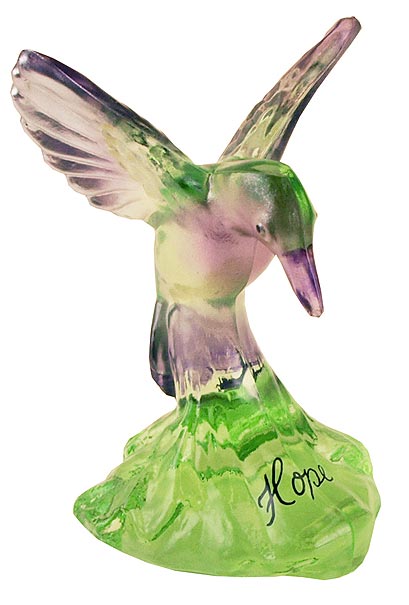 Spring Has Sprung. . .
Best Friends Forever Hummingbird

Spring is here and the beautiful hummingbirds are returning to certain parts of the country! Share a special bond forever with a birdwatcher friend or Fenton collector with our 4-1/2'' Hummingbird in Key Lime - a new Fenton green that features both beauty and depth, especially in this figurine! Part of the 2009 Best Friends Forever collection, this hummingbird features designer Michelle Kibbe's handpainted motif and includes the word Hope beautifully written on the front of the base. Click on image for details or click here to view more Fenton USA items for 2009.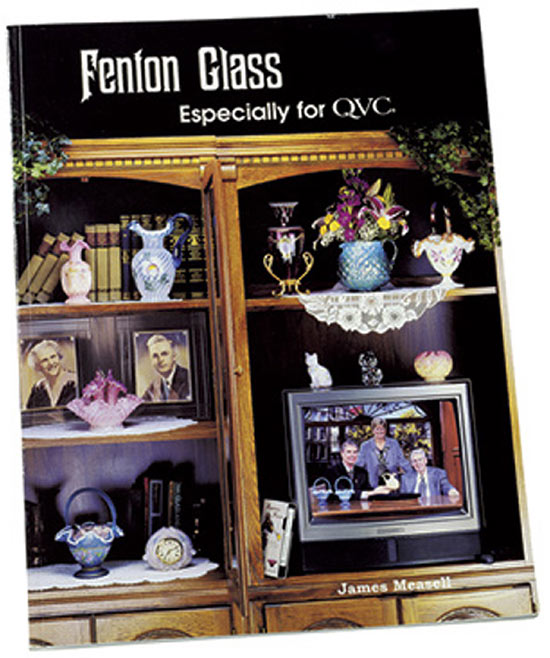 Internet Special: Fenton Glass
Especially for QVC

For QVC and Fenton fans, if you've purchased Fenton items from QVC in the past or want to learn more about Fenton pieces sold on QVC, we have an excellent reference book for you! Fenton Glass Especially for QVC illustrates items sold on QVC from 1988 - August 2002. More than 1,350 items are shown in this 176-page book which has 96 pages in color. Originally $36.95, buy it now for $24.95 postage paid. Click on the image to place your order. SPECIAL NOTE: Our next QVC shows are scheduled for May 21! Watch for an upcoming Fenton e-Newsletter for a preview of items to be featured on the broadcast!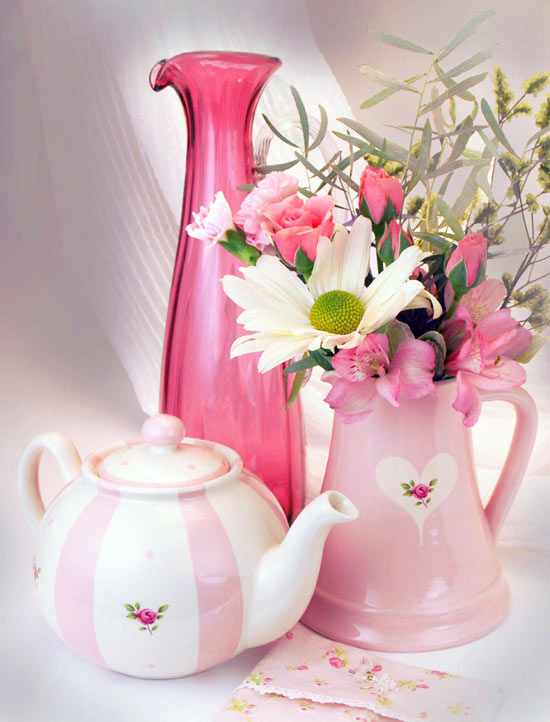 Gold Ruby, Hearts
and Flowers. . .
from Fenton International
Enjoy great prices on gifts that are perfect for special occasion gifts (Mother's Day, baby or bridal showers, weddings, housewarming), or simply for a "pick me up."
From European ceramic artist
Gabriella Miller, we have a 5'' round
two-cup teapot in Pink Rose Stripe that features a delicate floral rose garden design beautifully handpainted on a creamy satin pottery. Our 5-1/2'' tall Gabriella Miller Pink Heart Parlour Pitcher features a matching floral design inside a handpainted stylized heart. The cottage chic motif features soft pink scallops, stripes and enchanting hearts in a mix of three retro patterns. All Gabriella Miller ceramic items are dishwasher and microwave safe. Mix and match for an attractive tabletop display.
Our 12" tall Pitcher in Gold Ruby glass is made with pure gold in the formula. Our Gold Ruby collection. with original shape designs, includes items ranging from bowls and baskets to pitchers and vases. We worked closely with an experienced glass manufacturer in China to create these distinctive, attractive items for the new Gold Ruby line. Quality is a top priority, and this firm is one of the few that can meet our specifications. Click on each item for details or click here to view more items from Fenton International.
C57103Z
6-1/4'' Black Marigold Carnival
Peacock and Dahlia Plate
One Week Only!

Original Price $66.00
NOW $49.50

Click on each image
for details on this week's
Special Offer
from Fenton Gift Shop!

CV629K6
8-1/2'' Green Apple Stretch Tulip Vase
One Week Only!
Original price $147.00
NOW $85.00