FENTON GIFT SHOP

Make a Mother's Day keepsake gift she'll treasure at our Fenton Decorating Workshops
on Saturday, May 9 at 1:30 p.m. and 3:00 p.m.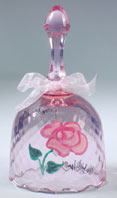 Decorate a Fenton Rosemilk Bell - only $25 per bell. This lovely bell can be decorated by the youngest hands and we'll personalize it just for you! Click here for details.

260067
4'' Dave Fetty
Hanging Heart Egg
$135.00, Buy Now!

Produced in limited quantities for the Fenton Gift Shop, this Milk Glass Egg is decorated with Dave's special Ruby Hanging Hearts and random threading design. Each egg is a bit different in terms of the hearts placement. This special piece is embossed with Dave Fetty's personal stamp ("DLF Fenton").

Z5245RU
5'' Ruby Amberina Cardinal
$26.25, Buy Now!
This 5" Ruby Amberina cardinal will make a lovely gift to give or to receive. Ruby glass is very sensitive to heat and this feature creates the wonderful Amberina effect. Color may vary.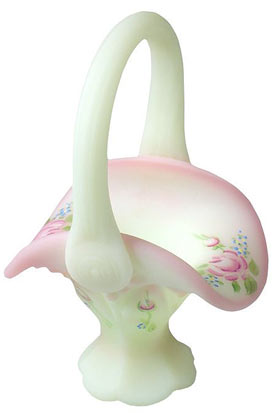 Z6563HPA
4-1/2'' Burmese Mini Basket
$69.50, Buy Now!
Mini baskets have
always been popular
with collectors and this Burmese beauty is no exception. Petite hand-painted roses are the perfect accent to the
blush of Burmese glass.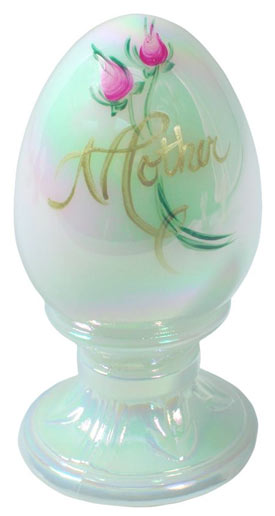 Z5145HPB
3-3/4'' Mother's Day
Egg on a Stand
$38.50, Buy Now!
What better way to
wish your mom Happy Mother's Day than with
a beautiful Opal Iridized Egg on a Stand. A Fenton Gift Shop Exclusive, this egg is handpainted with two long stem red roses and the word Mother in gold lettering.
Fenton eBay Auctions. . .
Own a unique Fenton creation, including one-of-a-kind pieces, through our weekly eBay Auctions!
Items featured this week...
Fenton USA Presents. . .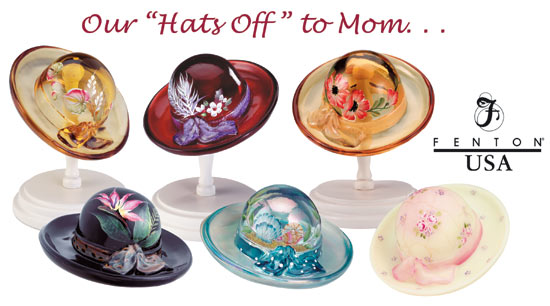 Fenton's designing women show their style with fabulous hats perfect for every season! Fenton designers work diligently to create these handpainted decorative motifs that will complement the glass to be painted. Each design is a challenge, for it must confirm to the curved surfaces of the glass, and special paints must be carefully blended to attain the vibrant colors that Fenton collectors love. Each handpainted hat is signed with pride by the artist who completed it and includes an attractive display stand.
Our Wheatberry on Autumn Gold hat features a design by Frances Burton that is a collector favorite. Perfect for the lovely lady in your life, our vivid Ruby hat features a Stacy Williams design of a purple hatband and a flourish of feathers. Frances Burton's vibrant Poppy Passion on Autumn Gold hat is a limited edition of 2500 pieces. Kim Barley expressed her multi-faceted personality with a sultry Tropical Tango motif on a Black hat and a refreshing She Sells Seashells design on an Aquamarine hat. Stacy Williams's Rose Blossom design complements the first-ever Burmese hat creation. Click on each hat image for details. Quantities are very limited, so be sure to order yours today! Click here to view hundreds more Fenton USA items and use our special search feature.
"Simply the Tops" from Dave Fetty . . . An Internet Special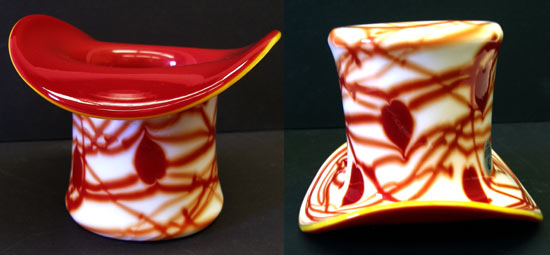 Using an historic mould that originated in the 1920s, master glass artisan Dave Fetty has created a blown Top Hat that is simply ... TOPS!! The interior is rich Ruby glass, and the Milk Glass exterior is decorated with Dave's special hand applied design, Hanging Hearts and random threading. Each Top Hat is a bit different from the others in terms of the placement of the hearts, but all Top Hats measure about 4" tall and 5" across at the widest point.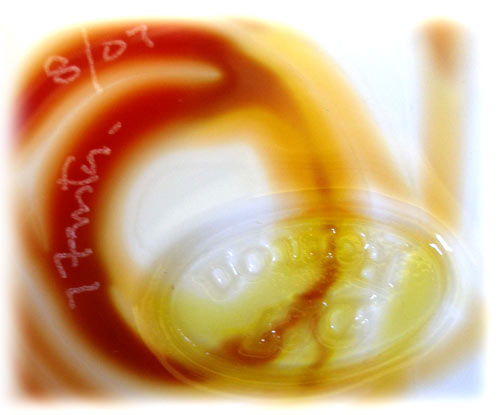 Each Top Hat is embossed with Dave Fetty's personal stamp ("DLF Fenton"). These Top Hats were made by Dave Fetty just prior to one of our Glassmaking Schools nearly two years ago, and each Top Hat was personally signed by Fenton Factory Manager Tom Fenton, a third-generation Fenton family member who is now retired. Tom signed and dated each Top Hat: "T. Fenton 8/07". Less than a dozen remain of these very special Top Hats, so click here to order. Don't miss this chance to own one at a special price & FREE shipping!
Meet Fenton Family Members This Weekend!
A member of the Fenton family will personally sign your Family Signing Event Exclusive and other purchases during our final Spring 2009 Family Signing Events being held this weekend. Don't miss our events on May 1-3 with Lynn Fenton Erb in New York and Mike Fenton in Oklahoma and Texas! For details and info on the Family Signing Event Exclusive, click here.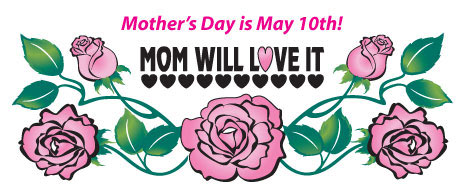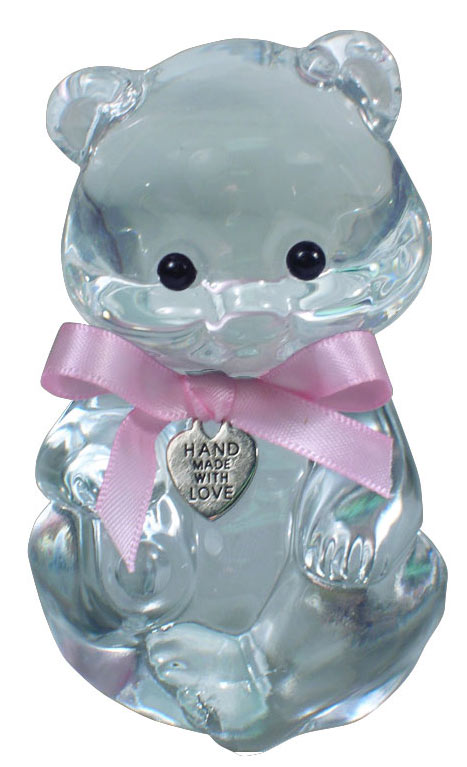 A "Bear-y" Special Gift for Mom!
Handmade with Love!
The Perfect Gift for the "Bear-y Special" Mom
FREE with a $75.00 phone order purchase
from Fenton Gift Shop in Williamstown.
Call 800-319-7793 ext. 327 or ext. 383
Offer expires Friday, May 8.
Limit one free bear per customer...
while supplies last.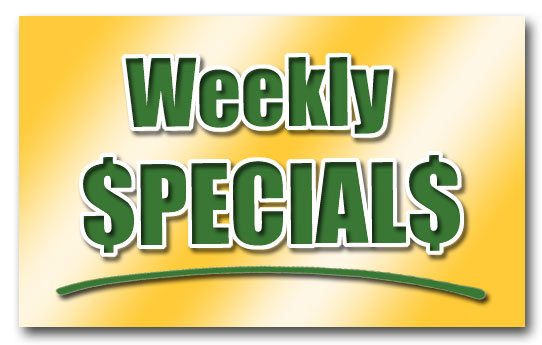 Z82846O
5-3/4'' Indigo Blue
Footed Leaf Bowl
One Week Only!
Original price $49.50
NOW $39.50

Z9188ML
7-1/4'' Azure Blue
Tobacco Jar
One Week Only!

Original price $104.50

NOW $95.00