IN THIS ISSUE:
FENTON GIFT SHOP
SPECIAL OFFERINGS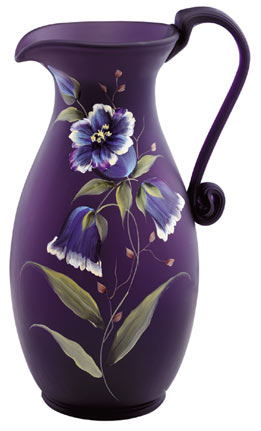 211426
10-3/4'' Fenton Gift Shop Aubergine Handpainted Pitcher
$104.00, Buy Now!
Preferred Second - The soft touch of Aubergine Velvet frames the dramatic rendition of drowsy Bluebells. The rich depth and shading of the design is created by multiple layers of paint and is complemented by the elegantly arched French curl handle.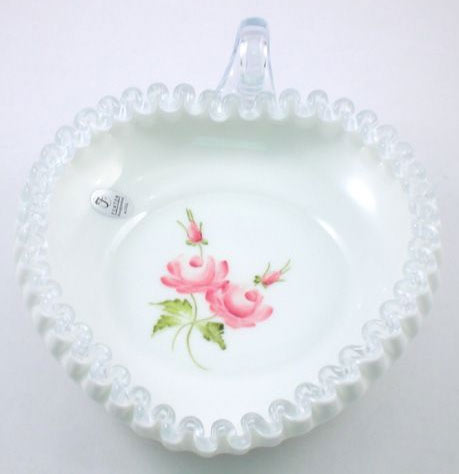 Z7333HPSC
8'' Silver Crest Handpainted
Heart Bon Bon Dish
$99.00, Buy Now!
Silver crest has always been popular and this piece is a must for collectors! This 8" Milk Glass Bon Bon Dish with a crystal crest and handle has been handpainted with a lovely pink rose motif. Produced as a Gift Shop Exclusive, it bears the FGS 2006 Exclusive Logo on the bottom.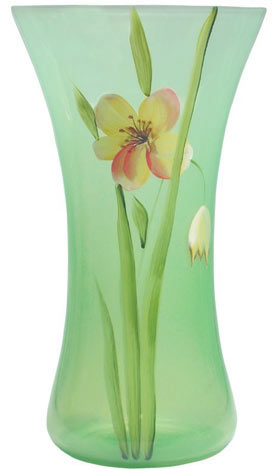 212518
10'' Fern Green Opaline Vase
with Irises $75.00, Buy Now!

Preferred Second - A lush bouquet of irises, hand-painted with remarkable shading, combines with the glossy translucence of blown glass... created by skilled artisans.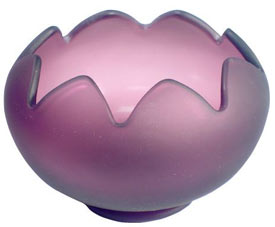 215795
5-1/2'' Aubergine Satin
Rose Bowl, $33.75, Buy Now!
Preferred Second - Deep rich Aubergine Satin strikes an elegant note in this lovely rose bowl. This versatile piece has so many uses, so insert a tea light to create a mood, fill with potpourri or candy.
Fenton eBay
Auctions. . .
Own a unique Fenton creation, including one-of-a-kind pieces, through our weekly eBay Auctions!
Items featured this week...
Fenton USA Presents. . . The Birthstone Bears Return!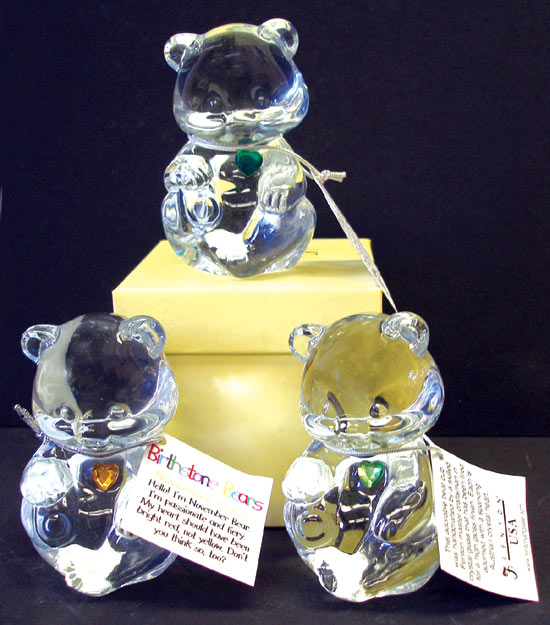 Fenton Birthstone Bears, a long-time collector favorite, are back in
the Fenton line! The perfect "sentiment" gift for someone special
and a highly collectible figurine!
Made in Crystal, these handcrafted figurines
are adorned with
a birthstone colored crystal heart and a special "personality" tag for each calendar month.
They debuted in June 1987 as part of our regular product line.
The development process took a long time as we pondered various astrological and zodiac ideas before settling on these unique birthday gift figurines. They have remained popular ever since!
In 1988 the Birthstone Bears were introduced on QVC as part of their Collector's Corner show. They proved to be a success as they "just flew out the door" during the broadcast and were quickly reordered. The success of this show led to QVC requesting more products from Fenton. Our relationship with QVC continues today with George Fenton appearing as co-host on the upcoming May 21 show. Click on each bear figurine image for details or click here to view more items for 2009.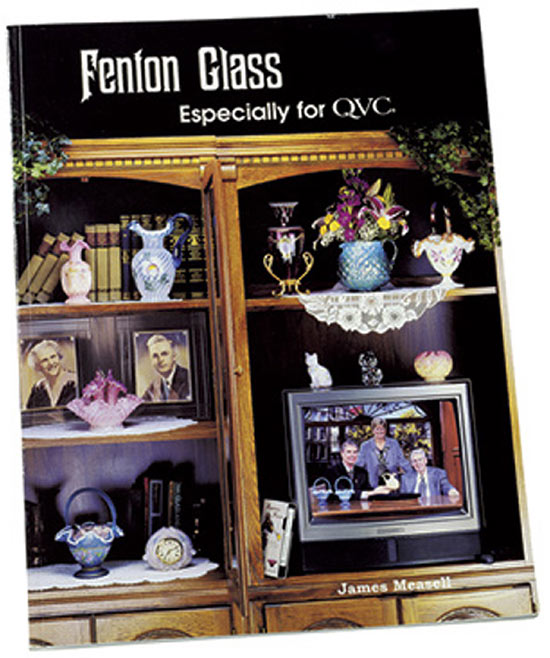 Internet Special: Fenton Glass
Especially for QVC

For QVC and Fenton fans, be sure to watch our QVC Show scheduled to broadcast on May 21. If you've purchased Fenton items from QVC in the past or want to learn more about Fenton pieces sold on QVC, we have an excellent reference book for you!
Fenton Glass Especially for QVC illustrates items sold on QVC from 1988 through August 2002. More than 1,350 items are shown in this 176-page book which has 96 pages in color. Originally $36.95, buy it now for $24.95 postage paid. Click image to place your order.
Meet Fenton Family Members at 2009 Signing Events
A member of the Fenton family will personally sign your Signing Event Exclusive and other purchases during our Spring 2009 Fenton Family Signing Events. Don't miss our events on May 1-3 with Lynn Fenton Erb in New York and Mike Fenton in Oklahoma and Texas! For details and info on the Family Signing Event Exclusive,
click here.
Optic Candle Plates from Fenton International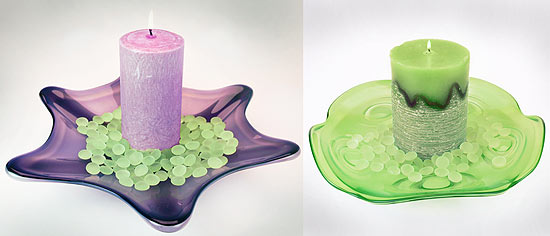 Our Optics grouping from Fenton International is truly artistic handmade glass. Very few glass manufacturers in the world can make this special glass that becomes white only in areas where it has been cooled and reheated. The functional pieces feature retro designs perfect for younger consumers and those seeking an art glass look at
a reasonable price. Our candle plates feature intense jewel tones of green and violet that are layered with opalescent glass to form the subtle white to whispy patterns. Jazz them up even more with marbles and candles (not included) as shown above. The Fenton International logo is hot stamped into the bottom of each piece. Click
on each image for details. For more Optics vases, bowls and candle votives from Fenton International, click here.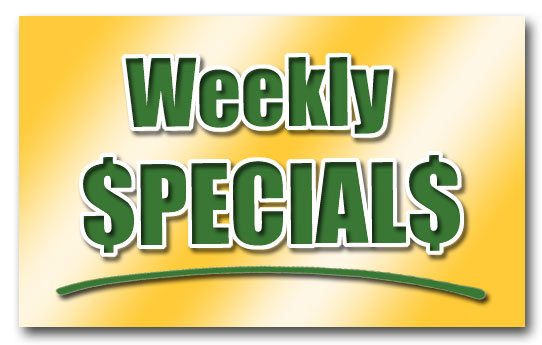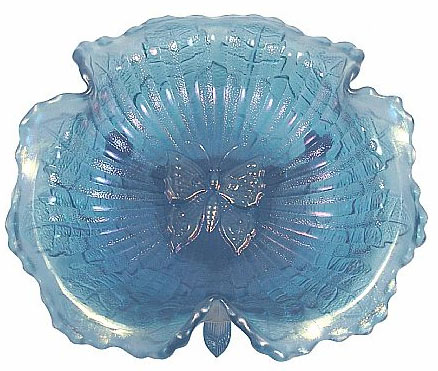 Z82846O
5-3/4'' Indigo Blue Footed Leaf Bowl
One Week Only! Original price $49.50, NOW $39.50

This Indigo Blue Stretch Footed Leaf Bowl with a beautiful center butterfly design will be a perfect addition to any collection. "Stretch" glass, first made in 1917, has always been popular with collectors. The effect is simply breathtaking due to the striations created as it catches the light and shimmers.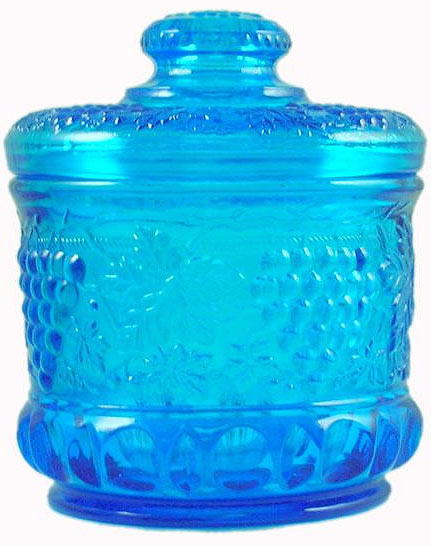 Z9188ML
7-1/4'' Azure Blue Tobacco Jar
One Week Only!
Original price $104.50, NOW $95.00

Based on an original Northwood design
(ca. 1910), the Fenton Grape and Cable tobacco jar is one of the "most collectible" items we've made over the past four decades. These make a great collection, but just
one is a good conversation piece. Our latest version
- in luscious Azure Blue - is certainly a beauty,
and this color really makes those grapes sparkle!