IN THIS ISSUE:
FENTON GIFT SHOP
SPECIAL OFFERINGS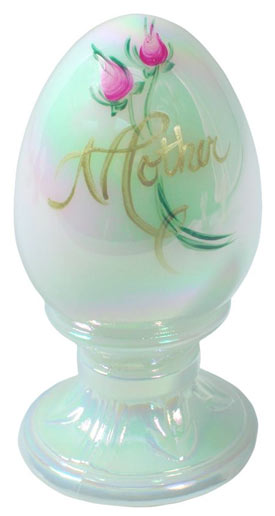 Z5145HPB
3-3/4'' Mother's Day
Egg on a Stand
$38.50, Buy Now!
What better way to wish your mom a "Happy Mother's Day" then with this beautiful Opal Iridized Egg on a Stand. Produced as a Gift Shop Exclusive, this egg has been handpainted with two long stem red roses and the word "Mother" in gold lettering.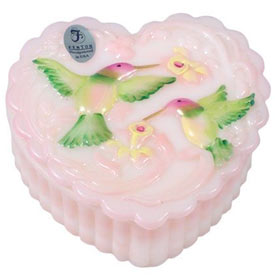 C578648
4'' Rosalene Handpainted Hummingbird Heart Box
$56.00, Buy Now!
Our beautiful Rosalene Hummingbird 4" Heart Trinket Box has been blushed with pink and the hummingbirds are intricately painted with green, yellow and pink.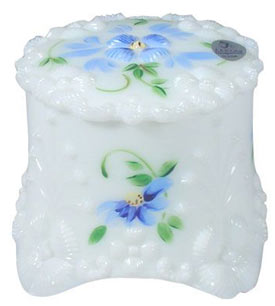 C6390I7
3'' Milk Glass Handpainted Shellflower Trinket Box
$58.50, Buy Now!

This intricate 3" Milk Glass Trinket Box is a mould acquired from Indiana Glass. The raised daisy petals entwined with handpainted daisies make this a lovely keepsake for any Fenton collector.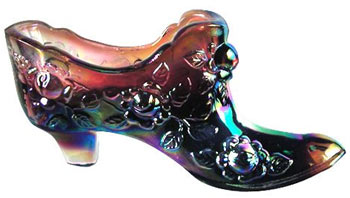 Z9295IP
6'' Plum Opalescent
Iridized Rose Slipper
$24.75, Buy Now!
If the glass slipper fits, add it to your collection! This Iridized Plum Opalescent Rose pattern Slipper (6" long) proudly displays the new Fenton USA logo that appears on all pieces made in Williamstown, West Virginia. Produced as a 2008 Fenton Gift Shop Exclusive.
Fenton eBay Auctions. . .
Own a unique Fenton creation, including
one-of-a-kind pieces, through our weekly eBay Auctions! Items featured this week...
Fenton USA Presents. . . Mother's Day Gift Ideas!

Mother's Day is just around the corner...shower her with Fenton! We have a great selection of gift items from small tokens of love to treasured limited edition heirlooms. Fenton Treasure Boxes. . . perfect for storing life's little treasures. Add a special
touch by placing a personal "love" note inside one of our handcrafted Treasure Boxes. Graced with a handpainted floral motif designed by Stacy Williams, our Burmese Purse Treasure Box has its own special message ("You're a Treasure") inside and is inscribed with the signatures of Nancy Fenton, Shelley Fenton, and Lynn Fenton.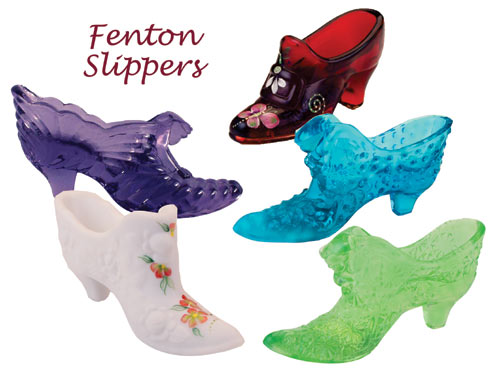 Our Slippers are an enchanting collectible for your favorite "princess."
They are available in colors ranging from new Key Lime in our Daisy & Button pattern to a Hobnail Slipper in Blue Lagoon. The Cat Slipper is back in Hyacinth and a Rose Slipper in Sanded Opal has a graceful floral design by Michelle Kibbe. Last, but not least,
Kim Barley's delicate dragonfly and floral design adorns the Ruby Slipper.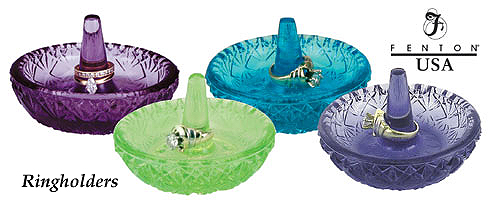 Fenton Ringholders make a precious gift at just the right price. Available in a rainbow of colors. Mix and match all of the above for the perfect gift for Mom, someone special, or yourself! Click on each image for details or click here to view more 2009 Fenton USA items. To find a Fenton dealer near you, click here.
Internet Special: Fenton Glass Especially for QVC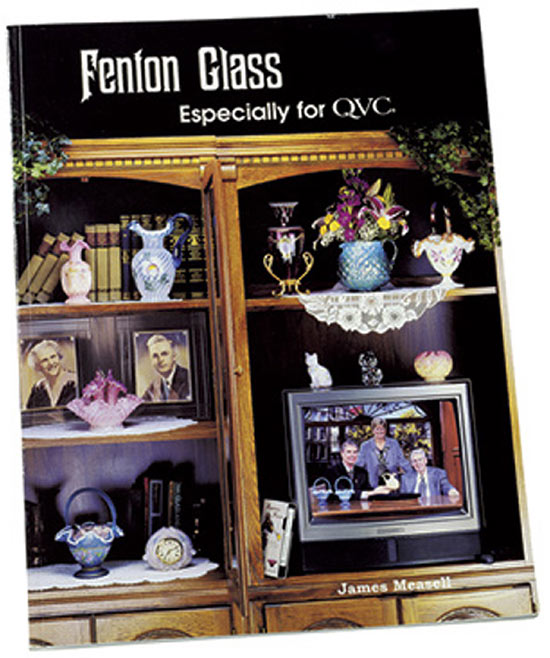 QVC and Fenton fans, be sure to watch our next QVC Show
on May 21. If you've purchased items in the past or want to learn more about Fenton pieces sold on QVC, we have an excellent reference book for you! Fenton Glass Especially for QVC illustrates items sold on QVC from 1988 through August 2002. More than 1,350 items are shown in this
176-page book which has 96 pages in color.
Originally $36.95, buy it now as an Internet Special for only $24.95 postage paid! Click on the FG947 book image to place your order.
Meet Fenton Family Members at 2009 Signing Events
A member of the Fenton family will personally sign your Signing Event Exclusive and other purchases during our Spring 2009 Fenton Family Signing Events. Don't miss our events on April 23-26 in Alabama, Illinois, Indiana, Kentucky, Nebraska, and Missouri! For a complete listing on the Family Signing Event Exclusive, click here.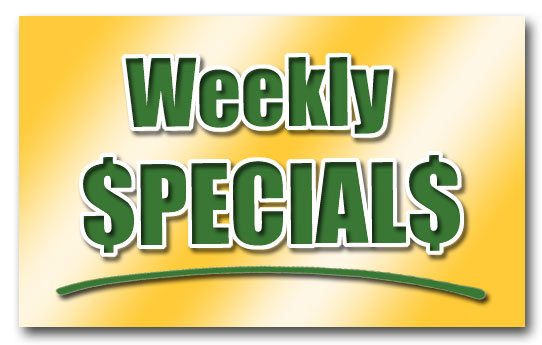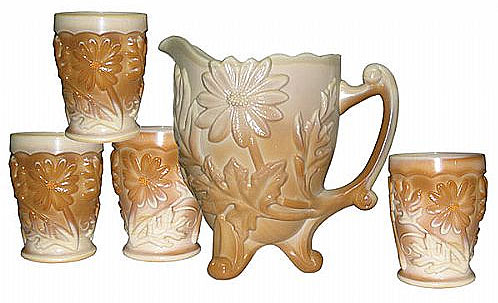 Z1909CK
7-1/2'' Limited Edition
Founder's Chocolate Water Set
One Week Only!
Original price $195, NOW $150.00
No Chocolate collection is complete without our "Limited Edition" Founder's Water Set. This Gift Shop 2005 Centennial Exclusive was strictly limited and individually numbered to 500 sets. The 7-1/2" pitcher bears the stamp "F. L. Fenton - Founder 1905" as well as the signatures of his son, Frank M. Fenton, and his grandson, George Fenton. Four 4" tumblers are included. This water set is sure to become a family heirloom and be sought after for many years to come.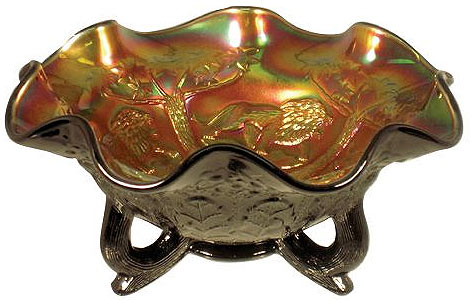 027243Z
8'' Black Marigold Lion Bowl
One Week Only! Original price $71.50, NOW $65.00

Avid carnival collectors will especially love our striking Black Marigold Lion Bowl. Produced as a 2008
Fenton Gift Shop Exclusive, this piece is a
must have for any carnival collection.