IN THIS ISSUE:
FENTON GIFT SHOP
SPECIAL OFFERINGS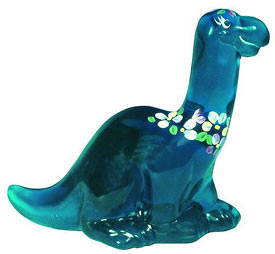 Z5056HPA
3-1/2'' Turquoise Dinosaur
with Lei, $32.75, Buy Now!
This 3-1/2" Turquoise Dinosaur is handpainted with a colorful floral lei around its neck. This new 2009 Fenton Gift Shop Exclusive makes a dyno-mite gift or addition to your Fenton Figurine collection!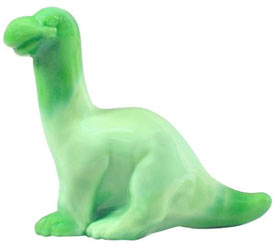 Z5056XE
3-1/2'' Chameleon Green Dinosaur, $27.50, Buy Now!
What could be cuter than a Chameleon Green Dinosaur? Produced as a Gift Shop Exclusive, this piece is a perfect addition to your
critter collection.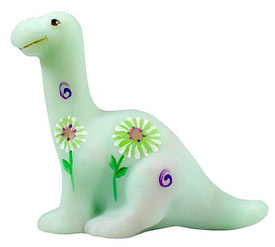 Z5056HP
3-1/2'' Lotus Mist Burmese
Dinosaur, $41.75, Buy Now!
Collectible and oh-h so cute Lotus Mist Burmese dinosaur, enhanced with an upbeat, fun floral design. This Fenton Gift Shop Exclusive makes a dyno-mite gift or addition to your Fenton Figurine collection!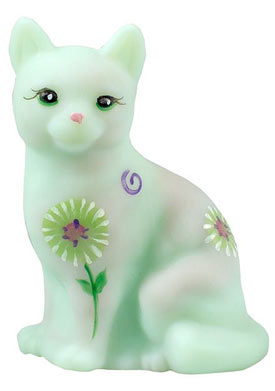 Z5165HPB
3-3/4'' Lotus Mist Burmese Cat with Flower, $41.75, Buy Now!
MEOW! Upbeat, whimsical florals handpainted on a precious Lotus Mist Burmese collectible cat. This Fenton Gift Shop Exclusive is purr-fect for a special collector!
Fenton eBay Auctions
Own a unique Fenton creation, including one-of-a-kind pieces, through our weekly eBay Auctions!
Items featured this week...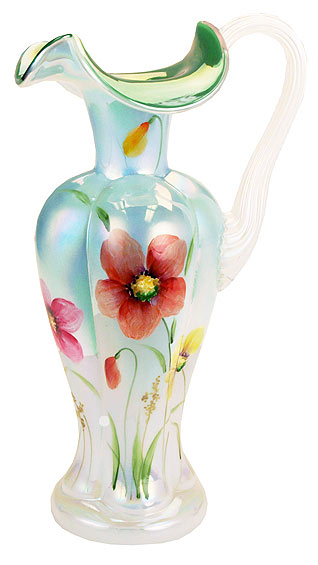 Fenton USA Presents. . .
The 2009 Connoisseur Collection
The Connoisseur Collection from Fenton … simply the best of the best! Each piece comes with a Connoisseur Certificate and is limited to 750 pieces. This is the first of two Connoisseur groupings to be offered
during 2009.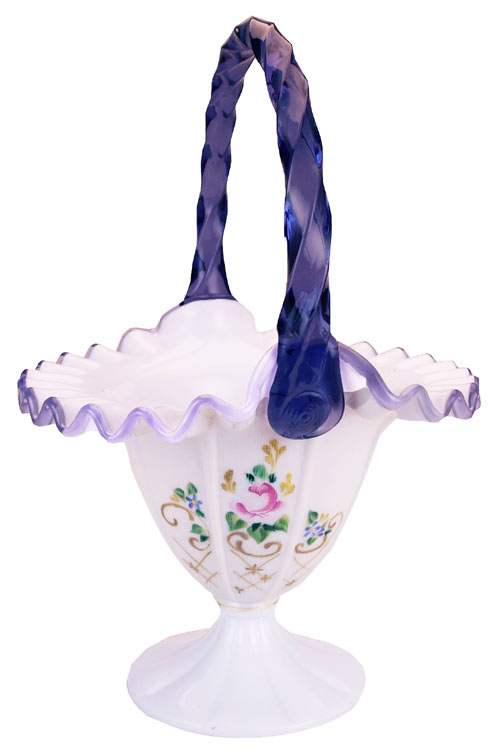 Our vivid Emerald Green glass is cased with French Opalescent and finished with a stunning handpainted floral decoration. This 9-1/2'' Melon Pitcher features a bright ''Poppy Picnic'' design by Kim Barley.

This breathtaking Milk Glass basket has a
Hyacinth edge and handle, 22k gold accents and
is meticulously decorated with handpainted Charleton-style roses design by Michelle Kibbe.
A perfect complement to other Charleton pieces produced by Fenton. To view more items for 2009, click here.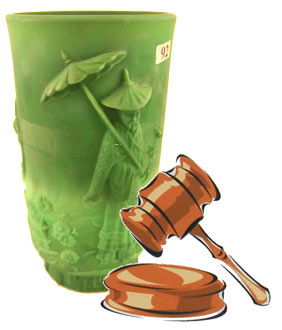 Fenton Auction on Sunday, April 19th
Join us April 19 for a fabulous Fenton glass auction at our factory. 250 lots will be up for bid, reflecting years of Fenton history with a variety of color and decorative treatments. Visit www.randyclarkauctions.com for a preview of all pieces in the auction.
Fenton Family Signing Events
A member of the Fenton family will personally sign your Signing Event Exclusive and other purchases during our Spring 2009 Fenton Family Signing Events. Don't miss our events on April 23-26 in Alabama, Illinois, Indiana, Kentucky, Nebraska, and Missouri! For a complete listing of events and details on the Family Signing Event Exclusive, click here.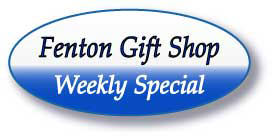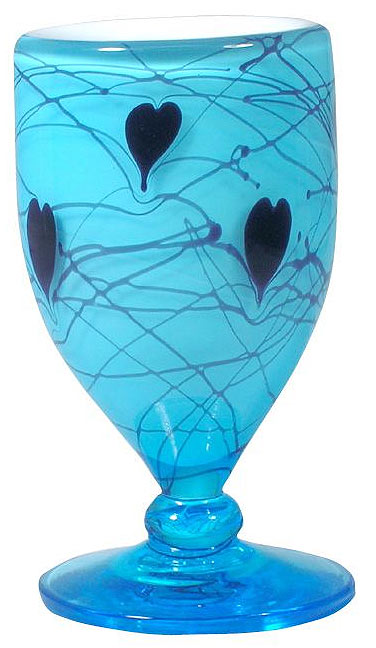 260001
6-1/2'' Dave Fetty Celeste Blue Chalice
One Week Only! Original price $105.00, NOW $80.00
Master glass artisan Dave Fetty begins this Chalice with a core of Milk Glass covered with Celeste Blue glass. Black glass threads are then worked into the vase to create this beautiful hanging hearts design. Each Chalice bears the Dave Fetty backstamp.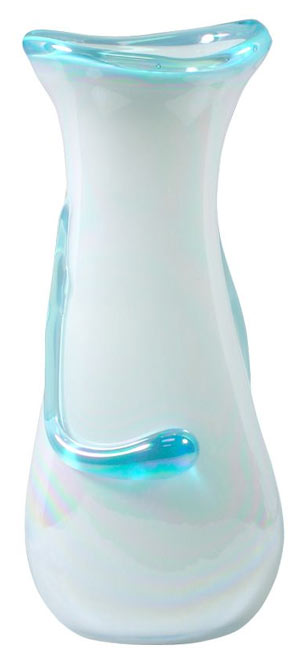 RS102
Fenton ''Angelo Rossi'' Iridized Milk Glass Vase
One Week Only! Original price $210, NOW $150

The contemporary style of glass artisan Angelo Rossi
is a wonder to behold! We recently discovered several
of his iridized Milk Glass vases that have been decorated with hand-applied trim in light blue glass. These vases vary somewhat in shape and size, ranging from 13" to 15" tall. Angelo's vases really make a statement, and you'll be proud
to display one of his creations in your home.
Fenton Gift Shop Spring Fever Appreciation Event.
Click on image below for details.