IN THIS ISSUE:
FENTON GIFT SHOP
SPECIAL OFFERINGS
Classic Fenton Cranberry... Prestigious and so Collectible! Pure gold in the formula creates the deep, rich color. We have more Cranberry than ever, now available at competitive prices. . . from simple, clean lines to delicate patterns. For everyone who loves Fenton Cranberry glass. The items offered below will make perfect additions to any Cranberry collection. These first quality items have variations of the classic Cranberry coloration.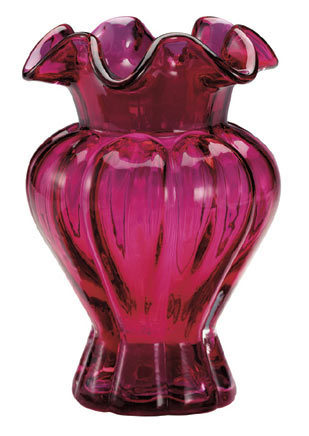 U5355CC
7-1/2'' Cranberry
Melon Vase
Original Price $95
Now $61.75, Buy Now!

U6546CC
4-1/2'' Cranberry
Ribbed Vase
Original Price $65, Now $42.25 Buy Now!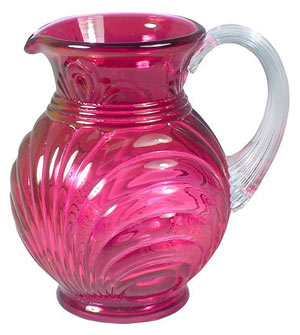 U9760CC
4-1/2'' Cranberry Pitcher
Original Price $65, Now $42.25 Buy Now!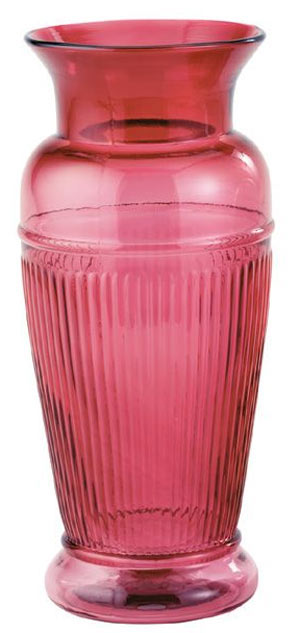 06656CC
9'' Cranberry
Adam's Rib Vase
Original Price $99.50,
Now $74.50, Buy Now!
Fenton eBay Auctions
Own a unique Fenton creation, including one-of-a-kind pieces, through our weekly eBay Auctions! Items featured this week...
Fenton USA Presents. . .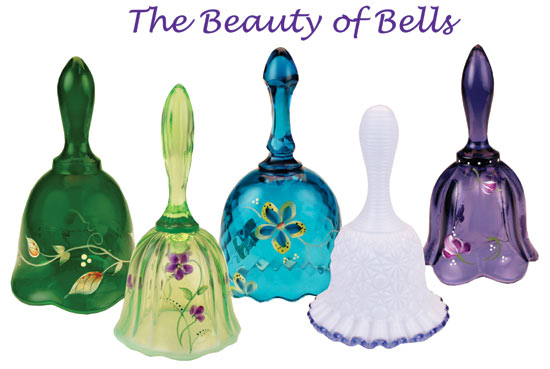 Appealing to the eye and pleasing to the ear. . . delightful for decorating and simply to enjoy. . . nobody does Bells like Fenton! Michelle Kibbe created lovely handpainted floral designs to complement bells made in Emerald Green, Key Lime, Turquoise, and Hyacinth colors. Also included in this grouping is our classic Milk Glass Daisy & Button Bell with a Hyacinth ring. A variety of shapes and sizes to choose from for perfect additions to your Bell collection! To view more items for 2009, click here.
Internet Special. . . Madras Pink Rib & Panel Basket!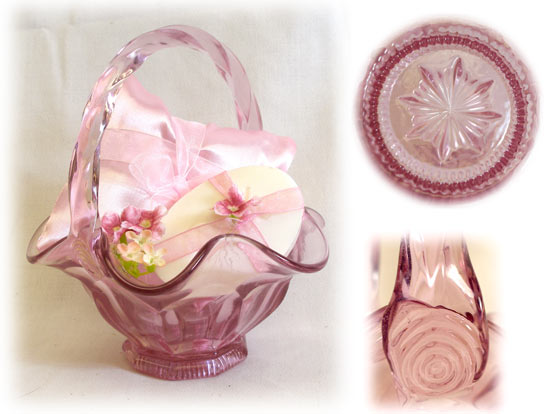 Nobody does baskets like Fenton, handcrafted with amazing skill!
Our 6-3/4'' Rib & Panel Basket in warm Madras Pink is easy on the eyes and perfect for any home. The photo at left shows detail on the bottom of the basket and the handler's mark. Fill with soaps, potpourri or candy as a special gift . . . perfect for Mother's Day!

A limited quantity (less than 20!) remains at this special price! Click on image to order.
Fenton Auction Scheduled for Sunday, April 19th
Join us April 19 for a fabulous Fenton glass auction at our factory. 250 lots will be up for bid, reflecting years of Fenton history with a variety of color and decorative treatments. Visit www.randyclarkauctions.com for a preview of all pieces in the auction.
Fenton Family Signing Events Scheduled
A member of the Fenton family will personally sign your Signing Event Exclusive and other purchases during our Spring 2009 Fenton Family Signing Events which begin on April 23. Don't miss our events on April 23-26 in Alabama, Illinois, Indiana, Kentucky, Nebraska, and Missouri! For a complete listing of events and details on the Family Signing Event Exclusive, click here.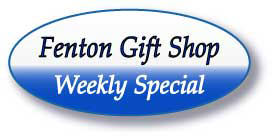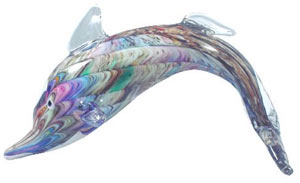 RS101
Fenton ''Angelo Rossi'' Dolphin
One Week Only!
Original Price $150, Now $105

WOW! Make a splash at home with Fenton! We recently discovered several of these fabulous Dolphins, all personally handmade by glass artisan Angelo Rossi when he was in residence at Fenton during 2003-04. Each is made with multi-colored frit encased in crystal, and the frit colors will vary somewhat. These Dolphins measure about 10" to 11" long, using a tape measure to go from the tip of the nose to the tip of the tail.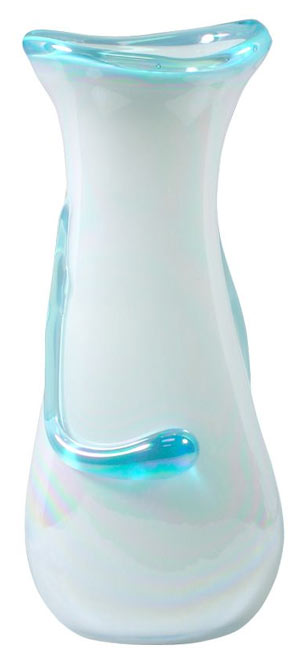 RS102
Fenton ''Angelo Rossi'' Iridized Milk Glass Vase
One Week Only! Original price $210, Now $150

The contemporary style of glass artisan Angelo Rossi is a wonder to behold! We recently discovered several of his iridized Milk Glass vases that have been decorated with hand-applied trim in light blue glass. These vases vary somewhat in shape and size, ranging from 13" to 15" tall. Angelo's vases really make a statement, and you'll be proud to display one of his creations in your home.