Happy Easter!
IN THIS ISSUE:
FENTON GIFT SHOP
SPECIAL OFFERINGS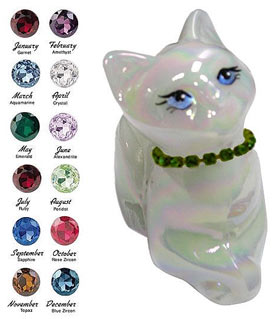 Z5318HPD
3-1/4'' Opal Iridized Birthstone Kitten (Blue Eyes)
$29.50, Buy Now!
How adorable is this Opal iridized Birthstone Kitten with handpainted blue eyes? Produced as a new Gift Shop Exclusive with YOUR CHOICE of birthstone necklace. Please be sure to note the birth month you wish in the comment box upon checkout.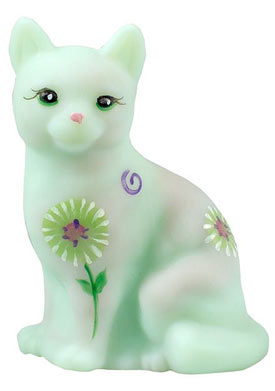 Z5165HPB
3-3/4'' Lotus Mist Burmese Cat with Floral Design
$41.75, Buy Now!
This figurine is the Cat's Meow! Upbeat, whimsical florals handpainted on a precious Lotus Mist Burmese collectible cat. This Fenton Gift Shop Exclusive is the purr-fect gift for that special collector!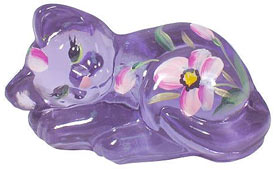 A5064HP2
3-1/2'' Violet Sleeping Kitten
with Pink Floral Design
$23.75, Buy Now!

Sleeping Beauty... or maybe just a little Cat Nappin'. One thing's for certain, this delicate Violet Kitten handpainted with a pink floral design will find a special place in your heart... and home! Don't miss adding this Fenton Gift Shop Exclusive to your collection.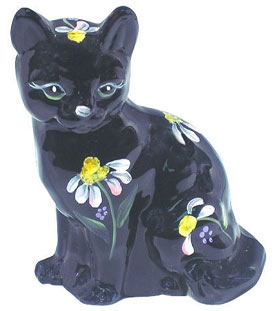 A5165HP3
3-3/4'' Black Cat with Daisies
$31.75, Buy Now!

Stunning black glass hand-painted with pink daisy design makes this cat a real beauty. Don't miss adding this Gift Shop Exclusive Cat to your collection.
Fenton eBay Auctions...
Own a unique Fenton creation, including one-of-a-kind pieces, through our weekly eBay Auctions! Items featured this week...
Fenton USA Presents. . .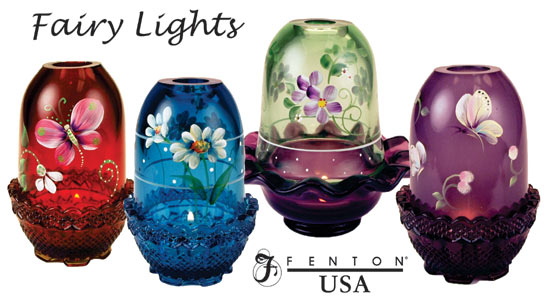 Fairy Lights have been popular since the Victorian era, and no one makes them like Fenton! These charming little "lamps" are ideally suited for our handpainted floral and butterfly designs by Michelle Kibbe and Kim Barley. Shades of Ruby, Indigo Blue, Fern Green and Aubergine emit a soft glow on a nightstand or foyer table and will add romance to a table setting. Each fairy light includes a tea light candle. Click on each image for details. To view more fairy lights, click here.

Retro Romance with Gabriella Miller. . .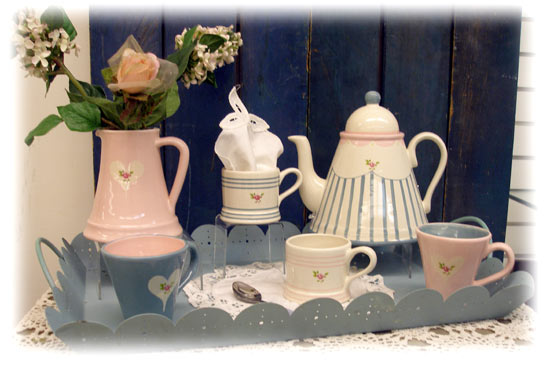 Create a vintage look with a hint of retro romance with Gabriella Miller pottery from Fenton International. Each unique hand thrown shape features handpainted soft pink scallops, stripes and enchanting hearts in a mix of three retro patterns. As an added touch, a tag telling the Gabriella Miller story is attached to each piece with a pink ribbon. Create functional mix and match gift ideas for Mother's Day, weddings, housewarmings, Thank You gifts, or "just because." All Gabriella Miller items are dishwasher and microwave safe. Click on each image for details or click here to view more items from our Gabriella Miller collection.
Fenton Auction Scheduled for Sunday, April 19th


Join us April 19 for a fabulous Fenton glass auction at our factory. 250 lots will be up for bid, reflecting years of Fenton history and a variety of color and decorative treatments. Included in the auction will be this spectacular Dave Fetty footed bowl. The interior features amethyst Hanging Hearts and random threading on a Milk Glass background. The exterior features swirls and threading on a vivid orange background. Both the interior and the exterior are iridized and have a wonderful soft satin effect. Visit www.randyclarkauctions.com for a preview of all pieces in the auction.
Fenton Family Signing Events Scheduled
A member of the Fenton family will personally sign your Signing Event Exclusive and other purchases during our Spring 2009 Fenton Family Signing Events which begin on April 23. Events will be held on April 23-24 in Alabama, Indiana, Kentucky, Nebraska, and Missouri. For a complete listing and details on the Family Signing Event Exclusive Rose basket in Aubergine Marigold Carnival, click here.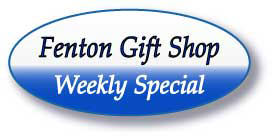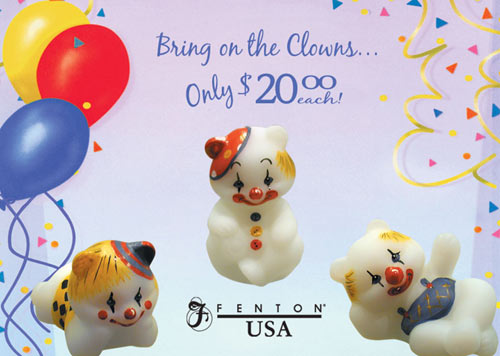 One Week Only! Special Pricing... Only $20.00 each!

Wow! Only $20.00 each! Our clown bears are perfect gifts for the young and young at heart. Get ready to smile each time you see these cuties in your collection. The day dreaming bear was produced in 2003; the reclining bear was produced in 2004; and the sitting bear was produced in 2005. All were Limited Editions for the Fenton Gift Shop. Click on each image to order.