IN THIS ISSUE:
Fenton USA

Fenton International

Preferred Seconds

Fenton eBay Auctions
FENTON GIFT SHOP
SPECIAL OFFERINGS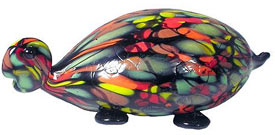 260068
7-1/2'' Dave Fetty
Hanging Hearts Basket
with Looped Handle
$225.00, Buy Now!
Dave Fetty at his finest! This 8" tall blown basket really showcases the skill and talent of master glass artisan Dave Fetty. The light opaque blue body of the basket contrasts beautifully with the black Hanging Hearts and random threading. The applied black fine rib twisted handle even has an added flourish as Dave "looped" it during production! Dave's personal mark is at each base of the handle, and his mark also appears on the outside bottom of the basket. We have just a handful (that's only five!) of this splendid basket!
Iridized Rosebowl
Original Price $30.25,
Now $27.50, Buy Now!

This lovely French Opalescent Iridized Rosebowl with green ring is the perfect place for Easter jelly beans or other holiday decorating.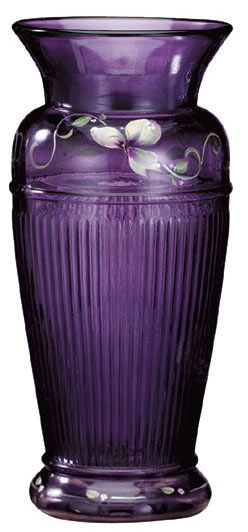 06656EM
9'' Butterfly Kiss on Violet
Adam's Rib Vase
Original Price $92.50,
Now $69.50, Buy Now!
Long the color of royalty, Violet remains an ideal color for home decor. Stacy Williams' refreshing design called "Butterfly Kiss" punctuates Violet with a breath of simplicity.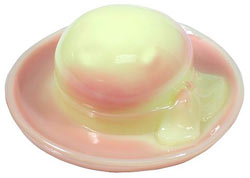 U5395BE
4-1/2'' Burmese Hat
Original price $38.50,
Now $30.00, Buy Now!
This Burmese Hat will make a wonderful gift that says "you are special." Hide an Easter treat underneath!
Fenton eBay Auctions...
Own a unique Fenton creation, including one-of-a-kind pieces, through our weekly eBay Auctions!
Items featured this week...
Fenton USA Presents. . . Spring Finery on Burmese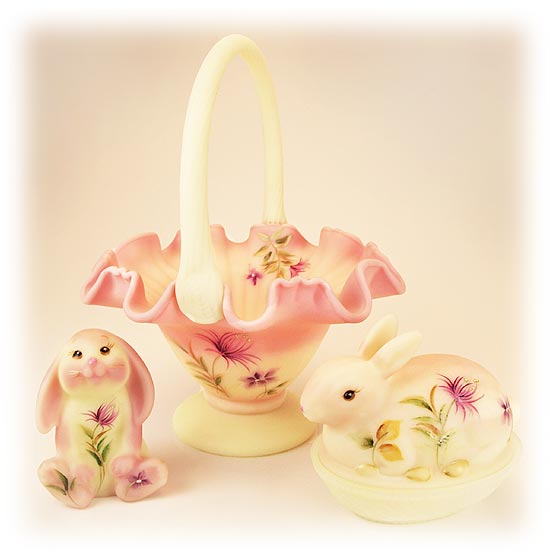 Our popular Spring Finery returns with a spectacular collection for seasonal decorating. These items are all made in Burmese glass, which contains pure gold in the formula to create the pink blush. Burmese glass provides an excellent canvas for Kim Barley's vibrant floral design.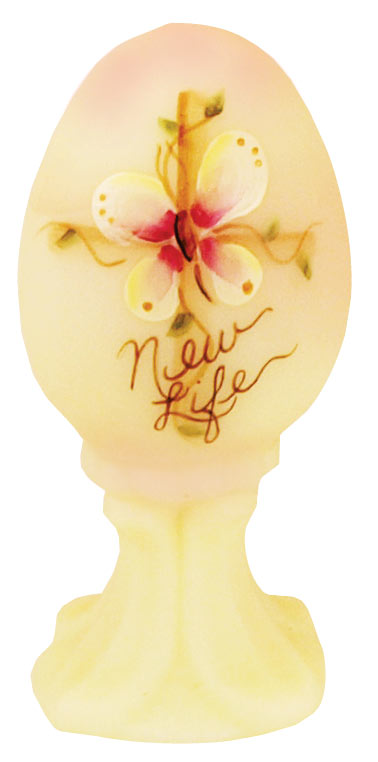 The footed basket features a ribbon candy crimp, rib twisted handle and the signature of Christine Fenton, granddaughter
of company founder Frank L. Fenton. Our cute lop-eared bunny first joined the Fenton line for our Spring collection in 2003. The 4-1/2" covered baby bunny box is perfect for storing Easter treats. Note how lifelike the eyes are on the bunnies! Click on each image for details.
The handpainted "New Life" Burmese egg on stand makes a wonderful Easter gift for the Fenton egg collector! In addition to the New Life script lettering, the egg features a cross with
a floral design by Kim Barley that complements our Spring Finery on Burmese pieces. For more items from Spring 2009, click here. To view more items in our Burmese glass, click here.

Fenton International's Perfect Pair:
Gold Ruby & Gabriella Miller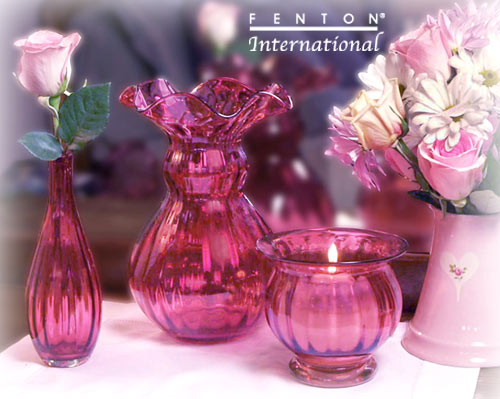 Create an elegant, romantic display in your home with our 5-1/2" Gabriella Miller pitcher filled with Spring flowers and our Gold Ruby glass vases and hurricane candle as accent pieces! Gabriella Miller pottery is the perfect complement to the Gold Ruby glass! Mix and match different for beautiful results or give as a unique gift for someone special! To view more glass items from Fenton International, click here. To view more Gabriella Miller pottery, click here.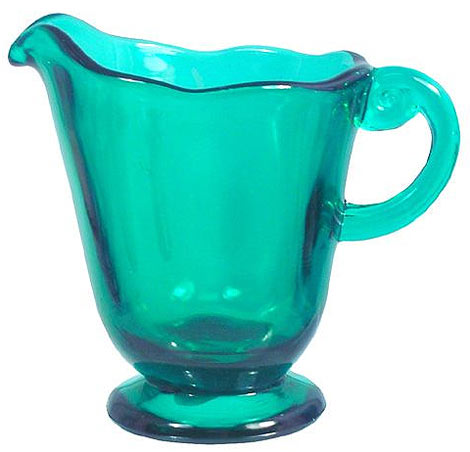 211678
4-1/2'' Fenton Gift Shop
Emerald Green Pitcher, $15.00

Preferred Second. Enjoy this lovely Emerald Green Pitcher in your home today!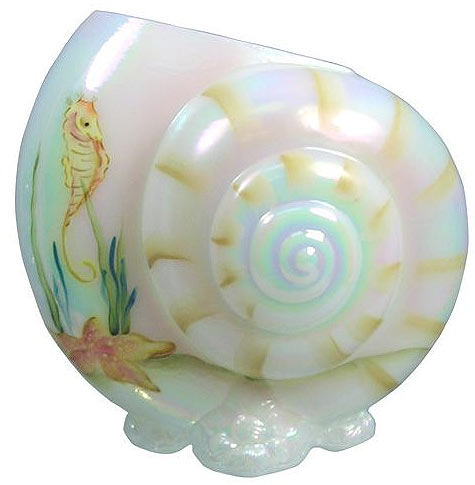 200015
7-1/2'' Opal Iridized
Handpainted Seashell Vase
$114.50

Preferred Second.
Big and beautiful, this unique
Seashell Vase in Opal Iridized has a
pearly finish and is accented with a
handpainted seahorse design.