IN THIS ISSUE:
FENTON GIFT SHOP
SPECIAL OFFERINGS
Please note: Quantities are limited on these items. If you can't make it to Williamstown, WV for our Annual Gift Shop Sale, you can still order these Gift Shop Exclusives (while supplies last) by calling toll free 1-800-319-7793 x383, x327, x282 or x321.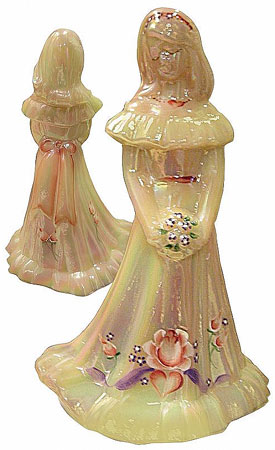 Z5228HPIE
7'' Gift Shop Exclusive Handpainted Burmese Bridesmaid Doll, $76.50
Buy Now!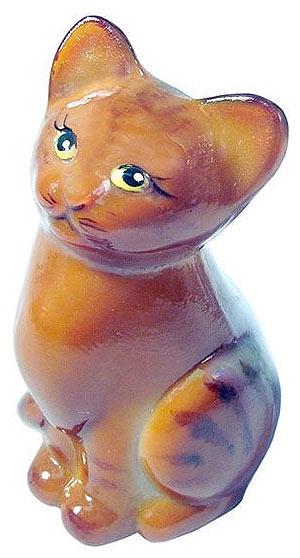 Z5365HPC
3'' Fenton Gift Shop Exclusive Chocolate ''Natural'' Kitten
$29.50, Buy Now!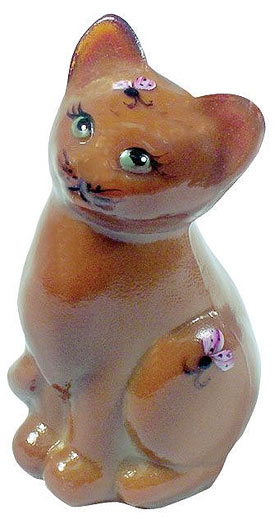 Z5365HP
3'' Fenton Gift Shop Exclusive
Chocolate Kitten with
Purple Ladybug, $29.50
Buy Now!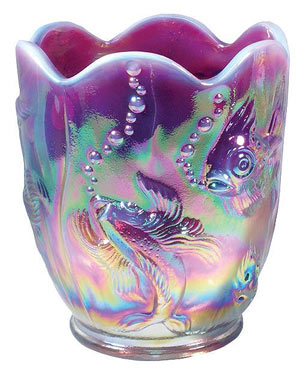 Z5150IP
6-1/2'' Fenton Gift Shop
Plum Opalescent Atlantis Vase
$125.00, Buy Now!
Our Atlantis pieces have always been popular with collectors and this vase is a true beauty. Produced for the Fenton Gift Shop in Plum Opalescent Iridized. You won't want to miss adding this one to your collection! Just a few remain!
Fenton eBay Auctions...
Own a unique Fenton creation, including
one-of-a-kind pieces, through our weekly eBay Auctions!
Items featured this week...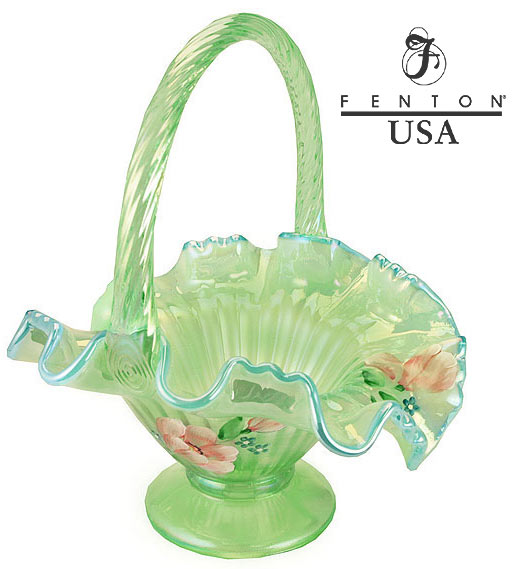 Fenton USA:
Nobody does
Baskets like Fenton!
Our new Spring basket (5733 66) will make a beautiful addition to your collection! Fill this iridized basket with flowers, potpourri, candies, or Easter eggs! Made in our new, refreshing Key Lime glass, this baskets is made with a mould originally from the Dugan Glass Company that dates back to the early 20th century. The basket features a fine rib-twisted handle and ribbon candy crimp with a Blue Lagoon ring. The lovely, soft peachy-pink floral design (decorated inside and out) was created by Kim Barley.
Fenton started creating baskets in the late 1930s. Attaching basket handles requires a great deal of skill. There's less than 30 seconds to attach and shape
a handle before the glass cools down and is no longer workable. In the 1950s, company President Frank M. Fenton and his brother Bill Fenton, who was
Vice-President, decided that each Fenton basket handler should have a distinctive mark so that collectors could identify the artisan who created their basket. These marks are impressed at the base of each side of the handle. We currently have five skilled basket handlers at Fenton. The basket shown above features Butch Wright's "bulls-eye" design handler's mark. To view more Fenton baskets, click here; or to view more Key Lime pieces, click here.
Presents. . . Retro Romance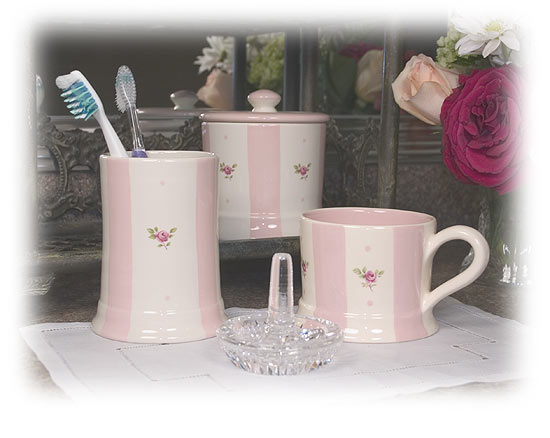 Create a display with a hint of retro romance using our Gabriella Miller pottery.
Each unique hand thrown shape features delicate floral rose garden designs beautifully handpainted on a creamy satin pottery. As an added touch, a tag
telling the Gabriella Miller story is attached to each piece with a pink ribbon.
This collection includes functional mix and match gift ideas for Mother's Day, weddings, housewarmings, Thank you gifts, or "just because." Shown above
are a toothbrush holder, a covered canister and a mug in a Pink Rose Stripe design. All items are dishwasher and microwave safe. Click on each image for details or click here to view more items from our Gabriella Miller collection.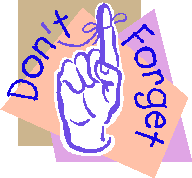 Fenton on QVC March 4th, 2009!
George Fenton will appear as co-host on QVC during two Fenton Art Glass shows scheduled for Wednesday, March 4, 2009. Show times are 11 a.m.-Noon and 8 p.m.-9 p.m. (Eastern time). Collectors will want to watch for our two-piece Cat set in Chocolate, a 16-1/2'' Burmese Epergne which has three Jack-in-the Pulpit trumpets, a three-piece Carnival Glass set, and much more! Next week's newsletter will have the complete show preview! Click here to view Fenton Art Glass items currently available on QVC.
Special Edition 100th Anniversary Fenton Book. . .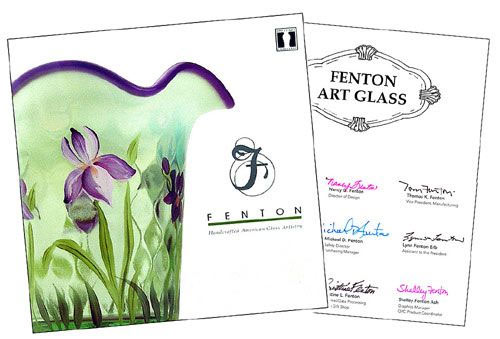 A must have item for those who love Fenton glass! Offered on QVC in 2005, this 176-page hardback book (11'' x 11'') contains exquisite color photos of the 100 very best Fenton products from our earliest days to the present. Members of the Fenton family chose the pieces to be included in the book. The signatures of nine Fenton family members are in each book. Click on the book to order or click here for additional reference materials.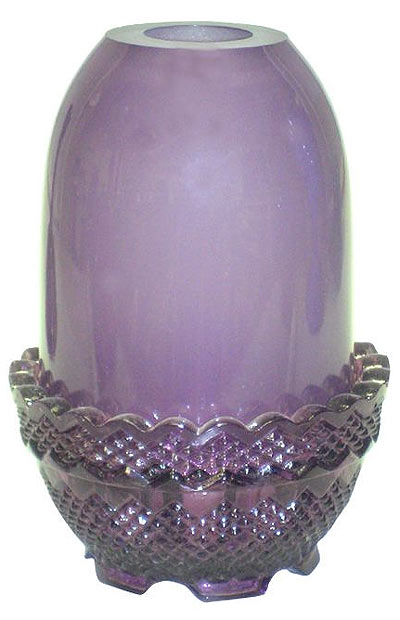 300038
5-1/2'' Fenton Gift Shop
Aubergine Fairy Light
Original Price $61.25, Now $39.50
This Aubergine Fairy light has been given a unique treatment to the top shade with a satin finish on the inside which gives it a softening effect.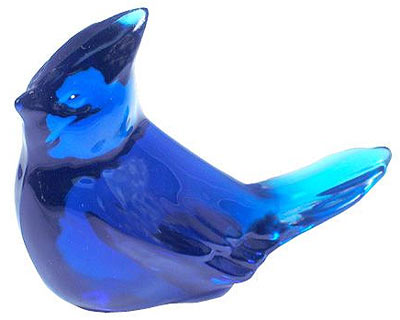 200013 4'' Fenton Gift Shop Indigo Blue Bird, $9.75

Preferred Second. This Indigo Blue Bird will make it the perfect addition to any figurine collection.