IN THIS ISSUE:
Fenton USA

Radio Talk Show News

QVC Show Update

Signing Event Exclusives

Fenton eBay Auctions
FENTON GIFT SHOP
AS SEEN ON TV
SPECIAL OFFERINGS
On Sale Thru Feb. 23rd!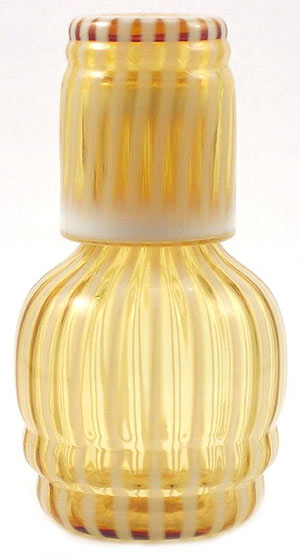 C3200AO
8'' Autumn Gold Opalescent
Tumble Up
Original price $84.00, Now $58.80
Buy Now!
Lovely and refreshing by your bedside! Our 8" Tumble Up in Autumn Gold Opalescent features a straight rib optic pattern. Inscribed with the signature of Shelley Fenton.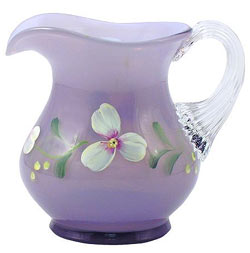 C975466
4-1/2'' Violet Opaline
Handpainted Pitcher
Original price $79.75, Now $55.85
Buy Now!
This 4-1/2" pitcher of French Opalescent with Violet glass overlay features a striking
French Opalescent ribbed handle. Handpainted with cream and violet flowers.
6'' Ruby Amberina Stretch Comport
Original price $45.00, Now $31.50
Buy Now!
This Ruby Amberina Stretch Comport in the Persian Medallion pattern is ideal for serving nuts and candy or to fill with potpourri.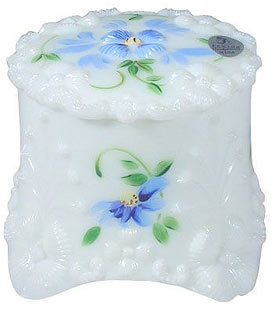 C639017
3'' Milk Glass Handpainted Shellflower Trinket Box
Original price $58.50, Now $40.95
Buy Now!
This intricate 3" Milk Glass Trinket Box is a mould acquired from Indiana Glass. The raised daisy petals entwined with a handpainted daisies design will make this a lovely keepsake for any Fenton collector.
For more 30% OFF
As Seen on TV Specials,
click here.
Fenton USA Presents. . . Lovely, Languid Blue Lagoon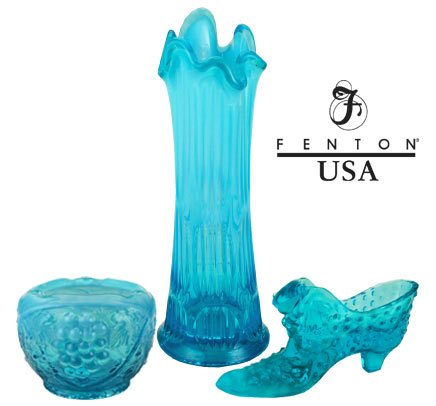 Lovely, languid Blue Lagoon joins the legions of Fenton blues in our history. Available unadorned or in a soothing Whispers on Blue Lagoon design by
Kim Barley. Included in the unadorned color group are a rose bowl, vase, and slipper.
Originally called Palm Beach by Opalescent Glass collectors, the Grape & Cable Rose Bowl is made from a U.S. Glass Company mould. The Mitre & Circle Swung Vase is made from an historic Fenton mould (circa 1910) that complements today's home decor styles. Our popular classic Fenton Hobnail Cat Slipper makes an enchanting collectible for yourself or a charming gift. See how it sparkles in the light! To view more items available in Blue Lagoon, click here.

Fenton Glass to be Featured on Radio Talk Show
Fenton historian Jim Measell will talk about Fenton glass with WMQM radio host Ed Tuten on Wednesday, February 18 at 5 p.m. (Eastern time). You can listen
to this program live via the internet. In advance of the broadcast, go to the station's web site and be sure you have one of the media players downloaded to your computer: http://www.WMQM1600.com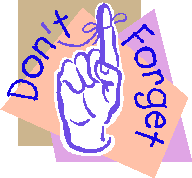 Fenton on QVC March 4th, 2009!
George Fenton will appear as co-host on QVC during two
Fenton Art Glass shows scheduled for Wednesday, March 4, 2009. Show times are 11 a.m. - Noon and 8 p.m. - 9 p.m. (Eastern time). Nathan Sheafor fans won't want to miss his fabulous vase, plus there's Carnival, Burmese, Key Lime, Blue Lagoon, and much more! Watch this newsletter for the product preview! Click here to view Fenton Art Glass currently available on QVC.
Fenton Gift Shop Signing Event Exclusives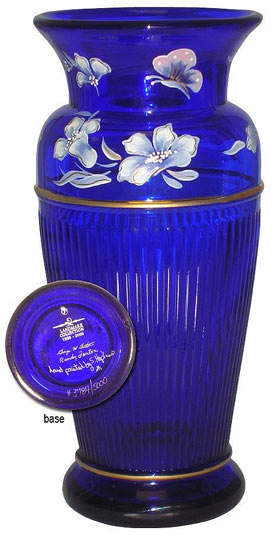 C6656K3
Online Presidents' Day Special!
Signing Event Exclusive
9'' Cobalt Adams Rib Vase
$82.25
Handpainted Cobalt Signature Vase.
Only a few remain of this limited and numbered
Cobalt vase inscribed with the signatures of our
Company President, George Fenton and
Fenton Gift Shop President, Randy Fenton...
as well as the artist who proudly handpainted
this collectible beauty! Limited to 5000, this
piece was originally offered in our
Centennial Landmark Collection.
Place your order today!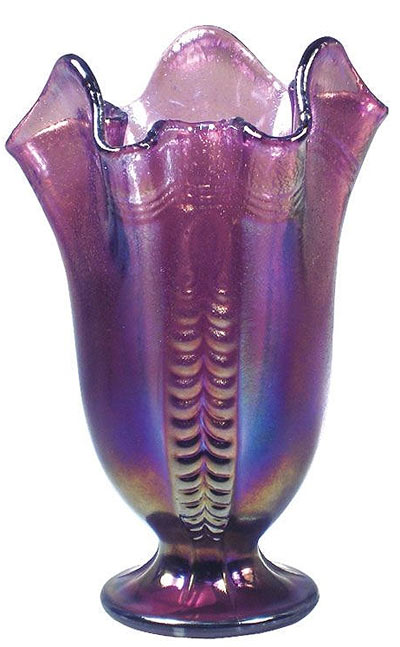 C7773RM
Signing Event Exclusive
6"-7'' Aubergine Stretch Swung Vase
$39.50

A collectible Aubergine Stretch vase made even more special when signed by a third AND fourth generation family member! Pre-signed by Lynn or Scott Fenton... don't miss the chance to have Randy, George or Mike sign this iridescent beauty during our Annual February Gift Shop Sale!

NOTE: Please specify in comment field who you wish to have sign your vase... Randy, George or Mike Fenton. Estimated ship dates are February 16-23.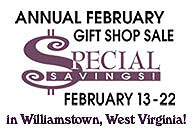 Fenton eBay Auctions. . .
Own a unique Fenton creation
through our eBay Auctions!
Items featured this week...