IN THIS ISSUE:
Fenton USA

100th Anniversary Book

QVC Show Update

Clearance Corner

Gift Shop Offerings

Fenton eBay Auctions
FENTON GIFT SHOP
SPECIAL OFFERINGS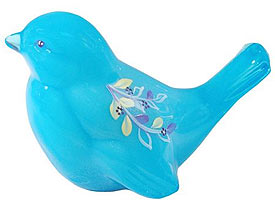 A5163HP
4'' Sky Blue Bird, $23.75, Buy Now!
Sky Blue glass requires a special manufacturing process to create both a wonderful translucent quality and the interesting striations in each piece. This handpainted bird was produced as a Gift Shop Exclusive for 2008.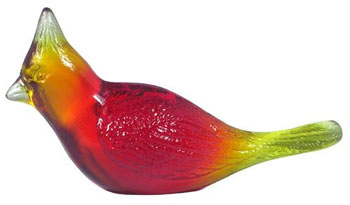 Z5245RU
5'' Ruby Amberina Cardinal
$26.25, Buy Now!
Ruby is a glass very sensitive to heat and this feature creates the wonderful amberina effect. Color may vary. A unique gift!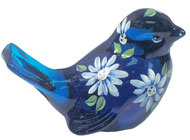 A5163HPZW
4'' Indigo Blue Handpainted Bird
$23.75, Buy Now!
Beautiful Indigo Blue glass handpainted with big bright flowers make this bird a real treasure. Don't miss adding this Gift Shop Exclusive to your collection.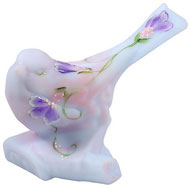 C5238UQ,
3'' Blue Burmese Satin
Bird on a Log, $39.50, Buy Now!
Bring a touch of nature to your home year-round with this lovely 3" Blue Burmese Bird on a Log. The handpainted satin finish features a soft Periwinkle design in purple and white with yellow highlights.
Fenton eBay Auctions. . .
Own a unique Fenton creation through our eBay Auctions!
Items featured this week...
Fenton USA Presents. . .
Bird Figurines Winging Their Way to Your Collection!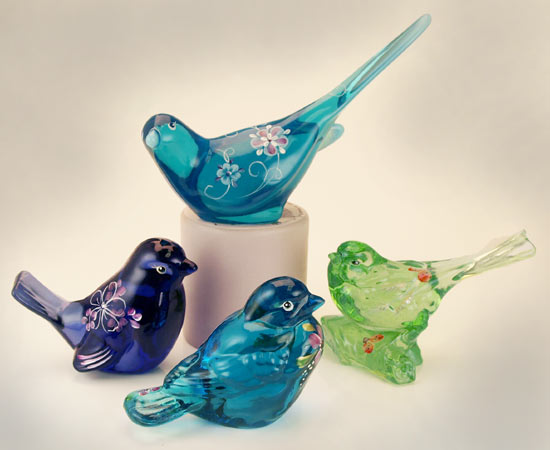 Bird figurines are a perfect way to introduce a young collector to the wonders of Fenton glass. Our handcrafted Bird figurines for 2009 include two figurines in the new Blue Lagoon color - the Happiness Bird and a 4'' Bird. We also have a 4'' Bird in Aubergine. All of our bird figurines feature delightful floral designs by Michelle Kibbe. Our new Fenton Key Lime green has both beauty and depth as reflected in the 3'' Bird on a Log figurine and our 3-3/4'' Songbird (not shown).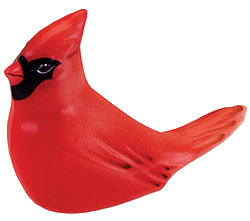 Complete with black mask, our attractive new 4'' Cardinal figurine will make a fine addition
to any figurine collection! The Cardinal, also known by the names of Red-bird, Virginia Nightingale, Cardinal-bird, and Cardinal Grosbeak, is the State Bird of Illinois, Indiana, Kentucky, North Carolina, Ohio, Virginia
and West Virginia.
To view more bird figurines, click here.
Special Edition of 100th Anniversary Fenton Book . . .
This book is A must have item
for those who love Fenton glass!

First offered on QVC in 2005, this 176-page hardback book (11'' x 11'') contains exquisite color photos of the 100 very best Fenton products from our earliest days to the present. The signatures of nine Fenton family members are in each book. Members of the Fenton family chose the pieces to be included in the book. Click on the book to order or click here for more reference materials.
QVC Shows Scheduled for March 2009!
The next QVC shows featuring Fenton Art Glass are scheduled for Wednesday,
March 4, 2009. Show times will be 11 a.m. - Noon and 8 p.m. - 9 p.m. (Eastern time) with George Fenton as the guest host. Watch this newsletter for a product preview! Click here to view Fenton Art Glass currently available on QVC.
X5363AM
3-1/2''Autumn Gold Songbird Figurine
Original Price $24.00, Now $20.00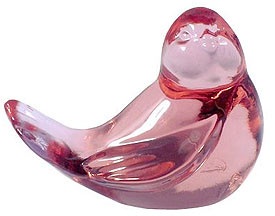 These cute Fenton Gift Shop 3-1/2" Songbird figurines make perfect gifts to give or to receive. Handcrafted with pride by the artisans of Fenton Art Glass in West Virginia.
U5363N3
3-1/2'' Pink Songbird Figurine
Original Price $24.50, Now $15.75