IN THIS ISSUE:
Fenton USA

Internet Special

QVC Show Update

Preferred Seconds

Fenton eBay Auctions
FENTON GIFT SHOP
SPECIAL OFFERINGS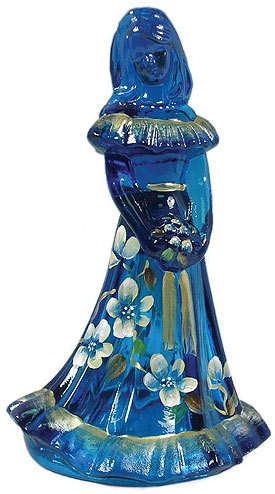 Z52284B
7'' Indigo Blue Cherry Blossom Doll, $61.25, Buy Now!
Nothing signals the arrival of Spring more than the sweet scent of cherry blossoms. Produced as a 2008 Gift Shop Exclusive, this handpainted Doll will surely be sought after for years to come!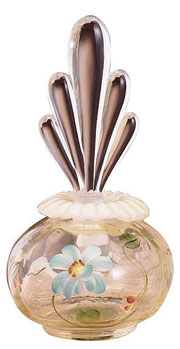 08103VX
6-1/2'' Daisy Blue on Silken Sand Perfume , Original Price $99.50 Now $74.50, Buy Now!
Frances Burton's delicate "Daisy Blue" design with melon berry accents trails across a field of pale gold Silken Sand, adding a simple touch of beauty to this entrancing color.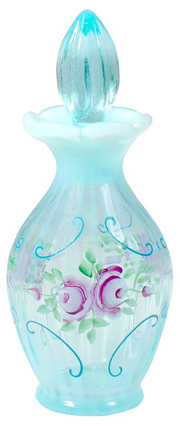 M5443PD
5-1/2'' Aquamarine
Handpainted Perfume Bottle
Original price $82.50
Now $60.50, Buy Now!
Handpainted with a "Rose Scroll" design, this blown perfume bottle with a delicate striped optic brings an elegant style to the beauty of Aquamarine glass.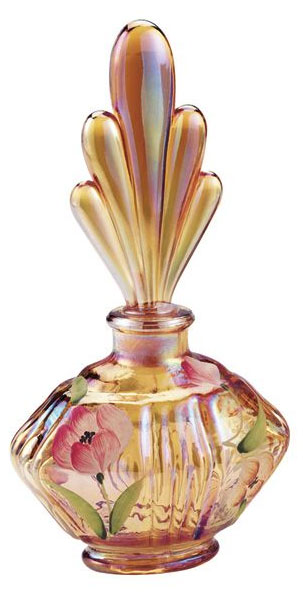 07107A9
7'' Golden Tulips on Autumn Gold Perfume; Original Price $72.50 Now $59.50, Buy Now!
Kim Barley captures the rich beauty of blooming tulips on a field of Autumn Gold glass in this versatile design that transcends seasons. Perfect
for that special collection.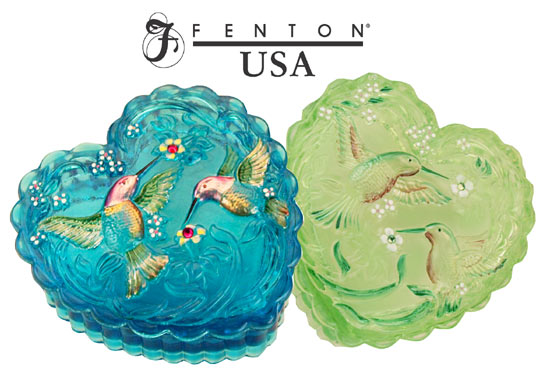 Fenton USA Presents. . . Heart Treasure Boxes
Store an assortment of life's special treasures...precious keepsakes and cherished memories...in a handcrafted functional Fenton Treasure Box. Valentine's Day is fast approaching, and our heart-shaped treasure boxes will make this holiday more special! Place a sentimental note to your loved one inside...or fill the box with a favorite candy or jewelry!
We offer our ribbed heart-shaped treasure boxes in two new colors - Blue Lagoon and Key Lime. The hummingbird design is available either handpainted or unadorned. To order, click on each image. To view more Treasure Boxes, click here.
Internet Special Offer. . . Silver Crest Basket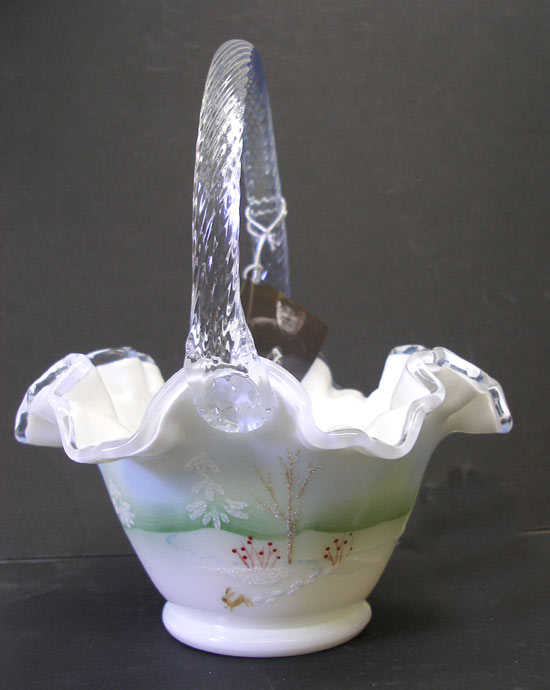 Silver Crest has always been popular and this piece is a must for collectors! This handpainted Fenton basket is handcrafted in Milk Glass with a crystal crest and a crystal ribbed twisted handle.
Each double-crimped basket features a bunny hopping through a snowy winter landscape within Robin Spindler's design.
Only a very limited quantity remains on this beautiful basket. Crafted with pride by the skilled glass masters of Fenton. To view more Fenton baskets, click here.
P2913HP Silver Crest -1/2'' Basket, Now $79.50
Fenton USA Presents New Ringholder Colors. . .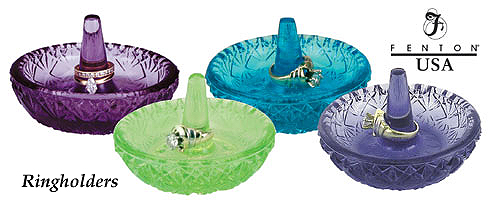 Protect and store your valuable treasures with a colorful ringholder. For Spring 2009, Fenton USA introduces the classic Fine Cut & Block Ringholder in two new colors: Key Lime and Blue Lagoon. Our ringholders are available in a rainbow of colors to complement any decor from the kitchen to the bath and they make perfect impulse gifts!

Click on the images to order or click here for more Ringholders.
QVC Shows Scheduled for March 2009!
The next QVC shows featuring Fenton Art Glass are scheduled for Wednesday,
March 4, 2009. Show times will be 11 a.m. - Noon and 8 p.m. - 9 p.m. (Eastern time) with George Fenton as the guest host. Circle the date on your calendar and watch this newsletter for a preview to items to be offered! Click here to view Fenton Art Glass items currently available on QVC.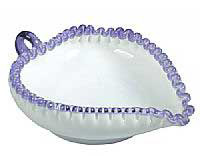 200013
8'' Milk Glass Bon-Bon Dish
with Hyacinth Crest
$38.25

Preferred Second
This pretty Fenton Gift Shop
Milk Glass Bon Bon Dish has a hyacinth crest and small handle.
Perfect for everyday use.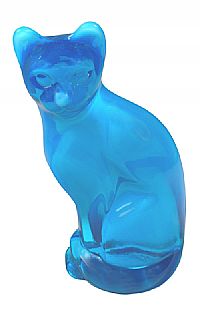 218041
5'' Blue Lagoon Stylized Cat
$10.75

Preferred Second
This Fenton Gift Shop Stylized Cat in Blue Lagoon −
a new color for Spring 2009! A perfect gift for your
special cat collector.
Fenton eBay Auctions. . .
Own a unique Fenton creation through our eBay Auctions!
Items featured this week...