IN THIS ISSUE:
Fenton USA

Fenton International

Clearance Corner

Preferred Seconds

Fenton eBay Auctions
FENTON GIFT SHOP
SPECIAL OFFERINGS
Charming Burmese Hurricane Lamps with lovely designs will add function and beauty to any home decor. Perfect for the bedside or mantel.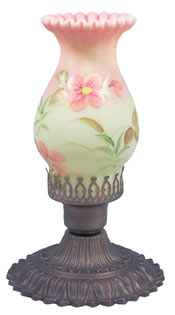 210001
10'' Burmese Hurricane Lamp
Floral Design
$135.00, Buy Now!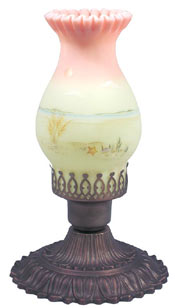 210002
10'' Burmese Hurricane Lamp
Tranquil Beach Scene
$125.00, Buy Now!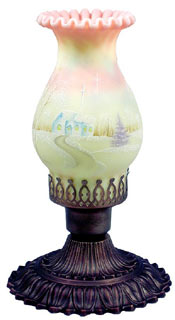 210003
10'' Burmese Hurricane Lamp
Winter Country Church Scene
$160.00, Buy Now!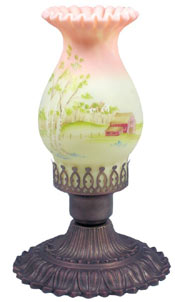 210005
10'' Burmese Hurricane Lamp
Farm Scene; $135.00, Buy Now!
Fenton eBay Auctions. . .
Own a unique Fenton creation through our eBay Auctions!
Items featured this week...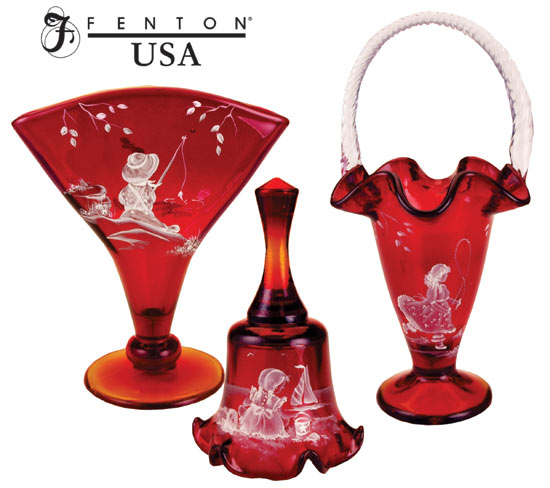 Fenton USA Presents. . .
Mary Gregory
Limited Editions
Our talented designers continue to create Mary Gregory-style decorations that bring smiles to the faces of collectors who have come to love this traditional look. Fenton artists work with white enamel that's the consistency of marshmallow cream to create the extraordinary details.
Our Limited Edition Mary Gregory pieces for Spring 2009 are sure to delight those who enjoy this unique painting style. Note how well the exquisitely detailed designs by Michelle Kibbe appear on our Black and Ruby glass.
The Summer Sun Bell depicts a young girl at the beach with a sailboat in the background, and the Little Sister Candy Box features two children playing on a seesaw. To view more Mary Gregory items, click here.

Our Cat Treasure Box..."purr-fect" for keepsakes!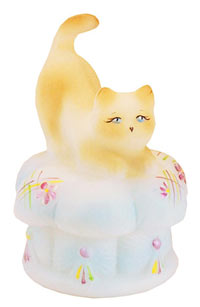 Store your precious keepsakes in our handcrafted Opal Satin Treasure Box. Michelle Kibbe's handpainted design features a frisky feline perched playfully atop an ottoman with his tail in the air to show he's happy! Cute, yet functional, the cat's tail serves as a ringholder, while the ottoman stores tiny treasures!
To view our assortment of Treasure Boxes, click here. To view additional items available for Spring 2009, click here.
0536163 Cat 4-1/2'' Treasure Box in Opal Satin, $55.00
A Heart-felt Anniversary Gift
from Fenton International

Have a February Anniversary this year? Make it extra special by sending flowers in our Heart Vase from Fenton International! Each vase has flowers that are hand cut into the glass using special wheels. The precious metal lettering is applied and fired into the glass. Each design is then handpainted and fired again to create a brilliantly sparkling image.
The Anniversary Heart Vase is available for the following Anniversaries: Happy Anniversary, 25th, 40th, 50th, and 60th Anniversary. Click here for more glass items from Fenton International.
217948
11'' Fenton Gift Shop
Ruby Opalescent Optic Jack-in- the-Pulpit Vase
$45.00

Preferred Second. This Ruby Opalescent Rib Optic
Jack-in-the-Pulpit Vase will be the perfect
accent for your home.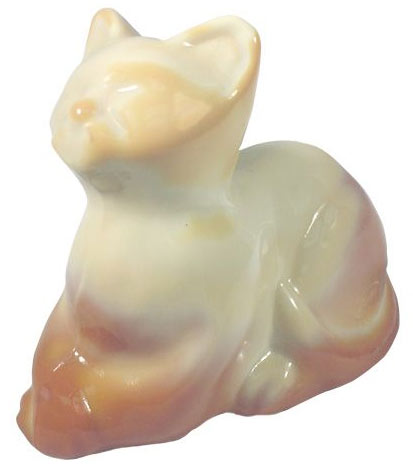 200012
3-1/4'' Fenton Gift Shop
Chocolate Kitten
$11.25

Preferred Second. This adorable Chocolate Kitten
is a perfect choice to introduce the young collector
to the wonders of Fenton Art Glass.