IN THIS ISSUE:
Fenton USA

QVC Show Update

Clearance Corner

Preferred Seconds

Fenton eBay Auctions
FENTON GIFT SHOP
SPECIAL OFFERINGS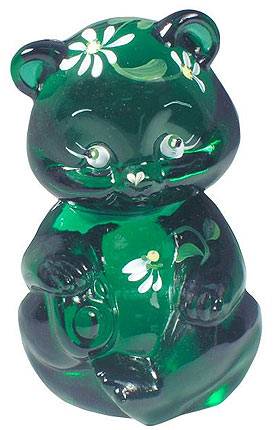 Z5151HPE
3-1/2'' Emerald Green Bear
$34.75, Buy Now!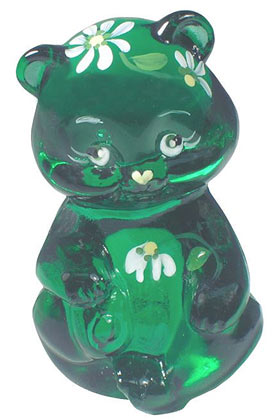 Z5251HPE
2-3/4'' Emerald Green Mini Bear
$24.75, Buy Now!
These adorable Emerald Green Bears are handpainted with a fresh daisy pattern. New Fenton Gift Shop Exclusives for 2009, these Bears will make a beary special gift or addition to your Fenton figurine collection!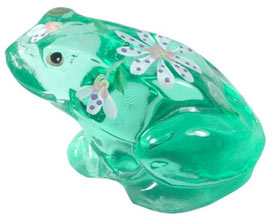 Z5274HPGQ
2-1/2'' Willow Green Frog
$26.75, Buy Now!

This Willow Green Frog has been handpainted with a retro daisy design. Produced as a Gift Shop Exclusive, this will be a great addition to your collection.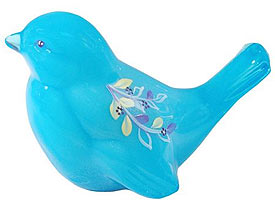 A5163HP
4'' Sky Blue Bird
$23.75 , Buy Now!

Sky Blue glass requires a special manufacturing process which creates both a wonderful translucent quality and interesting striations in each piece. This handpainted bird was produced as a Gift Shop Exclusive for 2008.

Fenton eBay Auctions. . .
Own a unique Fenton creation through our eBay Auctions!
Items featured this week...
Fenton USA Presents. . . Whispers on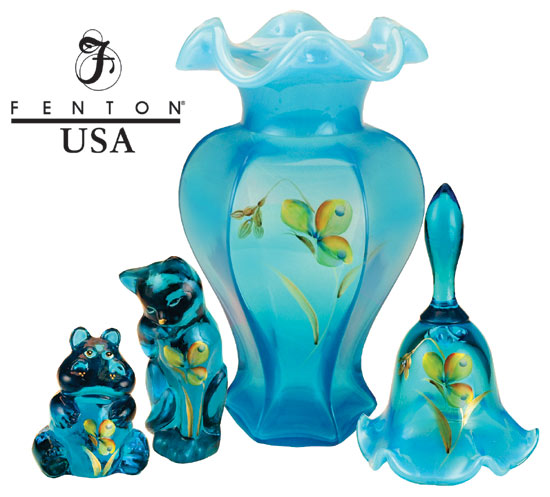 Blue Lagoon
Our new Whispers on
Blue Lagoon grouping for Spring 2009 includes two vases (hexagonal and trumpet), a basket,
a bell, and two animal figurines.
Created especially for the Blue Lagoon glass color, Fenton designer Kim Barley's Whispers motif features sheer colors floating effortlessly on the surface. All of the new items in Blue Lagoon are also available unadorned.
To order, check with your local Fenton dealer or visit: www.fentonartglass.com.
To preview all of the Spring 2009 items, click here.
Special Edition of 100th Anniversary Fenton Book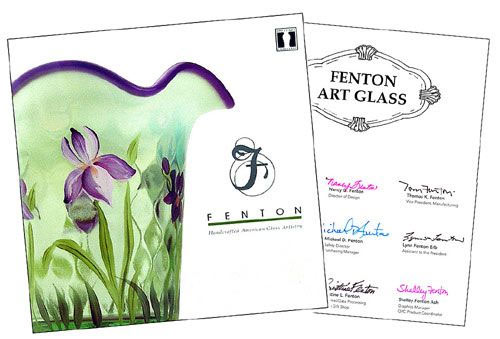 Now Available. . .
Only $49.50!

For all those who love Fenton glass, this is a must have item!

First offered on QVC in 2005, this 176-page hardback book (11'' x 11'') contains exquisite color photos of the 100 very best Fenton products from our earliest days to the present. The signatures of nine Fenton family members are in each book.

Members of the Fenton family chose the pieces to be included in the book. Among these pieces are: Banded Drape Pitcher and Tumbler from 1910; sandcarved Rose Quartz Lady Vase; a Chocolate Butterdish; the Seasons
Vase in Favrene; Wisteria Lane Lamp; Rubina Verde Covered Box with
Martha Reynolds' design of a dragonfly with floral; Mandarin Red Console Set. . .
and much more! Click on the book to order or click here for more reference materials.
Don't Miss the QVC Shows on January 16th!


Two QVC shows featuring Fenton Art Glass are scheduled for tomorrow, Friday, January 16. Show times will be 1 - 2 a.m. and
10 - 11 a.m. (Eastern time) with George Fenton as the guest host. Click here for a preview of the items to be offered during the shows. To view other Fenton Art Glass pieces available from QVC, click here.
X7619ZL
3-1/2'' Fenton Gift Shop
Fern Green Rose Bowl
Original price $37.00, Now $30.00
This Rose Bowl in refreshing Fern Green is perfect when paired with our Rosemilk or Violet glass. Fill with candies, potpourri, flower petals, marble gems, or a candle!
211393
6-3/4'' Fenton Gift Shop Indigo Blue Vase
$20.25

Preferred Second. This lovely 6-3/4" Indigo Blue Vase will add a touch of charm to your home decor.