IN THIS ISSUE:
Fenton USA

QVC Show Update

Clearance Corner

Preferred Seconds

Fenton eBay Auctions
FENTON GIFT SHOP
SPECIAL OFFERINGS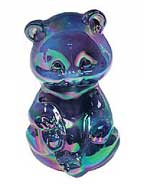 Z5151IP
3-1/2'' Plum Opal Iridized Bear
$32.00, Buy Now!
Produced as a new Gift Shop Exclusive this Plum Iridized Bear will be the plum perfect addition to your collection. Proudly handmade by the artisans at Fenton.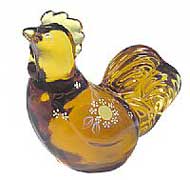 A5084HPAM
3-1/2'' Autumn Gold Rooster
$23.75, Buy Now!
This 3-1/2" Gift Shop Exclusive Autumn Gold Rooster is handpainted with a fresh ring of petite flowers. This playful piece would look great in any collection.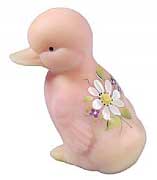 240005
3'' Burmese Duck
Original Price $50.00,
Now $40.00, Buy Now!

Produced as a Gift Shop Exclusive, this adorable Burmese Duck with handpainted white daisy design is a perfect addition to any Fenton figurine collection.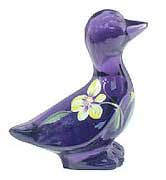 Z5317HPLY
3-1/2'' Hyacinth Duck
$30.75, Buy Now!

This Hyacinth Duck, one of our newest colors and figurines, will brighten any home with his bright and cheery floral handpainted floral design. A Fenton Gift Shop Exclusive... this figurine is handpainted and signed by the artist.
Fenton USA Presents. . . Vivid, Vibrant Ruby Glass!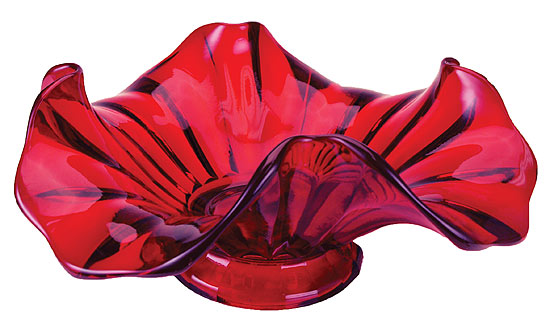 In the first half of the 20th century, glassmakers strived to make a uniform ruby color suitable for railroad signals, lantern globes and auto taillights. Today, our classic Ruby glass is made with selenium and cadmium. Because this glass batch is heat-sensitive, interesting color variations often occur.

Fill this Ribbed Bowl with a floral arrangement, fruit or make a special gift for Valentine's Day by adding chocolates! Several of our Ruby pieces are also available with the Floral Fantasy on Ruby design by Kim Barley. Click here to view more Ruby glass. 05987RU 12'' dia. Ribbed Ruby Bowl ($129.50)
A Fiery Apple Delight!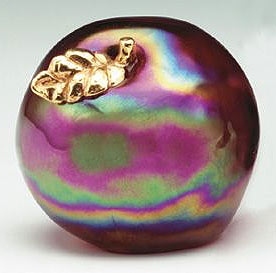 The intense glow of Fenton's furnaces is captured forever in the shimmering iridescence and luster inherent in the magic of Ruby Amberina Stretch glass. Collectors take great delight in the red-orange effect called Amberina. First produced in the early 1920s, this glamorous art deco style continues to captivate and red remains a statement color in home decor.
Click here for more items in Ruby Amberina.
05088UR Ruby Amberina Stretch 2-1/4'' Apple ($36.50)

QVC Shows Scheduled for January 2009!
The next QVC shows featuring Fenton Art Glass are scheduled for Friday,
January 16, 2009. Show times will be 1 - 2 a.m. and 10 - 11 a.m. (Eastern time) with George Fenton as the guest host. Our January 8th newsletter will be a preview of the items to be offered! Click here to view other Fenton Art Glass pieces available from QVC!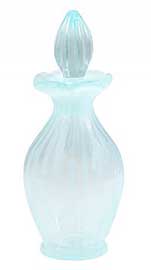 300028
5-1/2'' Fenton Gift Shop Aquamarine Perfume Bottle
Original Price $56.00, Now $36.50
This blown Perfume Bottle with a delicate
striped optic brings an elegant style to the
beauty of Aquamarine glass.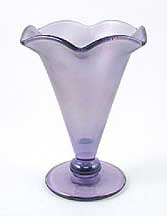 7-3/4'' Fenton Gift Shop Violet Iridized Stretch Trumpet Vase, $37.00

Preferred Second. This 7-3/4" Violet Iridized Stretch Trumpet Vase will look lovely displayed with your favorite array of flowers.

Fenton eBay Auctions. . .

Own a unique Fenton creation through our eBay Auctions!
Items featured this week...