IN THIS ISSUE:
Fenton USA

Stocking Stuffers

Ideal Gifts
FENTON GIFT SHOP
SPECIAL OFFERINGS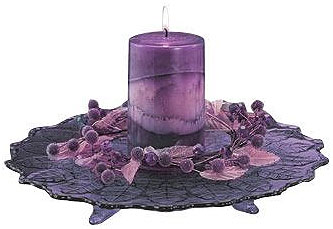 V4552KF
12'' Aubergine Cakeplate
Original price $85.00
Sale price $60.00, Buy Now!
Entertain in style with this deep, rich Aubergine leaf design cakeplate. Now popular for home decor,
this warm hue began as
a favorite among fashion designers. Available only through the Fenton Gift Shop, this exclusive will be a pleasure to give or to own. Candle and decoration not included.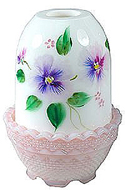 218229
5-1/2'' Pansy Fairy Light
$42.50, Buy Now!
Delicate handpainted pansies on Milk Glass is the perfect complement to the soft pink hue of the Rosalene bottom. Produced as a Gift Shop Exclusive this fairy light will add a warm touch to your home and a delightful welcome for guests.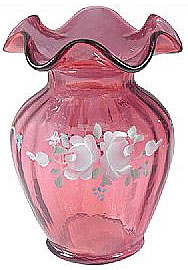 A3249N7 5'' Ivory Roses
on Cranberry Vase
$61.50, Buy Now!
This timeless design of
Ivory Roses on Cranberry with simple white roses
and blue forget-me-nots remains a Fenton favorite. Handcrafted with pride by the artisans at Fenton.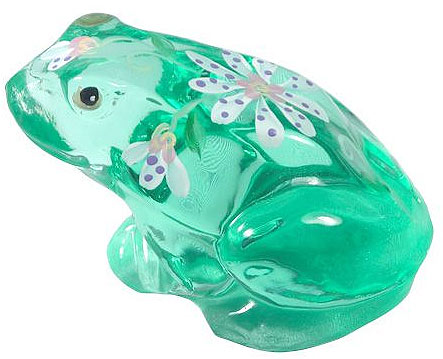 A5274HPGQ
2-1/2'' Willow Green Frog
$26.75, Buy Now!
This Willow Green Frog
has been handpainted
with a retro daisy design. Produced as a Gift Shop Exclusive, this will be a great addition to your collection
Fenton USA Presents. . .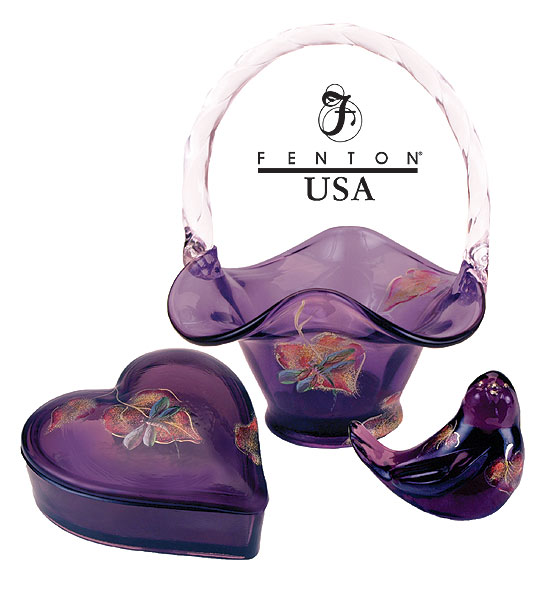 Autumn Dragonfly
on Aubergine

Our deep, rich Aubergine strikes
a regal look that's just right for today's home decor styles. This warm color was inspired by fashion and then quickly embraced by home decorators. Aubergine has emerged as a new favorite color among many of those who love Fenton glass.
Sheer colors are a visual delight on designer Kim Barley's handpainted Autumn Dragonfly on Aubergine motif of a dragonfly hovering near delicate leaves. Our functional heart-shaped treasure box is perfect for storing your keepsakes.
These items are also available unadorned. Click on each image for details or click here to view more items in Aubergine.

Limited Edition "Song of the Season" Bird Figurine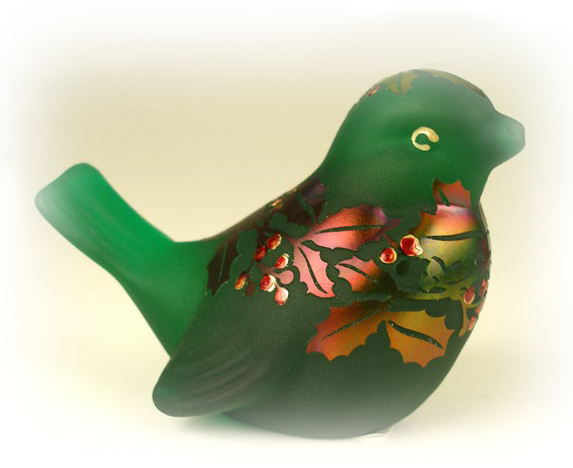 Limited to 500 pieces, our 4''
Song of the Season Bird figurine
is designed by Studio Fenton
artists Kelsey Murphy and
Robert Bomkamp.
This exquisite bird has a satin finish on our Emerald Green glass with handpainted red and gold accents. The vivid iridescence of the sandcarved holly leaves and berries, difficult to capture in photography, are simply beautiful to behold in reality.

Cameo carving is a a painstaking process. After the glass has been annealed, a special mask is taped to the surface of the glass. Using an advanced "vignetting" technique, each piece is carefully sandcarved, by hand, using aluminum oxide crystals under pressure to take away some of the surface. Great individual skill and experience are needed to control this operation. Our Song of the Season bird will be a treasured heirloom for someone special! Click on the image for details or click here to view more cameo carved creations from Kelsey Murphy and Robert Bomkamp.


A5163HP 
4'' Sky Blue Bird, $23.75 



Sky blue glass requires special manufacturing process to create a wonderful
translucent quality as well as interesting striations in each piece. This handpainted
bird has been produced as a new Gift Shop Exclusive for 2008.


 



Z5165HPB
3-3/4'' Lotus Mist Burmese Cat with Flower, $41.75
MEOW! An upbeat, whimsical floral motif is handpainted on a precious Lotus Mist Burmese collectible Cat. This Fenton Gift Shop Exclusive is the purr-fect gift for that special collector!

Fenton eBay Auctions Resume. . .
Own a unique Fenton creation through our eBay Auctions! Items featured this week...