IN THIS ISSUE:
Fenton USA

Stocking Stuffers

Ideal Gifts
FENTON GIFT SHOP
SPECIAL OFFERINGS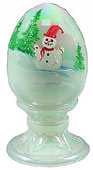 Z5145HPA
3-3/4'' Opal Iridized
Snowman Egg on Stand
$39.50, Buy Now!
Quantities are limited of this new Gift Shop Exclusive. This Opal Iridized Egg on a stand has been handpainted with a jolly snowman winter scene. Fenton eggs have always been popular...a great addition for your collection!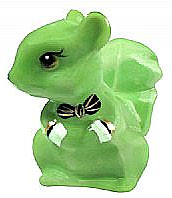 Z5215HPB
2-3/4'' Chameleon Green Squirrel in Bow Tie & Cuffs
$32.00, Buy Now!
This new Gift Shop Exclusive is handpainted with a charming bow tie and cuffs, our delightful Chameleon Green glass squirrel features beautiful green color variations that make each piece a one-of-a-kind treasure. The perfect gift for the holidays.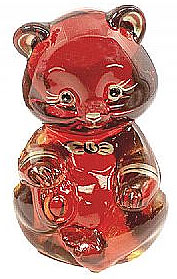 Z5151HPRU
3-1/2'' Handpainted
Ruby Amberina Bear
$38.00, Buy Now!
This adorable 3-1/2" Ruby Amberina Bear is decked out with a gold bow tie and cuffs. This bear cub will make a perfect stocking stuffer or a great addition to your bear collection.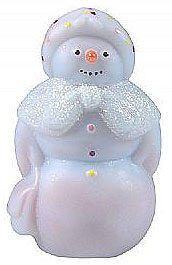 Z5269HPA 4'' Blue Burmese ''Dottie'' Snowlady
$39.50, Buy Now!

Our Blue Burmese "Dottie" Snowlady is all decked out for winter with a glistening cape and cap. A new Gift Shop Exclusive for 2008, a limited quantity is available. Handpainted and personally signed by the Fenton artist who completed each piece.
Fenton USA Presents. . . Not a Creature was Stirring
. . . Except for Our Holiday Mice Chums!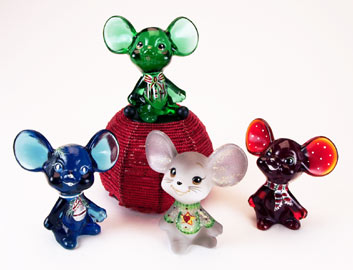 Fenton Art Glass brings
merry holiday wishes to
all with grinning mice!
Each mouse sports a
handpainted whimsical
design by Fenton designers Michelle Kibbe and
Kim Barley.
Available in Indigo Blue,
Emerald Green, Opal, and Ruby, these sweet accent figurines add to holiday decor or make perfect gifts for fun-filled friends. Click each image or click here for more 2008.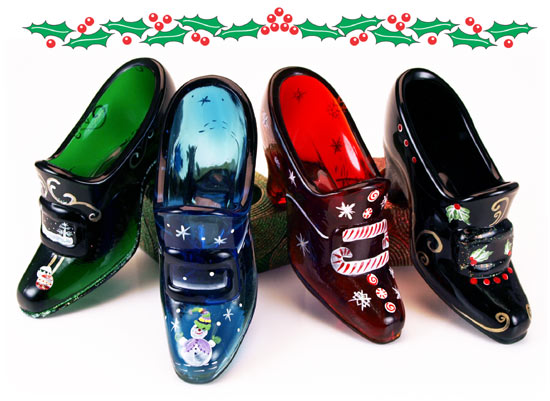 Prince Charming Awaits with a Royal Slipper!
Slip into a festive mood with our Fenton Slippers. These enchanting collectibles
make charming gifts! Treat yourself! Our 2008 Slippers are handpainted in colorful holiday motifs (ornaments, snowman scene, candy canes and holly leaves and berries) designed by Michelle Kibbe. Glitter accents add just the right touch!
Our 4-1/2'' Slipper is available in Emerald Green, Indigo Blue, Ruby, and Black.
Click on each image for details.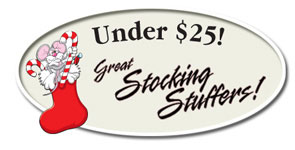 M39227BHM
7'' dia. Fenton Gift Shop Sky Blue Bowl
$14.50

This lovely Sky Blue lotus blossom shaped bowl is 7" in diameter by 2-3/4" high.
The fresh new color features a translucent quality with unique striations in each piece. Perfect candy or nut dish.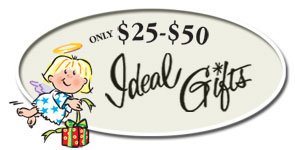 280002 
5'' Handpainted Mulberry Vase
$40.50
This is a Gift Shop Exclusive. Mulberry glass
has always been popular with our collectors. Handpainted with a simple and pretty metallic floral design, this vase will be a nice addition to any collection.

QVC Shows Scheduled for January 2009!
The next QVC shows featuring Fenton Art Glass are scheduled for January 16, 2009. Show times will be 1 - 2 a.m. and 10 - 11 a.m. (Eastern time) with George Fenton as the guest host. Watch this newsletter for a preview to items to be offered!

Fenton eBay Auctions. . .
Own a unique Fenton creation through our eBay Auctions! Items featured this week...