IN THIS ISSUE:
Fenton USA

Stocking Stuffers

Ideal Gifts
FENTON GIFT SHOP
SPECIAL OFFERINGS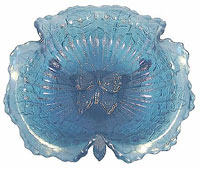 Z82846O
5-3/4'' Indigo Blue Footed
Leaf Bowl, $49.50, Buy Now!
This Indigo Blue Stretch Footed Leaf Bowl with a beautiful center butterfly design would be a perfect addition to any collection. "Stretch" glass, first made in 1917, has always been popular with collectors. The effect is simply breathtaking due to the striations created as it catches the light and shimmers.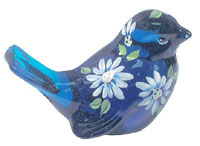 A5163HPZW
4'' Indigo Blue Handpainted Bird
$23.75, Buy Now!
Beautiful Indigo Blue glass handpainted with big bright flowers make this bird a real treasure. Don't miss adding this Gift Shop Exclusive to your collection.

Z51654B
3-3/4'' Indigo Blue
Cherry Blossom Cat
$39.50, Buy Now!
Cherry Blossoms on Indigo Blue Cat. Nothing signals the arrival of Spring more than the sweet scent of cherry blossoms. Produced as a new Gift Shop Exclusive for 2008, a must have for any Fenton cat collection.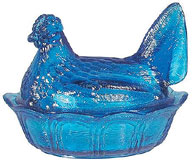 Z5186ZW
5'' Indigo Blue Hen on a Nest
$55.75, Buy Now!

Don't miss adding this new Indigo Blue Hen on the Nest to your collection, produced as a new 2008 Gift Shop Exclusive. Indigo Blue is a timely color with global appeal. This deep, natural blue can be seen worldwide in beautifully handmade fabrics. Translated into lustrous Fenton glass, Indigo Blue imparts a lively personality.
Fenton eBay Auctions
Own a unique Fenton creation through our eBay Auctions! Items featured this week...
Fenton USA Presents. . . West Virginia Winter!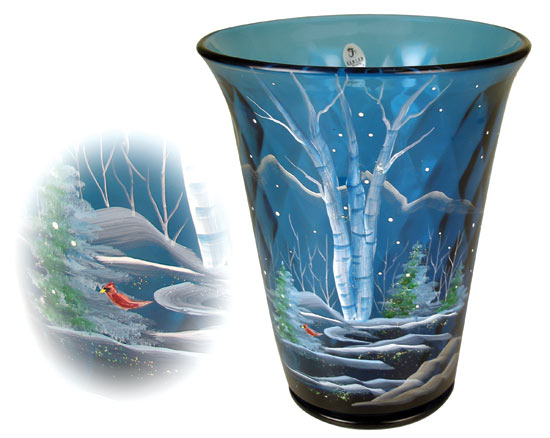 Looking for a very special gift or a great addition to your Fenton collection?
We have the
perfect choice!
This is a limited edition of just
100 and only a few remain, so you'll need to act quickly!

The splendid handpainted decoration was created by Fenton designer Kim Barley, and the name
West Virginia Winter came to mind the very moment we first saw it! With Indigo Blue glass for her canvas, Kim captured the essence of our state during this beautiful season: stately mountains, graceful birches, open waters, and pine trees glittering with new fallen snow. The meticulous details are simply superb, right down to our beloved cardinal, West Virginia's state bird, foraging for seeds.
Each West Virginia Winter vase is signed by the talented Fenton artist who completed it. This Indigo Blue Flip Vase stands 8" tall, and the interior has the historic diamond optic motif that Fenton first used in the 1920s. After pressing, the vase is flared at the top by a skilled glassworker called a finisher.

The West Virginia Winter vase was made especially for the West Virginia State Museum, which hosted a special exhibition of Fenton glass in 2007-08. As noted above, this is a limited edition of 100 individually numbered pieces, and we have the entire remaining stock. K2744HPZW West Virginia Winter 8'' Flip Vase ($99.00 U.S.)
Our Popular Frosty Friends Return in Two Styles!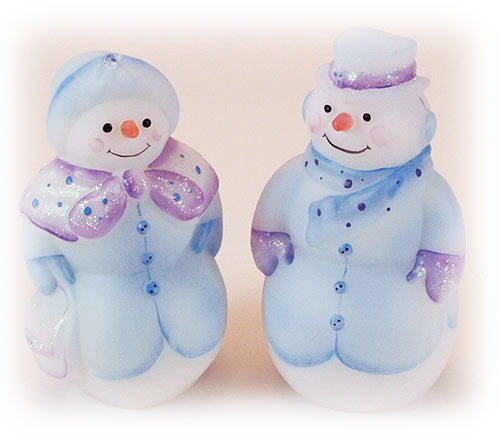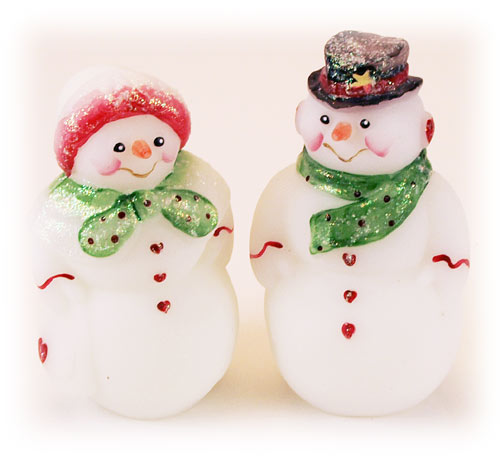 Our delightful Frosty Friends figurines are outfitted in delightful seasonal togs sure to brighten up your holiday decor. Kim Barley's "Hanna" the Snowlady sports a bright green scarf with red polka dots. "Homer" the Snowman looks dapper in his black top hat with a gold star tucked in a red hatband. Both feature handpainted heart-shaped buttons and glittery highlights. Michelle Kibbe's "Snap" the Snowlady and "Crackle" the Snowman are smartly dressed in their blue coats with glittery purple accents. Their handpainted cheery red cheeks and carrot noses are sure to bring a smile! Click on each image to order or click here to view more 2008 items.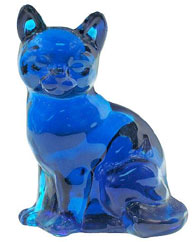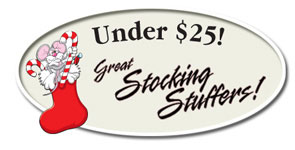 Make a wonderful addition to your Fenton cat collection with this 3-3/4" Indigo Blue sitting Cat.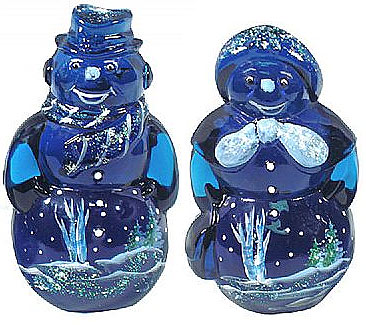 Fenton Gift Shop Silver Birch on Indigo Blue Z5268KH 4'' Snowman and
Z5269KH 4'' Snowlady, $39.50 each


Display a shimmering winter wonderland on Indigo Blue all season long! These new Gift Shop Exclusive Snowlady and Snowman feature birch trees and new-fallen snow glittering in the moonlight.
Fenton on QVC in January 2009!
Stay tuned for details on our January 16th shows in future e-newsletters!