FENTON GIFT SHOP
SPECIAL OFFERINGS


Z5014HP
6-1/2'' Handpainted
Opal Satin Angel
$95.00, Buy Now!
Gift Shop Featured Artist Susan Bryan designed and handpainted this precious Opal Satin Angel, inspired by our 2006 Winter Wonderland Collection.
IDF210
9-1/2'' Dave Fetty Vase
$285.00, Buy Now!

Master glass artisan
Dave Fetty created this wonderful vase by applying multi-colored frit to rich ruby glass. A hand-applied black foot, embossed with Dave's personal stamp on the underside, completes this masterpiece.

Z9499IP
4-3/4'' Plum Opalescent
Iridized Fenton Oval Logo
$41.75, Buy Now!
Our iridized Plum Opalescent oval Fenton logo (4-3/4" long) is a new Gift Shop Exclusive product, and the little Fenton logo on this piece has the added USA letters that will be on all Fenton glass made here in Williamstown, West Virginia. If you like Fenton logos, this one is surely a "must have."
Z9235IP
9'' Plum Opalescent Iridized
Rose Pattern Basket
$104.50, Buy Now!
A new 2008 Fenton Gift Shop Exclusive, this is the perfect addition for your basket collection! Our Rose pattern 9" basket in iridized Plum Opalescent glass has classic double-crimping. Handler marks on each handle base and a Fenton USA logo is near the outside bottom edge. The Fenton USA logo will be on pieces made in Williamstown, WV.
Especially for 2008. . . from Fenton USA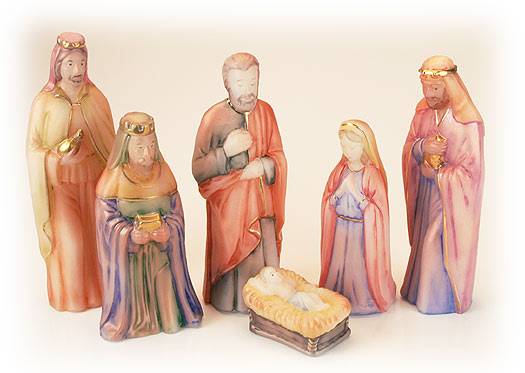 Using classic colors and finishes from the Renaissance era, our designers have
created reverent, richly beautiful nativity figurines that will be cherished for a lifetime. Special metallic paints and vivid 22k gold accents add to the historical authenticity of this marvelously detailed set. The three-piece Wise Men set includes: Melchior (5-1/2''), Balthazar (6-3/4'') and Gaspar (7'') and the three-piece Holy Family set includes Mary, Joseph, and infant Jesus.
09781AC Nativity Wise Men 3 pc. set ($229.50); 09775I0 Nativity Holy Family 3 Pc. set ($199.00)

A Touch of Elegance from Fenton International. . .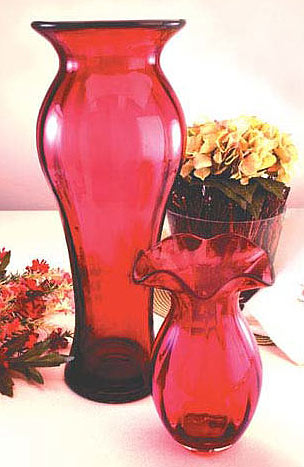 Add a touch of elegance to your holiday
floral bouquets with Gold Ruby baskets and vases. Pure gold is dissolved in a mixture of two strong acids to create a liquid which is added to the dry raw materials of a glass batch (silica sand, soda ash, and lime). The resulting rich, red glass is a favorite among collectors today. Our Gold Ruby collection includes 14 shapes−all from original designs.

Fenton International features artistic,
handcrafted gifts from around the world.
For more glass items from Fenton International, click here.



5'' Fenton Gift Shop Fern Green Angel


Original price $26.50
This charming Fern Green child angel figure is the perfect gift for that special "angel" on your list.
Z5535XE  6-1/2'' Chameleon Green Tree, $28.25 
A favorite shape with collectors, this lovely Chameleon Green Christmas tree features beautiful green color variations that make each piece a
one-of-a-kind treasure. It will be the perfect complement to your holiday decor.

Fenton eBay Auctions Resume. . .
Own a unique Fenton creation through our eBay Auctions! Items featured this week...