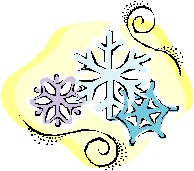 IN THIS ISSUE:
Fenton USA

Fenton International

Stocking Stuffers

Ideal Gifts
FENTON GIFT SHOP
SPECIAL OFFERINGS


Z1714HPA
3-1/2'' French Opal
Winter Aura Ornament
$39.50, Buy Now!
Produced as a new Fenton Gift Shop Exclusive, this Iridized French Opalescent Ornament features the "Winter Aura" design and is dated 2008. Designed by Michelle Kibbe and hand-crafted with pride by the artisans at Fenton.
Z5151IP
3-1/2'' Plum Opal Iridized Bear, $32.00, Buy Now!

A new Gift Shop Exclusive, this Plum Iridized Bear will be a plum perfect addition to your collection. Proudly handmade by the artisans at Fenton.

Z8656IP
7-1/2'' Plum Opal Iridized Daffodil Vase
$41.50, Buy Now!
This Daffodil Vase in
Plum Opalescent has been Iridized to enhance the embossed daffodil pattern. Produced as a new Gift Shop Exclusive and proudly made by the artisans at Fenton.
Z5228HPIP
7'' Plum Opal Iridized
Doll with Butterfly
$68.25, Buy Now!
Another new Fenton Gift Shop Exclusive, this Plum Iridized Bridesmaid Doll has been handpainted with a delicate butterfly motif. Proudly handcrafted by the artisans at Fenton.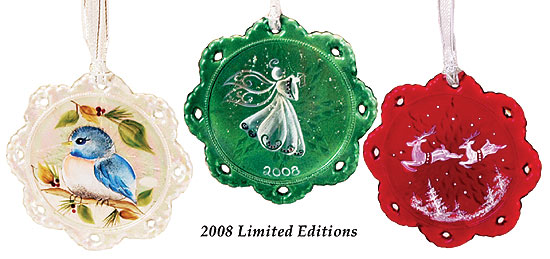 Fenton USA Presents. . . Holiday Limited Editions!

Our talented designers have captured the wonder and spirit of the Holidays for our
2008 Limited Editions. The frosty look of our iridized French Opalescent glass provides the perfect background for designer Kim Barley to showcase her talents. Her cute and chubby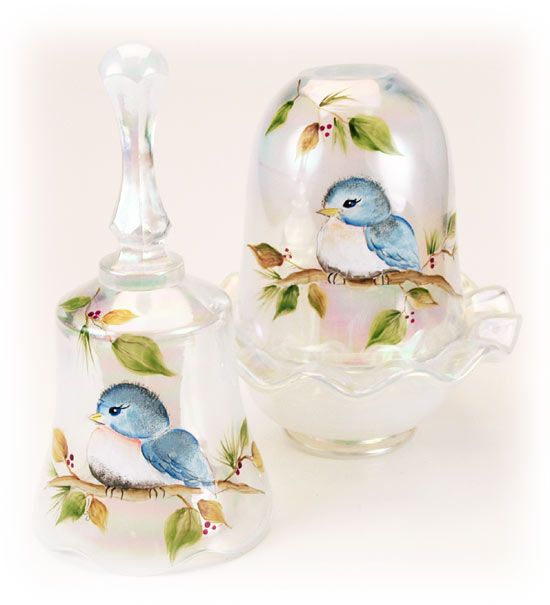 bluebird is perched on a branch surrounded by red berries.
Michelle Kibbe's graceful Angel on a sparkly, deep Emerald Green background lends a jewel-toned accent to your holiday decor.
Michelle's Flying Reindeer over snow-laden trees seem to come to life on our rich,
Ruby glass.
Fairy lights and bells with the same designs are available for all three color groupings. The Emerald Green pieces are dated 2008. Click on each image for details or click here for more 2008 items.
Whimsical Merry Mittens from Fenton International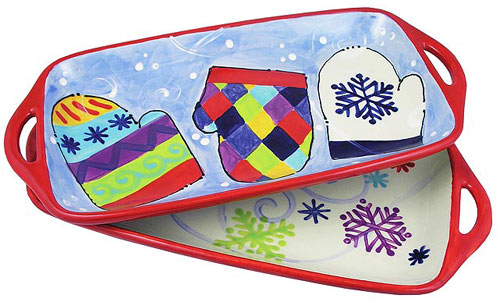 Fenton International's new
Merry Mittens by Romy and Clare collection will bring smiles of delight! Serve up fresh-baked cookies and mugs of warm cocoa using our whimsical platters with mittens and snowflakes designs! Coordinating mugs, pitcher, plates, and ramekins are also available.
Fenton International features artistic handcrafted gifts from around the world. Click on image to view details or click here for more Romy and Clare items from Fenton International.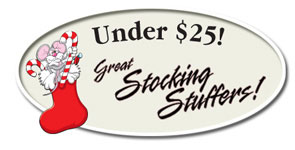 FG858 
7 3/4'' h. x 5'' w.
Santa Bell, $21.75
From Fenton International, this small Santa Bell is 7-3/4'' high and 5'' wide. Made of fiberglass and glitter, this Santa rings with glee!

DS866HP3
2-3/4'' White Opal Satin
Mini Green Hat Elf Bear, $35.00
Free Shipping on this item!
This White Opal Satin handpainted Green Elf Mini Bear is ready for the holidays. Proudly signed by the artist and is inscribed with the Collectors' Showcase logo on the bottom.

Fenton eBay Auctions Resume. . .
Own a unique Fenton creation through our eBay Auctions! Items featured this week...