IN THIS ISSUE:
Fenton USA

Fenton International

Dirty Jobs

Stocking Stuffers

Ideal Gifts

eBay Auction
FENTON GIFT SHOP
SPECIAL OFFERINGS

Entertaining with Fenton
Use beautiful Milk Glass
Hobnail everyday in your home and enjoy the artistry of
handcrafted Fenton Glass.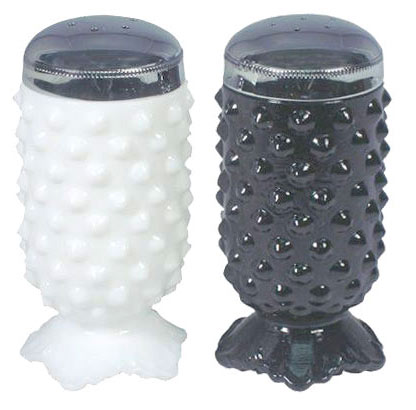 GS507AS
3-3/4'' Milk Glass Hobnail
Salt and Pepper Shaker Set
$27.00, Buy Now!

Z3895MI 2-3/4'' Milk Glass
Hobnail Toothpick Holder
$9.75, Buy Now!

Z3738MI
3-3/4'' Milk Glass Hobnail
Sugar Bowl, $16.00, Buy Now!

Z3768MI
4'' Milk Glass Hobnail Creamer
$18.00, Buy Now!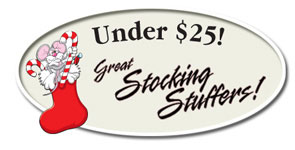 05165ZW
3-3/4'' Fenton Gift Shop
Indigo Blue Cat
$20.25
This 3-3/4" Indigo Blue Sitting Cat will make a wonderful addition to your Fenton Cat collection.
Fenton eBay Auctions. . .
Own a unique Fenton creation through our eBay Auctions! Items featured this week...
Fenton USA Presents. . .
A Visual Delight!

Fenton Art Glass is both pleased and proud of its collaboration with glass artisan Nathan Sheafor. Part owner of The Glass Forge and Gallery in Grants Pass, Oregon, Sheafor's glass art is often described as ''Venetian style'' as he combines glass colors and forms in unusual ways. Each piece is distinctive and unique, and all reflect the finest traditions in the history of glassmaking.
"Nathan's love of color, shape and form caught our eyes at a showing of gallery artists. He adds a new dimension to our Studio line of featured artists," said Nancy Fenton, Director of Design at Fenton Art Glass. His limited edition pieces use recycled Fenton colors, adding an ecological dimension to the Fenton Studio Collection.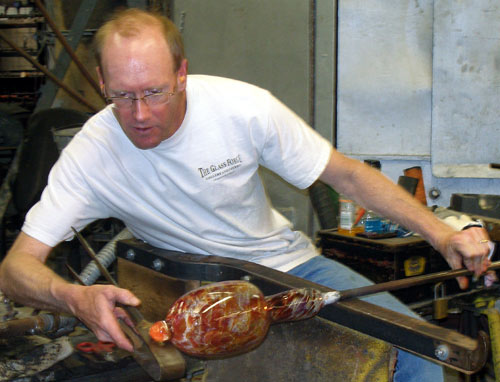 Working with Fenton craftsmen in 2008, Nathan Sheafor designed and created items for our Fenton Studio Collection. While at the Fenton factory in Williamstown, Sheafor worked closely with glass artisan Frank Workman. "We learned from each other," Sheafor said, "and I really enjoyed being able to work with Fenton's glass colors." Molten glass was rolled in "frit" (crushed recycled glass) and then heated, shaped, re-heated, and polished to produce dramatic results. According to Sheafor, "The use of color, movement, form, and composition are key elements in each piece created." Both the exterior and interior surfaces of Sheafor's glass creations feature vibrant, multi-colored effects that are attained only through a painstaking process...but the end result is indeed, a visual delight! Click here to view more items from Fall 2008.
02533SQ 12'' Footed Vase, Limited to 250 ($495 U.S.)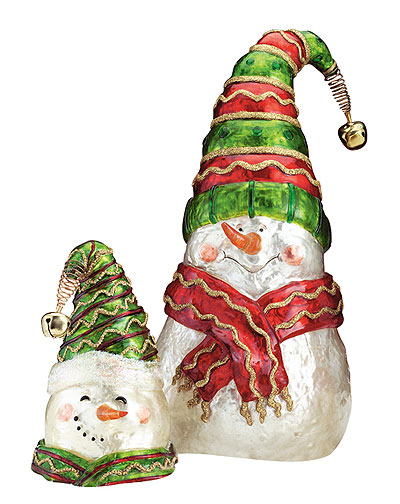 Christmas Whimsy from Fenton International . . .
Jazz up your holiday with the Christmas Whimsy collection from Fenton International. This eye-catching collection includes cute snowmen (shown at right), cone-shaped Santas and decorated Trees, each with a unique whimsical design by Fenton designer Stacy Williams. Made with fiberglass and painted in bright colors, pearl paints and lots of glitter, these pieces are durable and lightweight. Fenton International features artistic handcrafted gifts from around the world. Click on each item or click here to view the Fenton International fiberglass collection.

Discovery Channel's Dirty Jobs Films at Fenton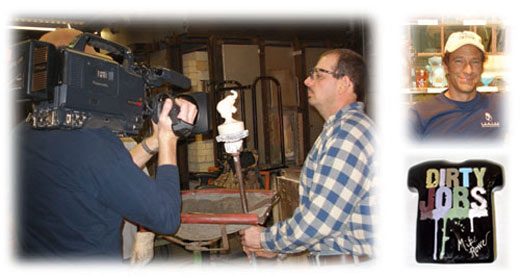 Fenton employees recently participated in filming an episode of the Discovery Channel television show Dirty Jobs. Show host Mike Rowe tried his hand at several jobs, including decorating (t-shirt logo shown above), gathering, warming in, and he even created an offhand piece under the guidance of Fenton craftsman Frank Workman. His ''dirtiest'' job, however, was ''ladling
the pot'' or cleaning out the glass tank at the end of the day to prepare it
for the next glass batch. The tank temperature was near 2400 degrees during the process. Rowe said he gained a new appreciation for a ''dirty job'' that has the end result of a beautiful work of art. The show is expected to air in 2009. Show times will be listed on our website: www.fentonartglass.com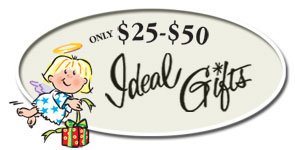 Z5160HPEA 3-1/2'' Emerald Green Fawn, $35.25 

Give a gift that is sure to be treasured. This Fawn is handcrafted in Emerald Green glass and features a handpainted metallic holly design. A new 2008 exclusive produced for the Fenton Gift Shop.