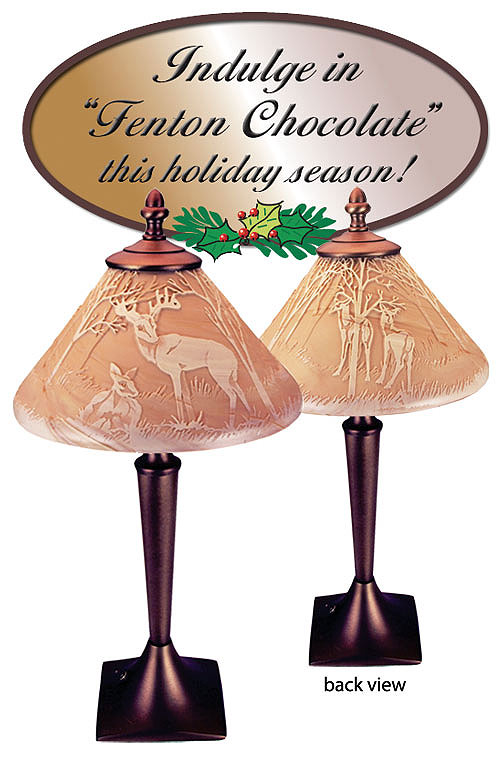 Fenton USA Presents. . . A Collector Favorite:
Creamy Chocolate Glass!

The perfect combination for Fenton Collectors: A Cameo Carved Art Glass Lamp in Chocolate! Dating back to 1907 at Fenton, Chocolate Glass is a collector favorite. The glass ranges in color from a deep mocha shade to a milky cocoa, and no two pieces are ever the same. Our rich Chocolate glass provides the perfect canvas for this breathtaking cameo carved scene depicting deer in the glen from Kelsey Murphy and Robert Bomkamp. This lamp is also carved on the inside of the shade, making it extra special as an art glass collectable. Limited to 250 lamps.
Cameo carving, a painstaking process, requires both artistic talent and considerable dexterity. Great skill and experience create the remarkable depth, delicate shading and intricate details. Using advanced vignetting techniques, each vase is meticulously sandcarved, sometimes with many layers. Each piece created by Kelsey and Robert is truly unique. For more cameo carved items from Kelsey Murphy and Robert Bomkamp, click here.

06609SV In the Glen 17'' Lamp, front & back shown in photo, Limit: 250 ($995.00 U.S.)

A Harvest of Rich Chocolate from Fenton USA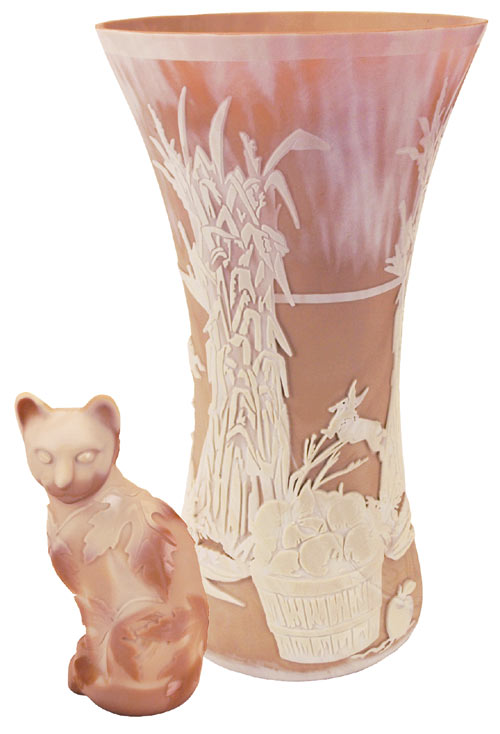 Once again, our rich Chocolate glass provides a wonderful background for these two cameo carved art glass creations from Kelsey Murphy and
Robert Bomkamp.
Foliage the Cat looks like a rich, creamy chocolate treat! Autumn leaves swirl all around his body.
The McGregor's Harvest Vase depicts a rabbit hopping around haystacks and a freshly-picked bushel of apples. The scene goes all around the vase.
Both of these limited edition pieces have
a carved Fenton logo and are inscribed with the signatures of Kelsey Murphy
and Robert Bomkamp.