IN THIS ISSUE:
Fenton USA

Fenton International

Family Signing Events

Stocking Stuffers

Ideal Gifts
FENTON GIFT SHOP
SPECIAL OFFERINGS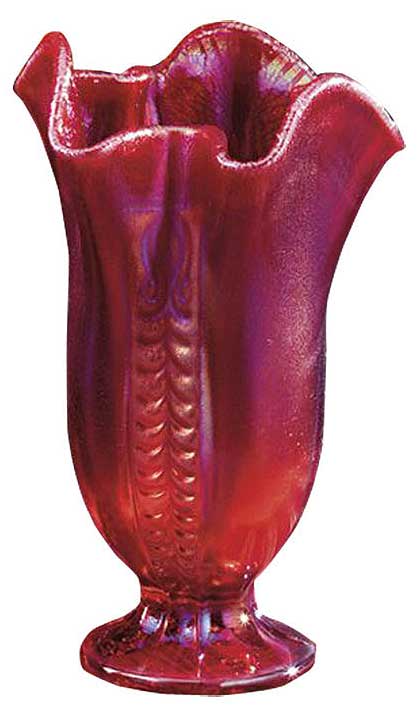 07773RL
6''-7'' Ruby Amberina
Empress Swung Stretch Vase
Original Price: $69.50
Now $45.00, Buy Now!
The intense glow of Fenton's furnaces is captured forever in the shimmering iridescence and luster inherent in the magic of Ruby Amberina Stretch. First produced in the early 1920s, this glamorous art deco style continues to captivate, and red remains the statement color in home decor. Seven new items add to the drama.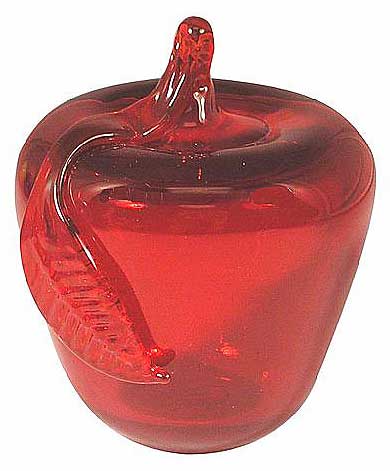 IDF212 4'' Dave Fetty
Ruby Apple, $80.00, Buy Now!
Here's a Dave Fetty apple! This apple (4'' tall) is ruby through and through, right to the applied leaf and stem. It's embossed with master glass artisan Dave Fetty's personal stamp.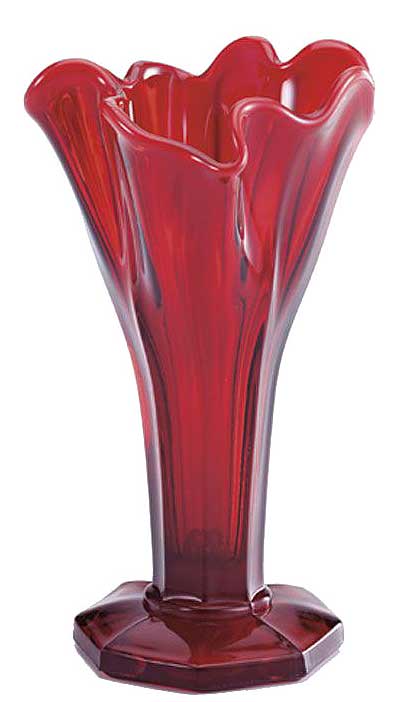 05921RU 11''-12'' h.
Ruby Swung Panel Vase
Original Price $79.50
Now $59.50, Buy Now!
Fenton glass color of Ruby is the perfect complement to the Fenton glassware collection.
All of the glass is artfully handmade in the U.S.A.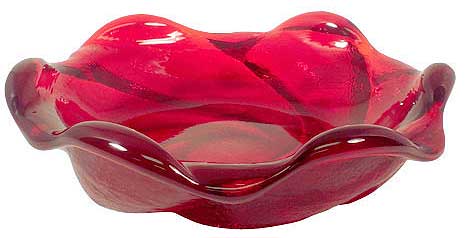 07076RU
7-1/2'' dia. Ruby Swirl Candleplate, $39.50, Buy Now!
Fenton glass color of Ruby is the perfect complement to the Fenton glassware collection. All of the glass is artfully handmade in the U.S.A.

Congratulations to E. & J. Bailey of Kentucky...the winners of our $500 Gas Card Promotion on Nov. 1st. They were shocked and delighted and were able to take an already planned beach vacation ...compliments of the Fenton Gift Shop!
Fenton USA Presents. . . Floral Fantasy on Ruby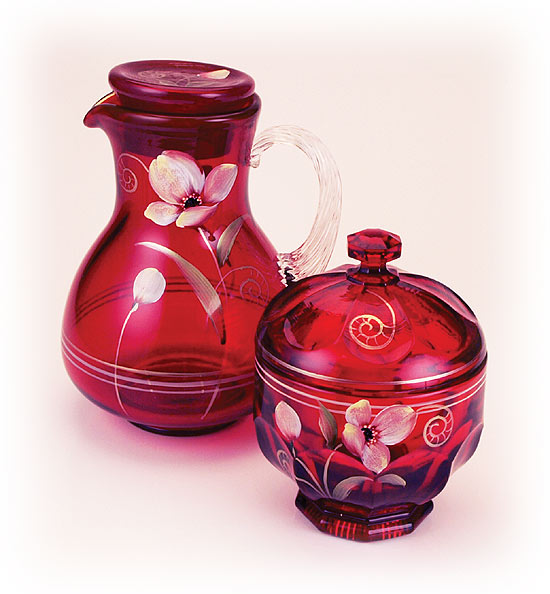 Fresh and evocative, our Floral Fantasy on Ruby handpainted decoration by designer Kim Barley features vibrant colors and exquisite forms...sure to become a collector favorite!
In the early 20th Century, glassmakers strived to make a uniform Ruby color suitable for railroad signals, lantern globes, and auto tail lights. Today, Fenton's Ruby glass is made with selenium and cadmium. This glass batch is sensitive to heat and interesting color variations often occur resulting in a rich, red color.
Create a warm welcome display for your overnight guests with our Colonial pattern Candy Box paired with the Guest Set. These items are also available unadorned so you may mix and match! The Floral Fantasy on Ruby Guest Set is limited to 250 sets. For more Fall 2008, click here.

08100A0 7-1/2'' Guest Set, Limited to 250 Sets ($199 U.S.); 03470A0 5-1/2'' Candy Box ($85 U.S.)

A Unique Gift Idea from Fenton Internatio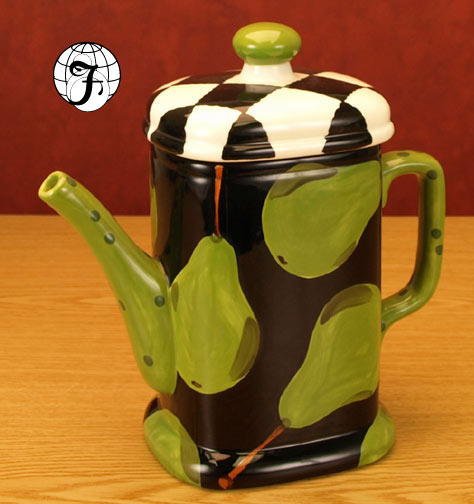 nal . . .
Create a unique gift for someone special with the Pear teapot. Add a favorite tea or coffee blend and Pear mugs in coordinating designs to
make it extra special!
Acclaimed gallery designers
Romy and Clare have brought their signature Pear design to Fenton International. The creative combination of pattern and size are hallmarks of their sophisticated styling in handmade accessories. Fenton International features artistic handcrafted gifts from around the world. To view more Romy and Clare
items, click here.
GS80051 Pear 9'' Teapot
by Romy and Clare, $35.00 U.S.

Fenton Fall 2008 Family Signing Events. . .
Fenton Fall 2008 Family Signing Events are winding down...but you still have an opportunity to visit a participating retailer and have the guest member of the Fenton family personally sign your exclusive piece...and all Fenton purchases!
The Fall 2008 Fenton Family Signing Event Exclusive is a 4" Fabergé Rose Bowl
($35 U.S.) in Blue Lagoon Opalescent - a new color! Meet Christine Fenton (Bill's daughter) in West Virginia on Nov. 14-15 and Mike Fenton (Frank's son)
on Nov. 22 in California and Nov. 23 in Arizona. Click here to view details.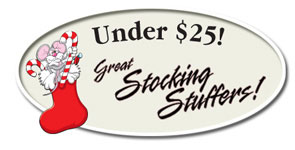 X5363AM 

5'' Fenton Gift Shop 

Autumn Gold Songbird
                            Original price $24.00, Now $20.00
This cute 3-1/2" Autumn Gold Songbird figurine will make
the perfect gift to give or receive. Handcrafted with pride
by the artisans of Fenton Art Glass in West Virginia.

04683CK 
7'' Chocolate Bunny Box, Original Price $69.50 Now $45.25

Rich Chocolate glass ranges in color from a deep mocha shade to a milky cocoa color, and no two pieces are the same. Dating back to 1907, Chocolate glass is a Fenton collector favorite - it looks good enough to eat!

Fenton eBay Auctions Resume. . .
Own a unique Fenton creation through our eBay Auctions!
Items featured this week...