IN THIS ISSUE:
Fenton USA

Fenton International

Family Signing Events

Fenton Auction

Stocking Stuffers

Ideal Gifts
FENTON GIFT SHOP
SPECIAL OFFERINGS


Z5065HPPJ
5'' Madras Pink Stylized Cat
$41.25, Buy Now!
Free Shipping through
October 31st
A cure for breast cancer... MEOW!! This handpainted stylized Madras Pink Cat is a great way to show your support and the purr-fect gift for that special survivor in your life! Fenton...a proud Relay for Life sponsor will donate a portion of all proceeds of this special cat to our local Williamstown event.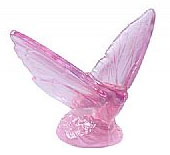 X5269PJ 3'' Madras Pink Butterfly $20.00, Buy Now!
Let your heart take flight with pleasure this lovely Madras pink butterfly reminds us of a perpetual springtime.
Z9499IP 4-3/4'' Plum Opalescent Iridized Fenton Oval Logo
$41.75, Buy Now!
This iridized Plum Opalescent oval Fenton logo has USA added to the logo. The letters USA will now be on all Fenton glass made here in Williamstown, WV. If you like Fenton logos, this one is surely a "must have."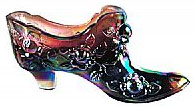 Z9295IP
6'' Plum Opalescent Iridized Rose Slipper $24.75, Buy Now!
If the glass slipper fits, add it to your collection! This iridized Plum Opalescent Rose pattern Slipper proudly displays the new Fenton USA logo that will be on glass made here in Williamstown, WV.
Last chance to purchase
your ticket for our Fenton Glassmaking School on
November 7, 2008 Buy Now!
Fenton USA Presents. . . "Reindeer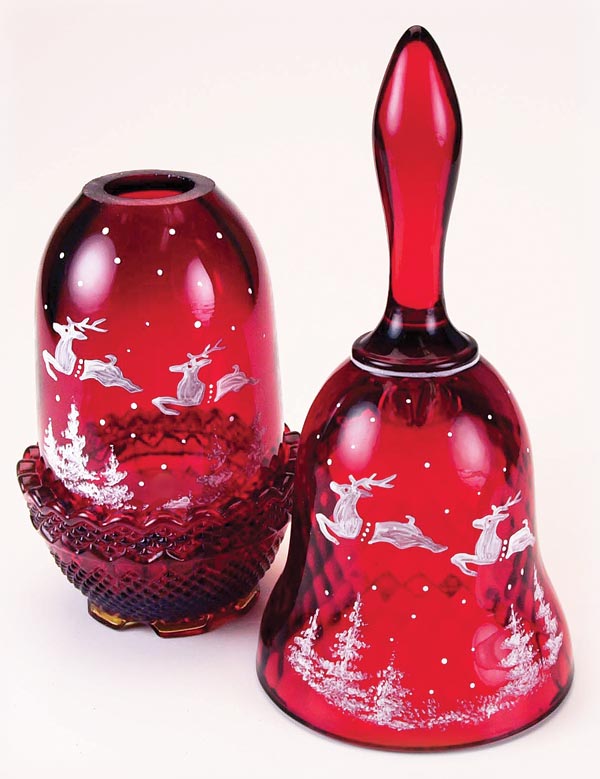 on Ruby"
Limited Editions

Create an attractive holiday display with our Limited Edition Reindeer on Ruby Fairy Light and Bell.

The deep, vibrant red of our Ruby glass contributes to the appeal of Fenton Designer Michelle Kibbe's handpainted reindeer and pine trees which grace this 6" Bell and
5-1/2" Fairy Light.

Included as part of the hand-painted Limited Editions for Christmas 2008 to individually numbered pieces. The Fairy Light comes with a tea light candle. For more items for 2008, click here.
07300PA 5-1/2'' Reindeer on Ruby Fairy Light, Limited Edition ($59.50 U.S.)

01765PA 6'' Reindeer on Ruby Bell, Limited Edition ($45.00 U.S.)

A Perfect ''Pear'' From Fenton International. . .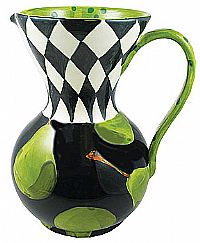 Much loved gallery designers Romy and Clare have brought their signature Pear design to Fenton. Sophisticated styling in handmade accessories. This 10-1/4'' Water Pitcher is sure to make a statement! Mugs and other tabletop accessories are available.
Fenton International features artistic handcrafted gifts from around the world. For more items from the Romy and Clare collection, click here.
GS80044 10-1/4'' Water Pitcher ''Pear'' by Romy and Clare
$59.50
Fenton Fall 2008 Family Signing Events. . .
Visit a participating retailer, and the guest member of the Fenton family will personally sign your exclusive piece...and all Fenton purchases! The Fall 2008 Fenton Family Signing Event Exclusive is a 4" Fabergé Rose Bowl ($35.00 U.S.) in Blue Lagoon Opalescent - a new color! Meet George Fenton in Vermont, Maine, Massachusetts, and Connecticut on Oct. 30-31, in New Hampshire on Nov. 1-2 and in Louisiana, Oklahoma, and Texas on Nov. 6-9; Meet Scott Fenton in Idaho, Washington, and Oregon Nov. 6-9. Click here to view schedule and details.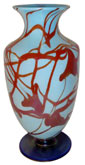 Fenton Auction November 9th!

An auction of Fenton Art Glass will be held at the factory in Williamstown on November 9th. The auction begins at Noon EDT with a preview at 11 a.m. Light lunch will also be available. There will be 225 lots of glass ranging from the unique Hanging Vine Vase (circa mid-1920s) shown here to designer samples and rare, one-of-a-kind pieces. For an auction preview, visit
www.randyclarkauctions.com


Our new Gift Shop Exclusive Violet Bunny for 2008 is perfect for the young or the young at heart. A great way to introduce "somebunny" special to the wonders of Fenton Glass.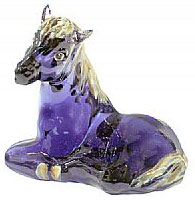 Z5057HPLY 
4'' Fenton Gift Shop
Hyacinth Foal, $38.50
One of our newest figurines and colors! Our Hyacinth Foal, a Fenton Gift Shop Exclusive, may not be ready to race just yet...but we've gracefully detailed him to be a sure winner with you! Handpainted and signed by the artist.

Fenton eBay Auctions Resume. . .
Own a unique Fenton creation through our eBay Auctions!
Items featured this week...