Please click each item
to view details.



042343X 7'' Basket, $95.00

050573X 4'' Foal, $47.50
05318RU 3-1/4'' Cat, $29.50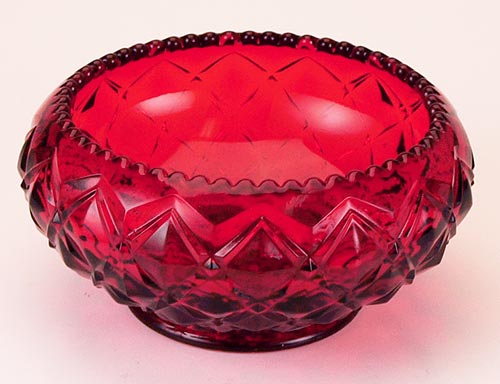 05881RU 5'' Rosebowl, $35.00

Fenton USA Presents. . . The ALS Association Exclusive Golden Star on Ruby Flip Vase

The rich, vibrant red of our Ruby glass
is the perfect canvas for designer
Kim Barley's Golden Star on Ruby motif.
Our Flip Vase was the perfect choice as The ALS Association Family Signature Exclusive for 2008. ALS (Lou Gehrig's Disease) has impacted the lives of loved ones in the Fenton family. Amyotrophic lateral sclerosis (ALS) is a progressive neuro-degenerative disease that attacks nerve cells and pathways in the brain and spinal cord. The ALS Association funds research into the causes of and treatments for ALS. Each Flip Vase is inscribed with the signatures of Randy Fenton and Christine Fenton. A portion of the proceeds from the sale of each Golden Star on Ruby Flip Vase will be donated to The ALS Association.
047513X 7'' Golden Star on Ruby ALS Exclusive Flip Vase ($119.50 U.S.)

057073X 19'' Student Lamp ($319.00 U.S.)
053173X 3-1/2'' Duck Figurine ($39.50 U.S.)
058853X 7-1/4'' Vase ($89.50 U.S.)
081643X 4-1/4'' Pitcher ($69.50 U.S.)

To create the glittery star and ribbon design, Kim used star cutouts and a sponge dauber and glitter for sparkly highlights. As you can see, the result is beautiful. The Ruby group includes unadorned pieces that are great to mix and match with Golden Star!
For questions or comments, please do not reply to this email. Instead, email: askfenton@fentonartglass.com. This email has been sent to you because you have agreed to receive offers and information from the Fenton Art Glass Company. We respect your privacy and do not sell your personal information. For details, please review our privacy policy.

How to unsubscribe: If you prefer not to receive offers or information from Fenton Art Glass, please use this page.

If you use a Challenge-Response system for email, please make certain that you can receive our email by adding askfentononline@fentonartglass.com to your Allow List. For specific instructions for major ISPs, click here.

The sender of this email is the Fenton Art Glass Co., 700 Elizabeth St., Williamstown, WV, 26187