IN THIS ISSUE:
Fenton USA
Beaded Berries Vase

Fenton International
Merry Mittens

Family Signing Events

Fenton Auction

Clearance Corner

Preferred Seconds
FENTON GIFT SHOP
SPECIAL OFFERINGS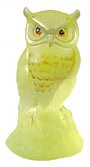 Z5258HP
6'' Gift Shop Exclusive Yellow Topaz Satin Decorated Owl
$65.25
"Moony" the Owl has been produced as a new Fenton Gift Shop Exclusive. Stunning Topaz Opalescent glass with a satin finish has been handpainted with a detailed natural finish.
The addition of depleted Uranium in the glass formula gives this classic color its yellow hue and produces a fluorescent glow if placed under black light.

Z9650TO
10-1/2''
Yellow Topaz Dogwood Vase
$84.50
This radiant Yellow Topaz Opalescent Dogwood Vase was created exclusively for the Fenton Gift Shop. A must have piece for any Topaz glass collection.

Z5258TO
6'' Gift Shop Exclusive Yellow Topaz Owl
$47.25
Topaz Opalescent Owl would love to find a "perch" in your collection. Also known as "Vaseline Glass" with the addition of depleted Uranium in the glass formula gives this classic color its yellow hue and produces a fluorescent glow if placed under black light.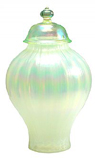 300020
10-1/2'' Fenton Gift Shop Yellow Topaz Temple Jar
Original Price $102.50
now $66.75
Simply elegant this Yellow
Topaz Temple Jar will add a special touch to any room of your home. Made in WV by the artisans of Fenton.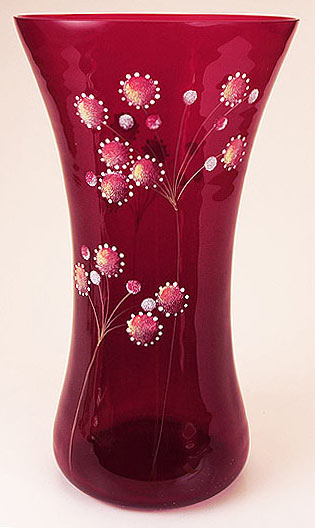 Fenton USA Presents. . .
Limited Edition "Beaded Berries"

The deep, vibrant red of our Ruby glass contributes to the appeal of Kim Barley's elegant Beaded Berries design on this 10" Vase.
Included as part of the handpainted Limited Editions for Christmas 2008, the Beaded Berries Vase is limited to 750 individually numbered pieces.
08559F0 10'' Beaded Berries Ruby Vase
Limited to 750 (165.00 U.S.)

From Fenton International. . .
Merry Mittens designed by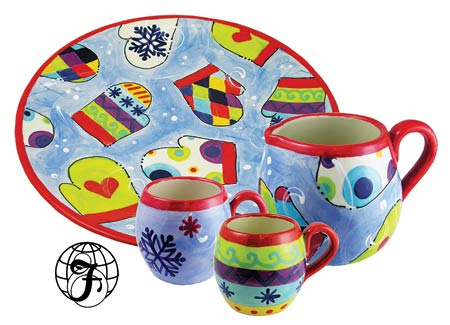 Romy and Clare

Add a splash of winter merriment to your tabletop this holiday season with the Merry Mittens collection from Fenton International.
Designed by Romy and Clare, Merry Mittens lives up to its name with colorful mittens and snowflakes in swirling snow and fun designs. Included in the Merry Mittens collection are assorted styles in mugs, plates, bowls, snack buckets, spoon holders, and platters. Fenton International features artistic handcrafted gifts from around the world.

Fenton Fall 2008 Family Signing Events. . .
Visit a participating retailer, and the guest member of the Fenton family will personally sign your exclusive piece...and all Fenton purchases! The Fall 2008 Fenton Family Signing Event Exclusive is a 4" Fabergé Rose Bowl ($35.00 U.S.)
in Blue Lagoon Opalescent - a new color! October 2008: Meet Lynn Fenton Erb in Michigan and Illinois on Oct. 17-19; Tom Fenton in Pennsylvania & New Jersey on
Oct. 21-26; and George Fenton in Vermont, Maine, Massachusetts, & Connecticut on Oct. 30-31! Click here to view the complete schedule.

An auction of Fenton Art Glass will be held at the factory in Williamstown on November 9th. The auction begins at Noon ET with a preview at 11 a.m. Light lunch will also be available.
There will be 225 lots of glass ranging from a unique Robert Barber Cranberry Vase (circa 1976) shown here to designer samples and rare, one-of-a-kind pieces. For an auction preview, visit
www.randyclarkauctions.com
.

 
02753RL 

10'' Ruby Amberina Stretch Vase
Original Price $109.50 now $71.25
The intense glow of Fenton's furnaces is captured forever in the shimmering iridescence and luster inherent in the magic of Ruby Amberina Stretch. First produced in the early 1920s,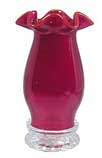 the glamorous art deco style continues
to captivate, and red remains the
statement color in home decor.

200008 
10'' Fenton Gift Shop 
Ruby Hurricane Lamp
$58.00
  
Preferred Second - This rich Ruby two-piece
Hurricane Lamp presents unlimited decorating
possibilities for year round use.