IN THIS ISSUE:
Fenton USA...
Indigo Blue

Fenton International...
Christmas Whimsy

Family Signing Events

Clearance Corner

Preferred Seconds
SPECIAL FENTON
GIFT SHOP OFFERINGS!



220010
4 1/2'' h. x 10 1/2'' d.
Indigo Blue Sample Bowl
$50.00, Buy Now!
This recently acquired Indiana Glass Company Spin Mould measures 4 1/2" h. x 10 1/2" d. and was produced as a sample in Indigo Blue. Very limited quantities were made, so be sure to add this beauty to your collection.
240006
10'' Blue Stretch Acanthus Plate
$85.00, Buy Now!
This 10'' Plate, Acanthus design, was made in Blue Stretch glass from a historic Imperial mould. The plate's underside is embossed:
ICGA 1995, Dallas.
.

240007 6-1/4'' Strawberry Basket in Ruby Carnival, $85.00, Buy Now!
This 6-1/4" Strawberry pattern Basket in stunning Ruby Carnival makes this the perfect gift to give or receive. The underside of the basket is embossed with A.C.G.A. 1991, Parkersburg, W. Va.


240008 3-1/2'' Green Carnival Spittoon, $50.00, Buy Now!
This Green Carnival 3-1/2" Tumbler, made from a mould acquired from McKee Glass Company in the "Regency Pattern" has been molded into the shape of a spittoon. Written on the bottom is C.C.G.A. 1988.
Fenton USA Presents. . .The Beauty of Indigo Blue


Indigo Blue is a color with global appeal with its deep, natural blue that can be seen worldwide in beautifully handmade fabrics. Translated into lustrous Fenton glass, Indigo Blue imparts a lively personality for any home decor!
In the 1960s we introduced our "courting lamps" and soon began offering student lamps with marble bases and "double ball" (Gone with the Wind-style) lamps in many different colors. This Gone with the Wind Lamp features a floral design by Kim Barley.

Included in the 2008 Horizons Collection, Robin Spindler's design on our large Vase features dragonflies weaving amongst the flowers.
The color choices on both pieces blend beautifully with our Indigo Blue glass.
047892N 14-1/2" Horizons Collection Vase in Indigo Blue ($175 U.S.)
013002R 23-1/2'' Gone with the Wind Lamp in Indigo Blue ($395 U.S.)
Christmas Whimsy from Fenton International . . .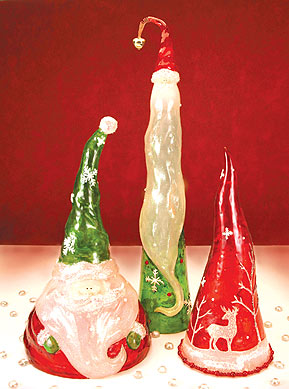 Jazz up your holiday display with the Christmas Whimsy collection from Fenton International. This eye-catching collection includes cone-shaped Santas and trees, each with a unique whimsical design by Stacy Williams, sure to bring a smile of delight!
Made of fiberglass and painted in bright colors, pearl paints and lots of glitter, these pieces are durable and lightweight. Add a small string of lights inside the cone shapes to brighten up your display!
Fenton International features artistic handcrafted gifts from around the world. Click on each item to view details or click here to view the entire Holiday-themed fiberglass collection from Fenton International.



Fenton Fall 2008 Family Signing Events. . .
Visit a participating retailer, and the guest member of the Fenton family will personally sign your exclusive piece...and all Fenton purchases! The Fall 2008 Fenton Family Signing Event Exclusive is a 4" Fabergé Rose Bowl ($35.00 U.S.) in Blue Lagoon Opalescent - a new color for 2008! Click here to view the complete Event schedule and be sure to check back for updates!


05511RN 
4'' Red Carnival Stork & Rushes Tumbler
Original price $30.00, now $19.50
This 2005 tumbler returns to the best of our signature treatments in a medley of highly collectible colors: Red Carnival, Amethyst Carnival and Marigold Carnival. To "raise the bar" on this coveted treatment even higher, nine of the pieces in the 2005 Carnival collection have
never been done before by Fenton.

211748 
5-1/2'' Ruby Amberina Stretch Bowl
$44.75

Preferred Second
The intense glow of Fenton's furnaces is captured 
forever in the shimmering iridescence and luster
inherent in the magic of Ruby Amberina Stretch.
First produced in the early 1920s, the glamorous
art deco style continues to captivate, and red
remains the statement color in home decor.