IN THIS ISSUE:
Fenton USA
Mary Gregory and Glistening Woods

Fenton International
Gold Ruby

Family Signing Events

QVC Show Schedule

Gift Shop
Clearance Corner

Gift Shop
Preferred Seconds
FENTON GIFT SHOP NEWS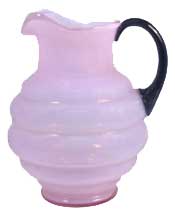 211763
9'' French Opal with Madras Pink Ring Pitcher $62.50
Buy Now!
Preferred Second
This 9" French Opalescent with Madras Pink Ring Pitcher will have you reliving the 1920s,
an Age of Elegance in glass. The jet black handle truly gives this piece a retro appearance.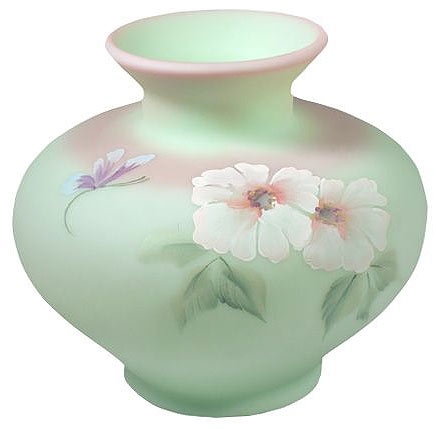 211552  7'' Lotus Mist Burmese 
Vase with Hibiscus Blossoms 
$107.00


Buy Now!
The soft green and warm pink 
of our Lotus Mist Burmese 
glass is the perfect complement
to Robin Spindler's depiction of 
lush hibiscus blossoms and 
a stylized butterfly.
The mould for this vase was
designed by renowned glass
artist Dan Dailey.


211649 
5-1/4'' Indigo Blue 

Preferred Second

Indigo Blue is a timely color
with global appeal. This deep,
natural blue can be seen
worldwide in beautifully
handmade fabrics.
Translated into lustrous
Fenton glass, Indigo Blue imparts a lively personality.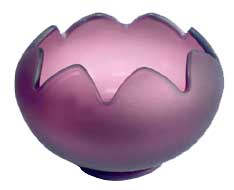 215795
5-1/2'' Aubergine Satin
Rose Bowl $33.75
Deep rich Aubergine Satin
strikes an elegant note 
in this lovely rose bowl. 
This versatile piece has 
so many uses… insert a
tea light to create a mood,
fill with potpourri or candy.
Fenton USA Presents. . . Mary Gregory Pitchers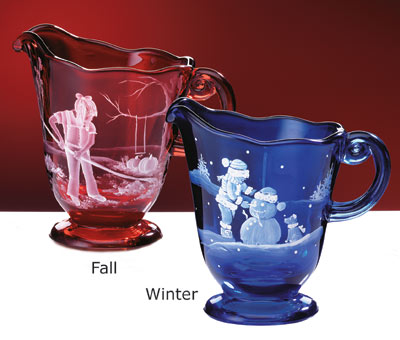 For outstanding examples of one of our most popular decorating styles, look no further!
The Mary Gregory style of painting appeared more than 100 years ago as "Painted Cameo," and only the skilled artisans of Fenton continue this challenging decorating style. "Mary Gregory" describes glassware that has been painted with white enamel, resulting in raised details to create a splendid image. One of our designers likened it to "painting with marshmallow cream." The pitcher mould originated at the Fostoria Glass Co., in Moundsville, West Virginia about 70 years ago. Fenton acquired it from Indiana Glass, and we used it in 2007 to create the "Four Seasons" Mary Gregory Pitchers.
Shown above are the Fall "Helping Daddy" Pitcher in Ruby with a Frances Burton design and the "New Friend" Pitcher in Cobalt Blue with a design by Stacy Williams. Quantities are limited!
08164CU 4-1/4'' Helping Daddy Ruby Pitcher ($75.00 U.S.) and 08164EB 4-1/4" New Friend Pitcher in Cobalt Blue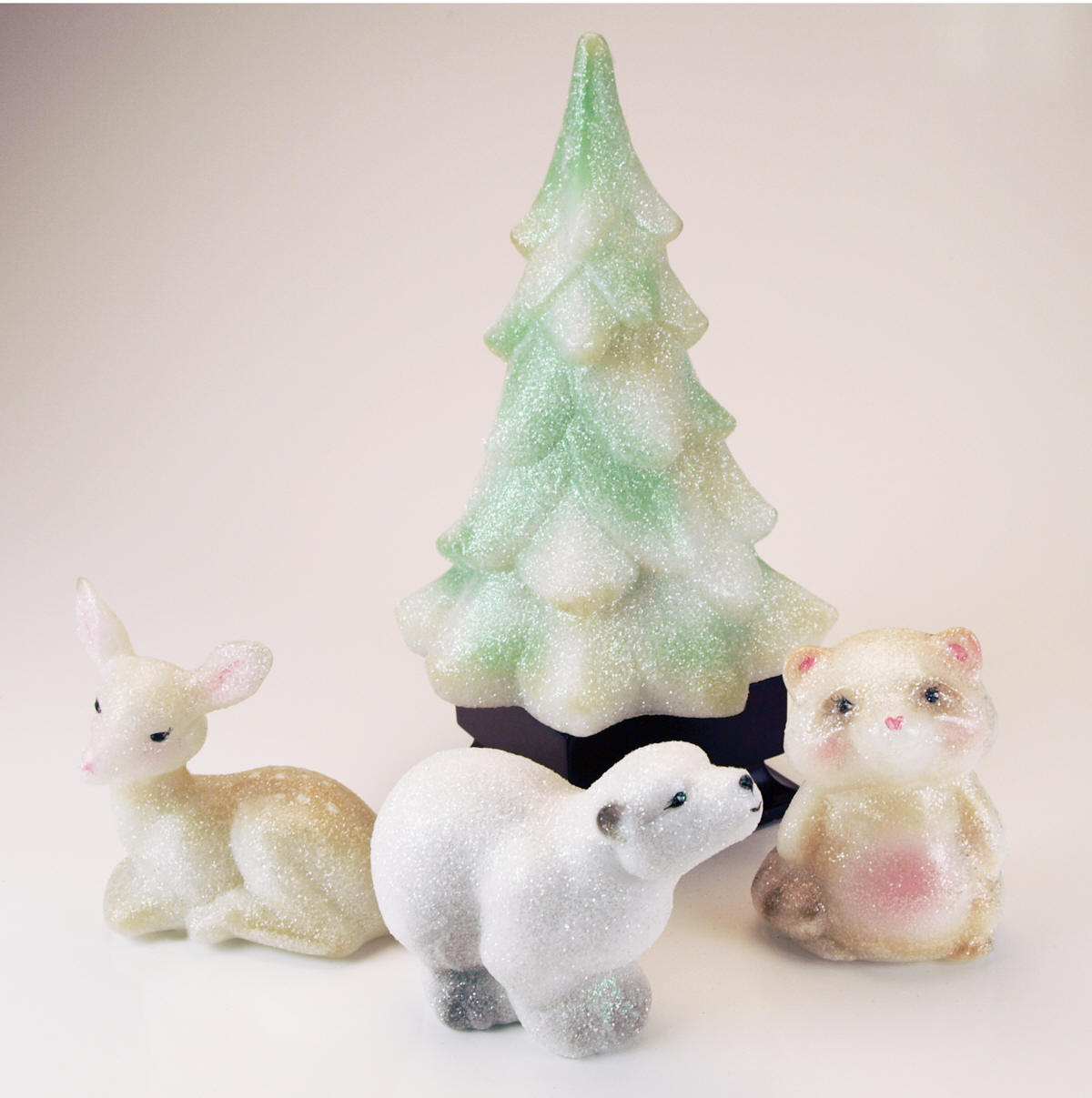 Glistening Woods

Our designers have captured the pristine look of a blanket
of fresh snow to cover our figurines with the 2008 Glistening Woods collection. These softly shaded figurines are sure to tug at your heart.
The Polar Bear, featuring a design by Michelle Kibbe, is a new addition to the grouping this year. Click on each
figurine for details.

Gold Ruby from Fenton International. . .


Prominent tableware manufacturers in the 1880 used the words "Gold Ruby" to describe a unique glass color that could only be made as blown ware. Pure gold dissolved in a mixture of two strong acids created a liquid which was then added to the dry raw materials of a glass batch (silica sand, soda ash, and lime). The resulting rich, red glass is still a favorite among collectors today.
Our Gold Ruby collection from Fenton International includes 14 original shapes ranging from bowls and baskets to pitchers and vases.

Quality is a top priority, and we worked closely with an experienced glass manufacturer in China to create these distinctive, attractive items for the Gold Ruby line. Click here to view more Gold Ruby and other glass items available from Fenton International, featuring artistic handcrafted gifts from around the world.

91105 12" Gold Ruby Pitcher ($57.50 U.S.)
Fenton Fall 2008 Family Signing Events. . .

Visit a participating retailer, and the guest member of the Fenton family will personally sign your exclusive piece...and all Fenton purchases! The Fall 2008 Fenton Family Signing Event Exclusive is a 4" Fabergé Rose Bowl ($35.00 U.S.) in Blue Lagoon Opalescent - a new color for 2008! Click here to view the complete Event schedule and be sure to check back for updates!

Fenton on QVC October 1st. . .

Two one-hour QVC Shows featuring Fenton USA and George Fenton are scheduled for October 1. Click here for a preview of items to be shown!


7-1/2'' French Opalescent Vase
Original price $46.00 now $29.75
The striking simplicity of this French Opalescent Vase is an ideal choice when looking for
an elegant way to display your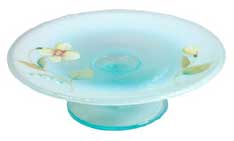 favorite array
of flowers.
089197T 
7'' dia. Sand Petals on Aquamarine 
Opalescent Stretch Candleplate
Original price $59.50 now $44.75 
Kim Barley's ''Sand Petals'' design
on luxurious stretch glass plays delicate
florals against the velvety opalescence of Aquamarine Opalescent glass. Simply breathtaking and designed to coordinate with our Silken Sand collection.