FENTON GIFT SHOP
DAVE FETTY EXCLUSIVES

260053
9-1/2'' Multi-Colored
Gazing Globe, $125
Buy Now!
Fenton is making itís grand entrance into the world of gardening with this beautiful Dave Fetty 9-1/2" gazing globe. Gazing globes are rich
in history and legend and this hand blown Fetty Creation,
rich with deep jewel tones,
will add beauty and charm to your home.
260054
7-1/2'' Indigo Blue
Hanging Hearts Vase
SOLD OUT!
This Dave Fetty 7 1/2" Indigo Blue Hanging Heart Vase with Black Circumthread and a
Milk Glass core will make a magnificent piece to add to
your collection.


260055
4-1/2'' Chameleon Green
with Black Hanging Hearts
Mushroom, $185
SOLD OUT!
This Dave Fetty 4-1/2" Mushroom in Chameleon Green with Black Hanging Hearts and random threading is a whimsical piece that would make a great addition to your Fenton collection.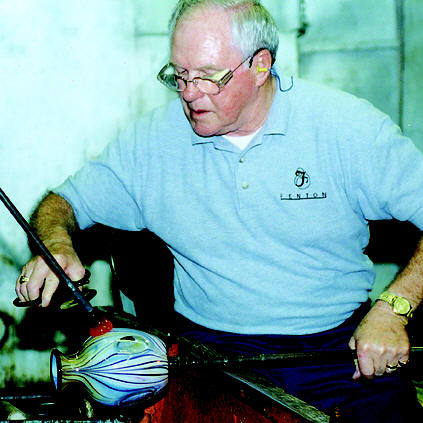 Fenton USA Presents. . . Dave Fetty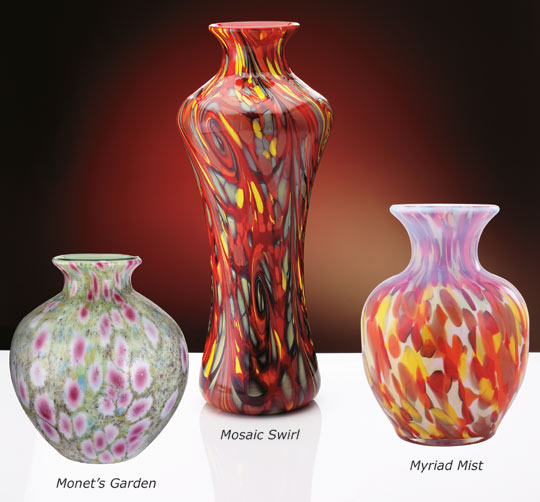 In 2007, under the leadership of Dave Fetty, our team of talented artisans revived hot glass decorative methods from the distant past and developed and mastered new techniques all their own. Each of these dramatic vases are embossed with the personal stamp of Dave Fetty. We called this new collection "Studio Fenton."
For the Monet's Garden vase, Dave used an innovative technique that captures the French Impressionist in today's art glass. An inner layer of light green glass is covered with Milk Glass and rolled through different colors of finely crushed glass. When the vase is reheated, gold ruby glass develops into random pink "flowers" that reminiscent of Monet's artwork.
This magnificent Myriad Mist vase was created using multi-colored glass frit that is trapped between layers of French Opalescent glass. Blown to shape in a special mould called a ''paste mould,'' this vase must be carefully reheated to shape the neck and to create the milky opalescence.
The Mosaic Swirl vase has an inner layer of crystal that is covered with vivid ruby glass before being rolled through a meticulously prepared mixture of six different colors of crushed glass called "frit." An applied thread of ruby glass is pulled and twisted before the vase is blown to its final shape.
Quantities are limited on these vases. Click on the image to see details.
For more items designed by Dave Fetty, click here.
Fenton Gift Shop Exclusives by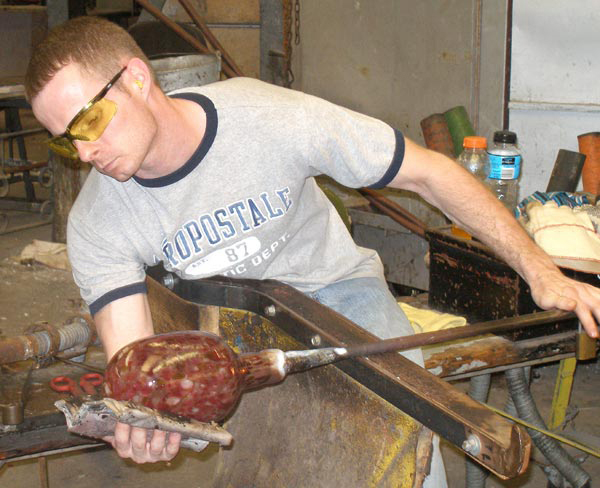 Frank Workman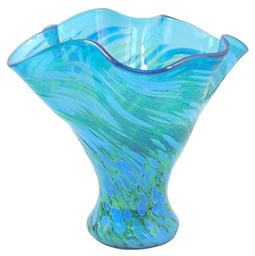 260056
8-1/2''
Indigo Blue Vase SORRY, SOLD OUT!
$185.00

This 8-1/2" Frank Workman Vase has hand applied Sky Blue and Chameleon Green decoration on Indigo Blue glass. This combination makes quite a beautiful piece! This piece is personally signed "Frank Workman '08".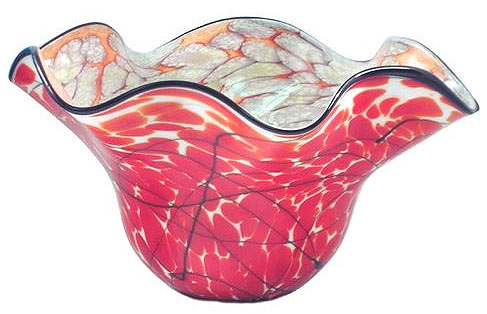 260057
6" x 9-1/4" dia.
Ruby on Milk Glass
Vase/Bowl
$175.00
This free form 6" x 9-1/4" d. vase/bowl by glass artisan
Frank Workman is simply spectacular. Rich Ruby on Milk Glass with random black threading adorn the exterior while the inside has muted shades of tan, gray, yellow, orange, and white. This piece is personally signed "Frank Workman 4/12/08". To view more Frank Workman creations, click here.
For questions or comments, please do not reply to this email. Instead, email: askfenton@fentonartglass.com. This email has been sent to you because you have agreed to receive offers and information from the Fenton Art Glass Company. We respect your privacy and do not sell your personal information. For details, please review our privacy policy.
How to unsubscribe: If you prefer not to receive offers or information from Fenton Art Glass, please use this page.
If you use a Challenge-Response system for email, please make certain that you can receive our email by adding askfentononline@fentonartglass.com to your Allow List. For specific instructions for major ISPs, click here.
The sender of this email is the Fenton Art Glass Co., 700 Elizabeth St., Williamstown, WV, 26187