IN THIS ISSUE:
Fenton USA Golden Star on Ruby and Halloween

Fenton International Halloween Fiberglass

Family Signing Events

Gift Shop Exclusives

Gift Shop Clearance Corner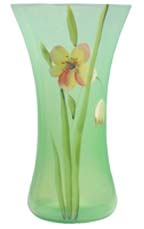 212518
10'' Fern Green Opaline Vase with Irises, $75.00
Buy Now!

Preferred Second - Irises, handpainted with remarkable shading, combine with the glossy translucence of blown glass to create this stylized conversation piece!


201311
4-1/2''
Fenton Gift Shop
Autumn Gold 
Tumbler

, $16.50
Buy Now!
Preferred Second - Whether filled
with water for you or for flowers or
used as a unique pencil or tooth
brush holder, this versatile 4-1/2"
Gold Iridized Tumbler is guaranteed
to gleam!

043495J Marigold 

6

-1/2'' Vase
Original Price $85.00, now

 

$55.25


Buy Now!
Marigold... it just gets better and
better. Our skilled craftsmen have 
slipped back in time to revive the  
mysteries of this famous iridescent 
treatment. The result works 
perfectly with the warm spice palette 
in today's home décor. 

300020 
Fenton Gift Shop 
10-1/2'' 
Yellow Topaz
Temple Jar
Original Price $102.50,
now $66.75
Simply elegant, this Yellow Topaz Temple Jar will add a special touch to any room of your home. Handcrafted with pride by the artisans of Fenton in Williamstown, West Virginia.

 
To the lucky 
 winners of our 
 "Plum Crazy" 
 contest. 
Robert & 

Gerry Schneider of
Cincinnati, OH were the winners 
of our one-of-a-kind handpainted
Fenton snail.
Fenton USA Presents. . .Golden Star on Ruby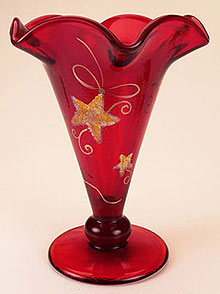 Vivid and vibrant, timeless Ruby is a classic glass color and Fenton does it best. Designer Kim Barley's "Golden Star on Ruby" motif features glittery stars that lend a lustrous look to this vase.
Our "Golden Star on Ruby" assortment for Christmas 2008 offers functional pieces as well as treasured gifts for those nearest and dearest to you and yours. Visit your local Fenton retailer to see these beautiful pieces in person or click here to preview Christmas 2008 items.

058853X 7-1/4'' Golden Star on Ruby Vase
($89.00 U.S.)

Brighten Your Halloween
with Fenton USA Figurines
Liven up your Halloween display with our whimsical group of colorful figurines from Fenton USA. "Winky" Pumpkinhead and "Peekin" Cat in Bag. Each handpainted piece is personally signed by the talented artist who has completed it.
05323E3 Winky Pumpkinhead
6'' Figurine ($49.50 U.S.)
050547Y Peekin, the Cat in the Bag 3-1/2" Figurine ($37.50 U.S.)

"Friendly & Fraidy" from Fenton International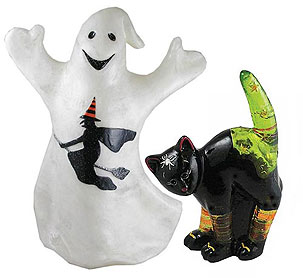 What fun! Our 12-1/4'' Friendly Ghost and 7-1/4" Fraidy Cat are dressed in brightly colored fiberglass. The sculptures are modeled after Fenton figurines that have been very successful. In fiberglass they are very impressive! Mix and match with our glass figurines for a delightful Halloween display! Click here to view more Holiday-themed fiberglass items from Fenton International, featuring artistic handcrafted gifts from around the world.

90001 12-1/4" Ghost ($41.00 U.S.) and 90005 7-1/4" Cat ($17.00 U.S.)
Fenton Fall 2008 Family Signing Events. . .
Fenton Fall 2008 Family Signing Events are getting underway. Visit a participating retailer and a member of the Fenton family will personally sign your exclusive piece (4" Faberge Rose Bowl) and all Fenton purchases!
Click here to view the Event schedule and please check back for updates!
Fenton Gift Shop Exclusives. . .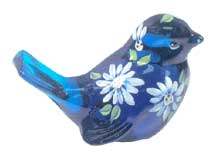 Oh-h-h so "tweet!" Beautiful Indigo Blue glass handpainted with cheerful flowers makes this charming Gift Shop Exclusive bird an ideal gift for your home...
or a friend's.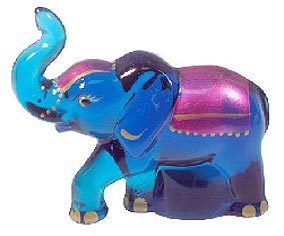 Handpainted Elephant
$26.50
This festive, handpainted
Indigo Blue elephant marches
proudly to the beat of any drum.
Produced as a Gift Shop Exclusive,
it's the perfect addition to any
Fenton figurine collection.