IN THIS ISSUE:
Fenton USA Golden Oldies

Fenton International Leaves

Family Signing Events

Gift Shop Exclusives

Gift Shop Clearance Corner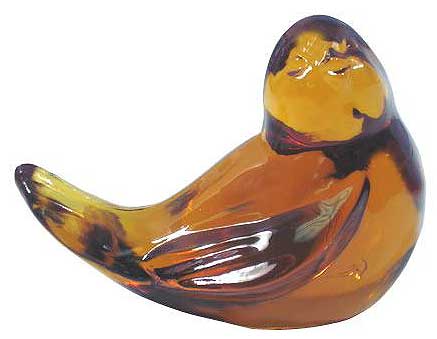 X5363AM
3-1/2'' Fenton Gift Shop
Autumn Gold Songbird
Original Price $24.00 now $20.00
Buy Now!
This cute 3-1/2" Autumn Gold Songbird figurine will make the perfect gift to give or receive. Handcrafted with pride by the artisans of Fenton Art Glass in West Virginia.

300026 
6-1/2'' Fenton Gift Shop
Autumn Gold Bell
Original Price $22.00 now $14.5025


Buy Now!
This Autumn Gold Bell will
delight the owner with its
beauty and enchanting sound.

057515J 
8-1/2'' Marigold Carnival
Paneled Grape Vase 
Original Price $79.50, now $57.50 
Since 1907 Fenton Art Glass' Carnival glass treatments (America's first!) have remained a Fenton hallmark. Collectors worldwide search for our finest examples of this "iridescent ware" and this Marigold Carnival Grape Vase is no exception!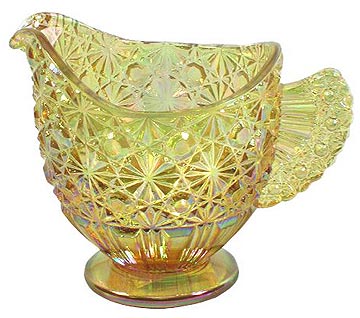 300012  - 3'' Autumn Gold Iridized
Daisy and Button Creamer
Only $16.50 - 

Buy Now!
The historic Daisy and Button 
pattern in Autumn Gold Iridized 
will grace any table and begin 
a family decorating tradition.
Fenton USA Presents. . .Golden Star on Ruby


The fiery fury of Fenton's furnaces creates a "liquid gold" that, when cooled, is captured forever in the honeyed shades of Autumn Gold. We searched our inventory for "golden oldies" - first quality items in this popular color. There are very limited quantities of these "finds" available, so place your order early!
Perfect for the approaching Fall season is our "Vision on Autumn Gold" 7-1/2" Square Vase. The design, by Stacy Williams, transcends the seasons with its versatility and rich beauty. This Vase is a Scott Fenton signature piece.

08155CW 7-1/2'' Vision on Autumn Gold Square Vase ($125.00 U.S.)


Our Foal figurine mould was such a hit with the Fenton family in 2007 that each Foal in the six-piece grouping bears the signature of a Fenton family member. This adorable Autumn Gold youngster sports a heart-warming handpainted decoration and features Nancy Fenton's signature. Very limited quantities!
05057DU 4" Autumn Gold Fenton Foal ($45.00 U.S.)

Our "Autumn Night on Black Satin" vase was designed by Robin Spindler. The crispness of Autumn and the depth of night...captured forever in an entirely new decorative technique...airbrushed colors are masked and sandcarved to reveal the background.
Fewer than ten remain!
04558HC 6-1/2" Autumn Night on Black Satin Vase ($159.50 U.S.)
Just in time for Fall fom Fenton International. . . The Leaves Collection


The new Leaves collection from Fenton International is an eco-chic design made of wood with real tree leaves applied to the outside and lacquered for permanence. Other i
tems available in this collection include mirrors, nested boxes, pencil cups, and tissue box covers! Click here to view more Leaves Collection from Fenton International, featuring artistic handcrafted gifts from around the world.


90077 Nested Boxes - 2 Pc. Set in Black ($45.00 U.S.) and 90066 4" Pencil Cup in Burgundy($14.75 U.S.)
Fenton Fall 2008 Family Signing Events. . .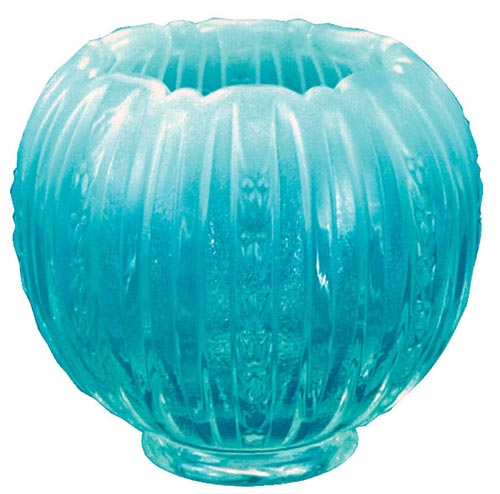 Fenton Fall 2008 Family Signing Events are getting underway. Visit a participating retailer and the guest member of the Fenton family will personally sign your exclusive piece and all Fenton purchases!
The Family Signing Event Exclusive is a 4" Fabergé Rose Bowl ($35.00 U.S.) in Blue Lagoon Opalescent - a new color for 2008! Click here to view the complete Event schedule and be sure to check back for updates!
Fenton Gift Shop Exclusives. . .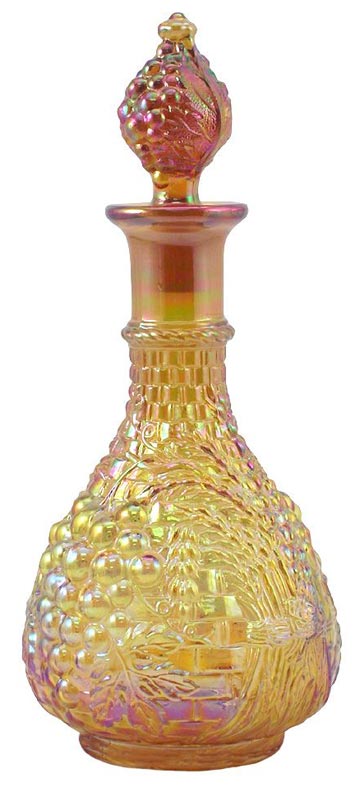 8-1/2'' Autumn Gold Satin Vase
$84.50

This stunning 8 1/2" Autumn Gold Satin Vase has been handpainted with lovely coral and maroon flowers and accents of green leaves and white miniature flowers.
12'' Autumn Gold Decanter
This gorgeous 12" Autumn Gold Grape Decanter was producted from an L.G.Wright mould and purchased by Fenton from Wright in 1999. Wright had moulds made based on old carnival glass patterns from Imperial and Dugan. Lots of old carnival glass motifs involved grapes! A real attention grabber when placed on a sideboard or hutch.