IN THIS ISSUE:
Gift Shop News

Fenton USA. . . Halloween

Gold Ruby Vases from
Fenton International

Clearance Corner

Preferred Seconds
FENTON GIFT SHOP NEWS
Only a few days remain!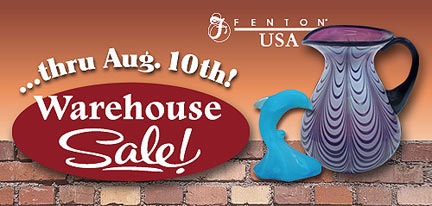 SPECIAL FENTON GIFT SHOP OFFERINGS!

DS848HP
3-1/2''
''Pilot'' Bear
$50.00
Buy Now!
Free Shipping on this item!
This adorable
3-1/2" "Pilot" Bear will certainly "fly" off our shelves... so hurry and get your Pilot Bear before they are "out of sight"! Proudly signed by the artist and inscribed with the Collectors' Showcase logo on the bottom.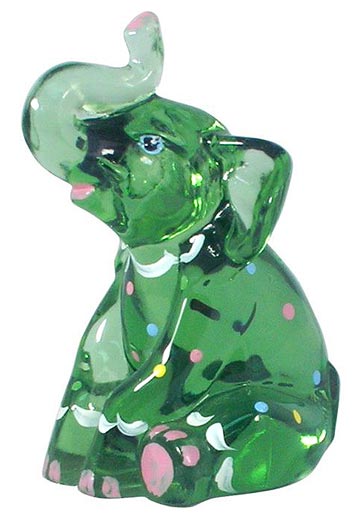 A5468HPZL
2-3/4''
Gift Shop Exclusive
Fern Green Handpainted Elephant $26.50
Buy Now!



Refreshing Fern Green glass hand-painted with a whimsical design makes this Elephant a real charmer. Don't miss adding this Gift Shop Exclusive to your collection!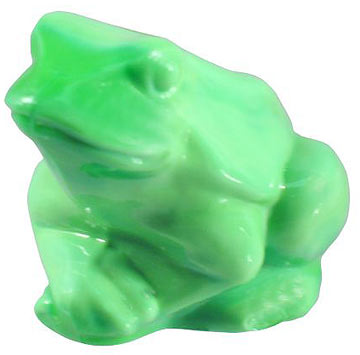 Z5274XE
2-1/2'' Chameleon Green Frog $27.50
Buy Now!


Created exclusively for the Fenton Gift Shop, this charming Chameleon Green Frog is "hop-ing" to become a prince in your home. The Chameleon Green glass features unique color variations that make each piece a one-of-a-kind creation!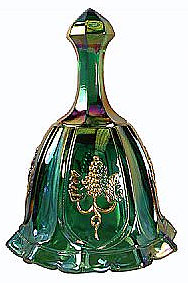 CV196OJ
6-1/4''
Emerald Green
Carnival Grape Bell $44.00
Buy Now!

This Emerald Green Carnival Grape Bell produced
for our Centennial bears the Fenton 100th logo. The deep shade of Emerald Green is sprayed with metallic salts while the glass is still hot. As the spray is applied, a rainbow of rich color emerges. The grapes and leaves are highlighted in gold and proudly signed by the individual artist who completes each piece.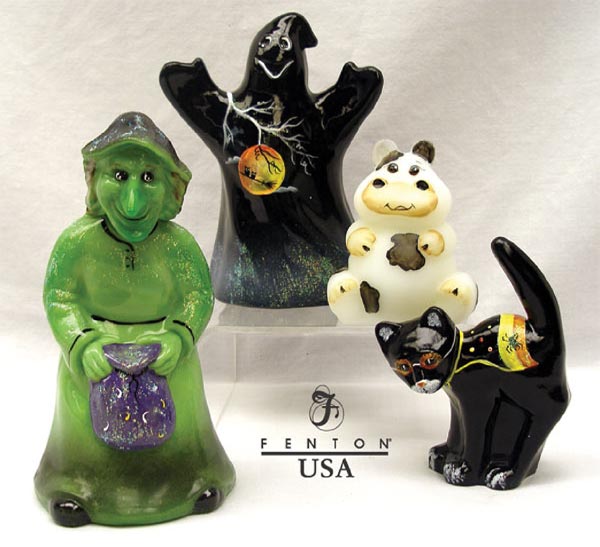 Fenton USA Presents. . . Halloween 2008!
In costume and ready for
a night of "trick or treat," Fenton glass for Halloween 2008 will make you smile with memories of a childhood "All Hallow's Eve" long since past.

The magic continues with
a collection of Fenton figurines that sparkle with meticulously handpainted details. Our whimsical figurines are sure to delight one and all. Each piece is handcrafted and signed with pride by the artist who completes it. Enjoy Halloween and fall entertaining with Fenton, friends and family.
5278 69 Night Owl 5-1/2" Ghost ($49.50); 5284 6Z Hattie 6-1/2" Witch ($55.00);
5063 FB Moo...ch 3" Hippo ($39.50) and 5291 BG Candy 4-1/2" Scaredy Cat ($39.50)

Gold Ruby Vases. . . from Fenton International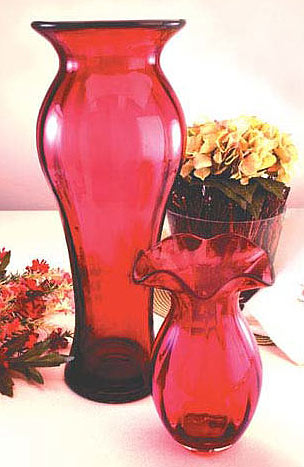 With or without flowers, our Gold Ruby vases will be an attractive addition to your home décor! As its name states, Gold Ruby glass is made with pure gold in the formula.
This highly requested color includes vases with new designs and a simple beauty that complements the rich color. Each Gold Ruby vase will bear the Fenton International Logo (shown in photo).
Fenton International features artistic handcrafted gifts from around the world. Click here to see more Gold Ruby and other glass items available from Fenton International.
91106 13" h. Gold Ruby Vase ($69.00)
and 91109 6-1/4" h. Gold Ruby Vase ($29.50)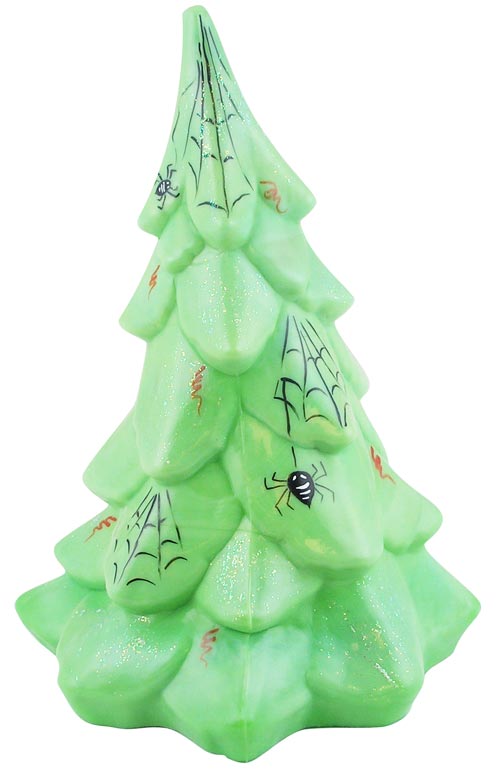 O Halloween Tree,
O Halloween Tree . . .

...How spidery are your branches! You'll want to add this Chameleon Green tree to your Halloween display this year!

Subtle color changes amidst the characteristic striations in our opaque Chameleon Green glass provide a perfect background for Fenton designer Michelle Kibbe's spiders and webs design.
05569I9 7" Halloween Tree ($49.50)

Visit Our Clearance Corner. . .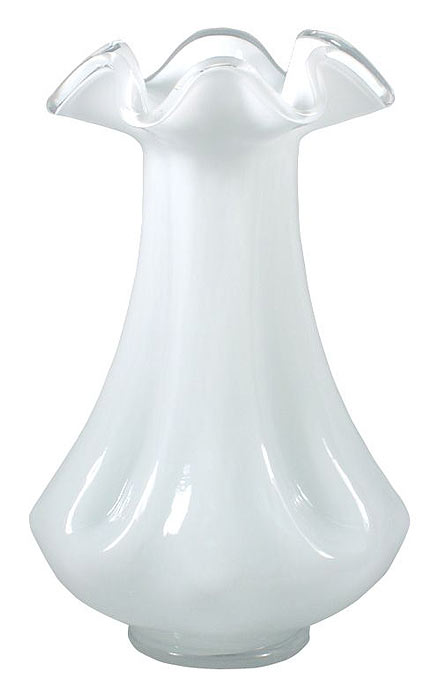 300018
8-3/4'' Milk Glass Vase with Silver Crest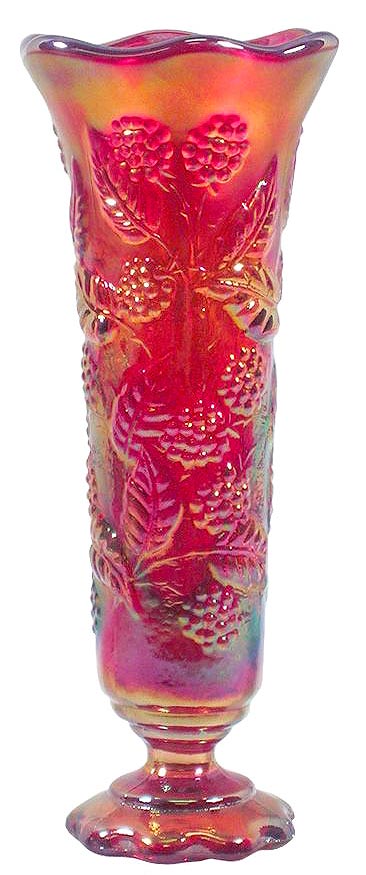 Original Price $71.50 now $46.25

Silver Crest has always been popular and this piece is a must for collectors! This 8-3/4" Milk Glass Vase with a crystal crest will add a touch of elegance to your collection.

213190
7-3/4'' Ruby Carnival
Raspberry Vase, $31.25
Preferred Second
This 7-3/4" Red Carnival Raspberry Vase will add charm and style to any home décor.
For questions or comments, please do not reply to this email. Instead, email: askfenton@fentonartglass.com. This email has been sent to you because you have agreed to receive offers and information from the Fenton Art Glass Company. We respect your privacy and do not sell your personal information. For details, please review our privacy policy.

How to unsubscribe: If you prefer not to receive offers or information from Fenton Art Glass, please use this page.

If you use a Challenge-Response system for email, please make certain that you can receive our email by adding askfentononline@fentonartglass.com to your Allow List. For specific instructions for major ISPs, click here.

The sender of this email is the Fenton Art Glass Co., 700 Elizabeth St., Williamstown, WV, 26187