IN THIS ISSUE:
Gift Shop News

Fenton USA. . .Burmese Angel

Blue Odyssey from
Fenton International

Fenton Auction

Ocean Fantasy

Gift Shop Christmas in July
FENTON GIFT SHOP NEWS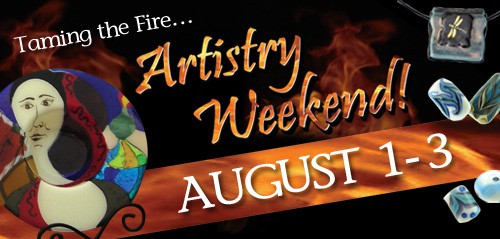 SPECIAL FENTON GIFT SHOP OFFERINGS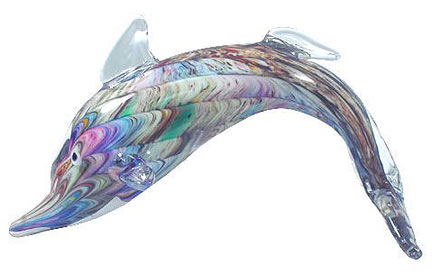 RS101 Fenton ''Angelo Rossi'' Dolphin
$150.00 Buy Now!
WOW. . .Make a splash at home
with Fenton! We recently discovered several of these fabulous Dolphins, all personally handmade by glass artisan Angelo Rossi when he was in residence at Fenton during 2003-04. Each is made with multi-colored frit encased in crystal, and the frit colors will vary somewhat. These Dolphins measure about 10" to 11" long, using a tape measure to go from the tip of the nose to the tip of the tail.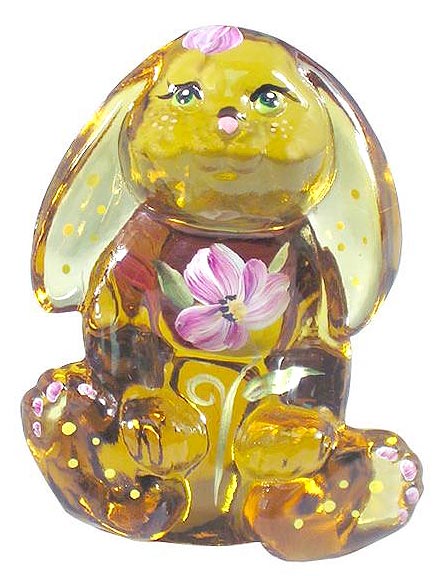 A5293HP1
3-1/2'' Fenton Gift Shop Autumn Gold Floral Bunny $23.75
Buy Now!



This cute "freckle faced" 3-1/2" Autumn Gold Lop-Eared Bunny has been handpainted with a lovely floral motif. Produced as a Gift Shop Exclusive, this is a perfect piece to introduce a young collector to the wonder of Fenton Glass.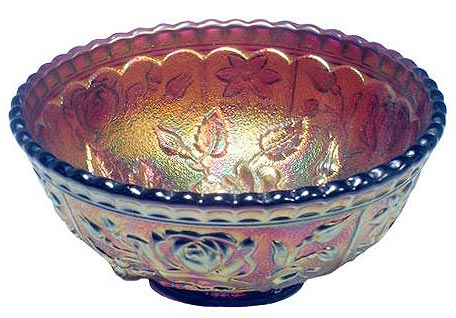 063474Q 2" Aubergine Marigold Nappy
$49.50 Buy Now!

This Aubergine Marigold Nappy is sprayed with metallic salts for a vivid iridescent effect. Carnival glass has been a Fenton hallmark since 1907.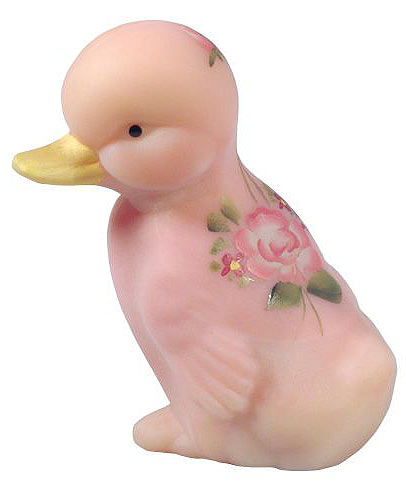 240004
3'' Burmese Duck with Red Rose
Original Price $50.00
now $40.00
Buy Now!

Fenton is all it's "quacked up"
to be! Produced as a Gift Shop Exclusive, this adorable Burmese Duck with handpainted rose design makes the perfect addition to any Fenton animal collection!
Fenton USA Presents. . . A Burmese Treasure
The 2008 Burmese Treasures Collection includes our Praying Angel which features a 22k gold halo and handpainted floral motif designed by Kim Barley.
Our Blushing Burmese brings this Angel to life with
a warm glow that results from pure gold in the formula. Each Angel is handpainted and signed by the artist. Whether you need a guardian angel or a keepsake gift for a special friend, a Fenton Angel is the perfect choice!

5014TT 6-1/2'' Burmese Treasures Angel ($79.50)

Blue Odyssey. . . from Fenton International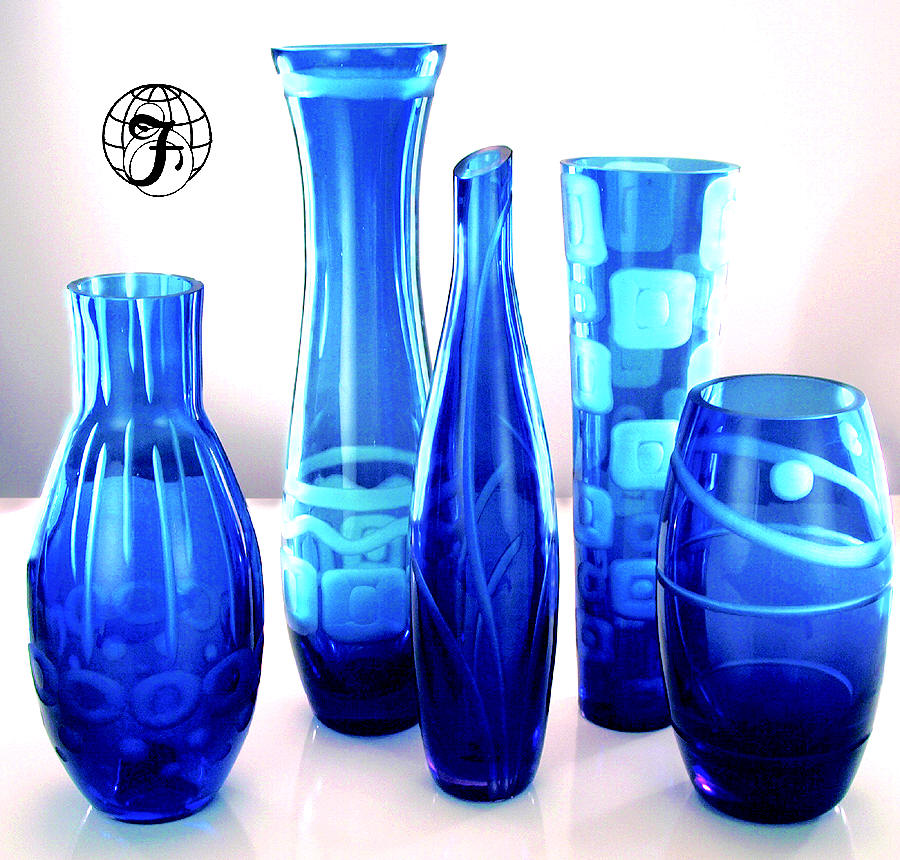 Fenton International, a division of Fenton Art Glass, has begun to market Blue Odyssey glass. These giftware items should be available in the Fall of 2008.

Blue Odyssey is made with a layer of deep blue glass which flows over a rich purple core to create the background for individual works of art. There are nine different vase shapes, each with a distinctive hand cut pattern created by Fenton designer Stacy Williams. "We have more than a century of design and color expertise, so we decided to use that expertise to become the premier supplier of colored glass from around the world," said Fenton Art Glass Company President George Fenton. Each piece will bear the Fenton International Logo (shown in photo above).

Fenton Auction August 4th (Note new location!)
The auction will be Monday, August 4 at the First United Methodist
Church in Williamstown, West Virginia (preview at 11 a.m., auction starts at noon Eastern time). We'll have 250 lots of great Fenton glass. For a list and pictures, visit: www.randyclarkauctions.com
An "Ocean Fantasy" . . .

Glass artisan Frank Workman continues to awe visitors at Fenton Art Glass. To create this dramatic "Ocean Fantasy" bowl, Frank combines opaque blue glass and black glass with crushed brown frit. Because it is free-formed, each bowl will vary in size. The end result does indeed remind one of the swirling waters of the ocean. Limited to 500 pieces. For more handcrafted creations from Frank Workman,
click here.
81911Q Ocean Fantasy 11'' dia. Bowl,
Limited to 500 pieces ($375.00)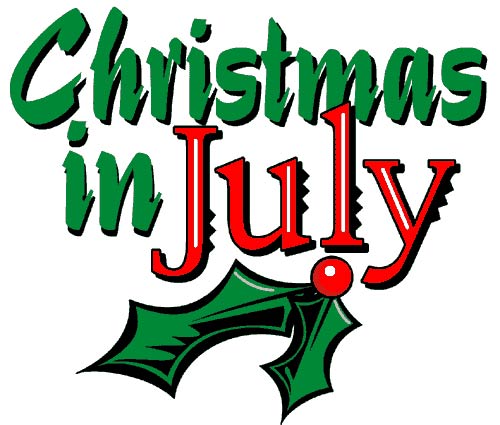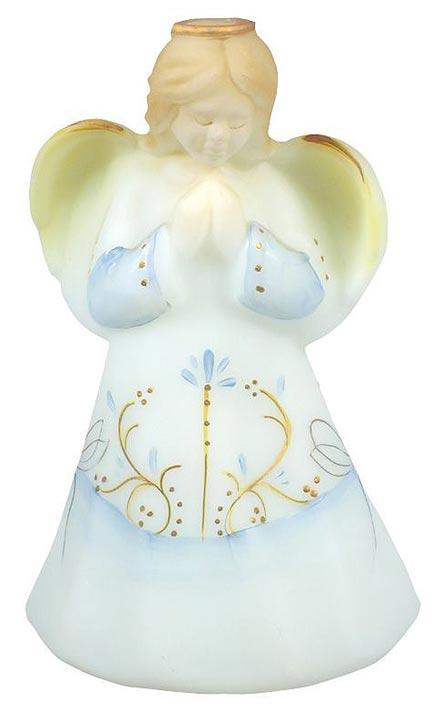 C5014 YT
6-1/2'' Opal Satin
Praying Angel, $65.00

This heavenly handpainted Opal Satin Praying Angel features a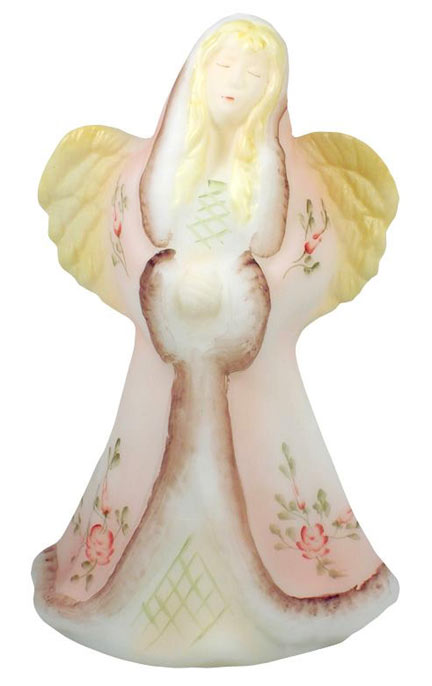 blue and gold scroll design, accented with 22k gold highlights on gown and halo. Numbered and limited to 1000 pieces.
C5053 XV
7-3/4'' Opal Satin
Snow Angel, $65.00
This beautiful Opal Satin Snow Angel has been handpainted with a coral coat, brown fur trim,
coral roses, pale yellow blushed wings and hair. Numbered and limited to 1000 pieces, this is a must for any angel collector.