IN THIS ISSUE:
Gift Shop News

Fenton USA. . . Lily Garden

Golden Stripe from
Fenton International

Fenton Auction

Tranquil Sea on Indigo Blue

Gift Shop Christmas in July
FENTON GIFT SHOP NEWS
SALE EXTENDED...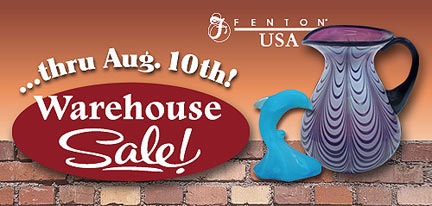 Once in a Lifetime Opportunity!
Make your own piece of glass at Fenton's Glassmaking School! Skilled Fenton craftsmen carefully guide you through the process, and you'll actually blow glass! There's more... you will take home a piece of glass you personally made. Perfect for the glass connoisseur or art enthusiast!
Only a few tickets remain!
Click here for details.
SPECIAL FENTON GIFT SHOP OFFERINGS!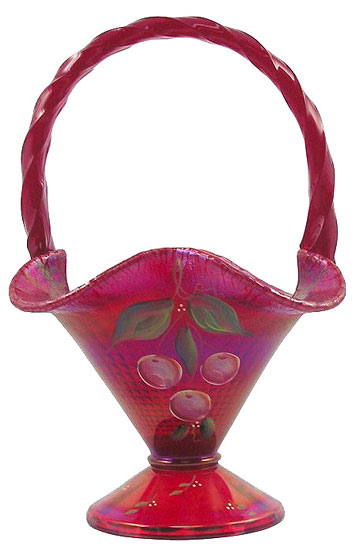 CV69225 9-1/2'' Handpainted Ruby Amberina Stretch Basket $99.75
Buy Now!

A simple but elegant design by
Kim Barley. Handpainted Cherries on rich Ruby Amberina Stretch glass make this basket a stunning addition to your collection. The intense glow of Fenton's furnaces is captured forever in the shimmering iridescence and luster inherent in the magic of Ruby Amberina Stretch.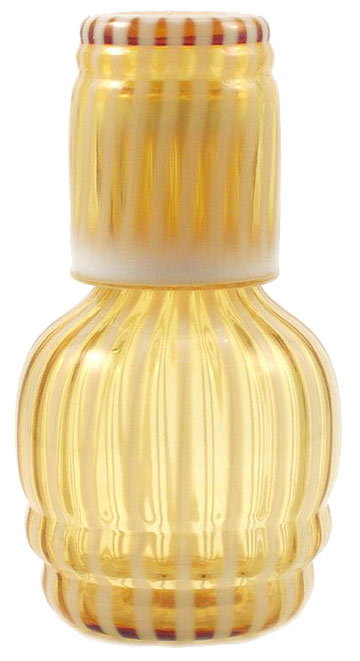 C3200AO 8'' Autumn Gold Opalescent Tumble Up $84.00, Buy Now!

Lovely and refreshing by your bedside! Our 8" Tumble Up in Autumn Gold Opalescent features a straight rib optic pattern and is inscribed with the signature of Shelly Fenton.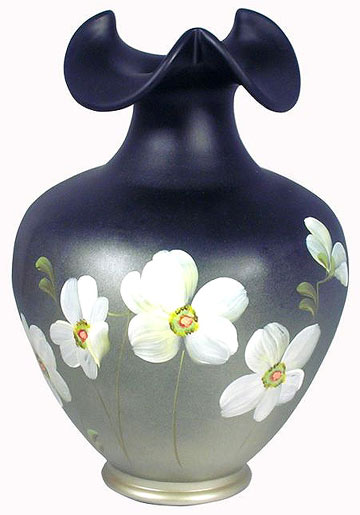 I4262HP3D
9'' Black Satin Vase with Metallic Airbrushing and Hand-painted Flowers, $80.00
Buy Now!



A great conversation piece! This black satin vase has been airbrushed with metallic paint and handpainted with a beautiful floral motif. Numbered and limited to 250 pieces.

IS295RU
12'' Dave Fetty Bubble Optic
Ruby Vase
$165.00
Buy Now!

This spectacular bubble optic vase (12" tall) from glass artisan Dave Fetty is rich ruby glass topped with a black glass ring. Embossed on the underside with Dave's personal stamp, this vase will really make a statement in your home.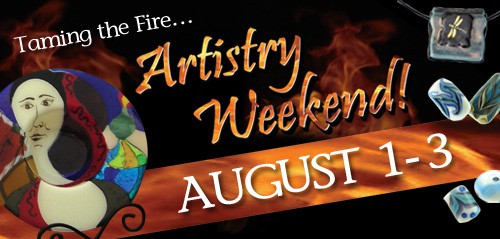 Fenton USA Presents. . . Lily Garden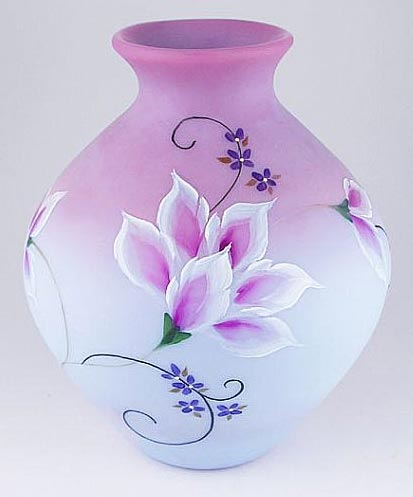 The soft pink in our Blue Burmese glass is the perfect complement to Kim Barley's stylized floral motif for this graceful 7-1/2" vase. This vase is limited to 750 pieces.
Pure gold in the formula creates the
soft pink blush. Fenton's Blue Burmese began in the 1980s when President
Frank M. Fenton worked closely with
our chemists to recapture famous heat-sensitive art glass colors of the late 19th century. Blue Burmese shares a close kinship with an opaque, heat-sensitive pink/blue color made by the Mt. Washington Glass Company of New Bedford, Massachussetts, in 1886. The inventor was Frederick Shirley, and the company designed paper labels featuring two different names, "Peach Skin" and "Peach Blow." For our 1984 Connoisseur Collection, Fenton produced a three-piece covered candy box in the ogee style. The color, described in our catalog as "pale blue struck with dusty pink highlights," was called Blue Burmese. The color and soft satin finish are remarkably similar to the Mt. Washington Peach Blow made nearly a century earlier.

Collectors just can't get enough of the Blue Burmese color. Like the Peach Blow of the 1880s, Fenton's Blue Burmese could be called a "craze"! It has since become one of the most collectible Fenton colors.
8808SN "Lily Garden" 7-1/2'' Blue Burmese Vase Limited to 750 pieces ($199.00)

Golden Stripe. . . from Fenton International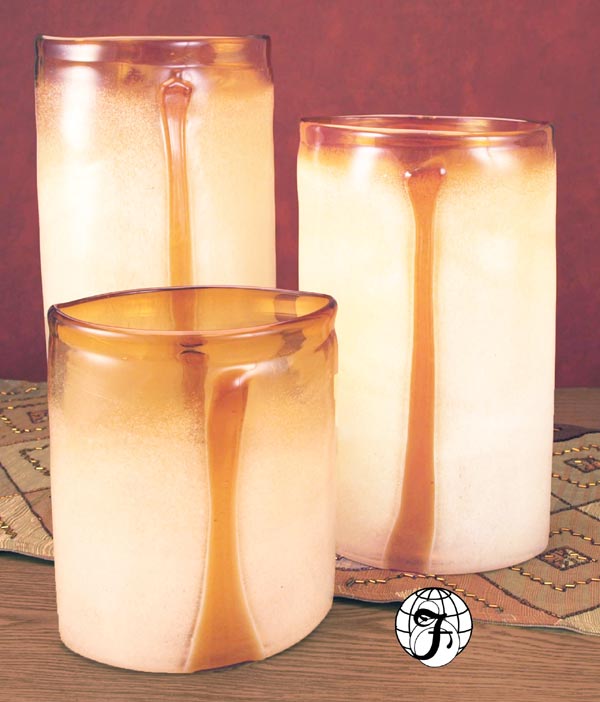 Golden Stripe is a new glass line from Fenton International for 2008. Each shape is both attractive and functional. A flowing ribbon of gold glass splits a snowy surface that can only be made by hand. Sleek silhouettes for the contemporary home, the Golden Stripe line includes a footed bowl and four vases.
For more than a century, Fenton has been known for its expertise as producers of fine quality handcrafted glass in color. The introduction of colored glass designs into Fenton International is a response to requests from many dealers to use our expertise to become the premier supplier of colored glass from around the world, as well as from America. Each piece will bear the Fenton International Logo (shown in photo above), and the production has been personally checked by a member of the Fenton staff. We will continue to produce fine collectible glass in America under the Fenton USA brand for our large contingent of Fenton collectors.

To view current Fenton International items, visit www.fentonartglass.com and click on the Fenton International links at the bottom of the page. Golden Stripe should be available to order online by the end of July.

Fenton Auction August 4th (Note new location!)
The auction will be Monday, August 4 at the First United Methodist
Church in Williamstown, West Virginia (preview at 11 a.m., auction starts at noon Eastern time). We'll have 250 lots of great Fenton glass. For a list and pictures, visit: www.randyclarkauctions.com
Our Cure for the Summertime Blues?
Try Our Tranquil Sea on Indigo Blue!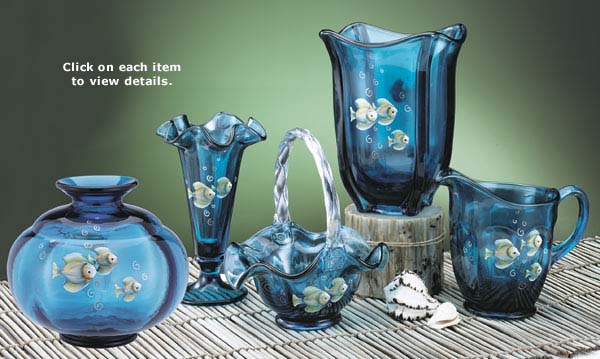 Designer Kim Barley describes herself as a "person who loves the water," and her fondness for representing nature with a fanciful touch can be seen in her handpainted Tranquil Sea decoration on Indigo Blue. Blue and Gold tones blend beautifully, and the "bubbles" add a note of whimsy. This collection also includes a Candy Box (42903U) and a 13" Vase (16993U), which are not shown here.

Our Indigo Blue is made with a unique combination of copper oxide and cobalt oxide. The result is a deep blue with the look of nature. There are more than 60 "blues" in Fenton's hundred-plus years of history, and just naming them all would more than fill this space! We're delighted with this addition to the Fenton blues!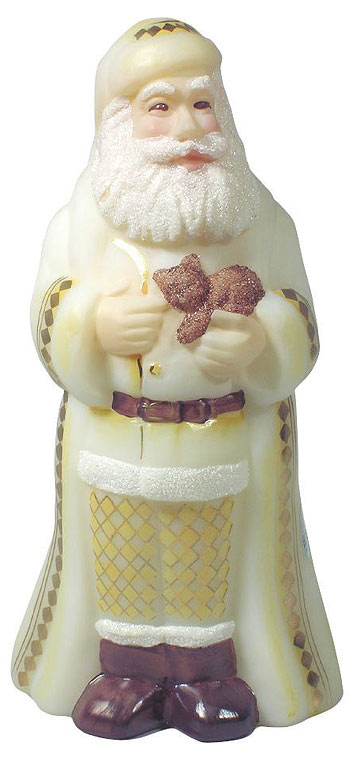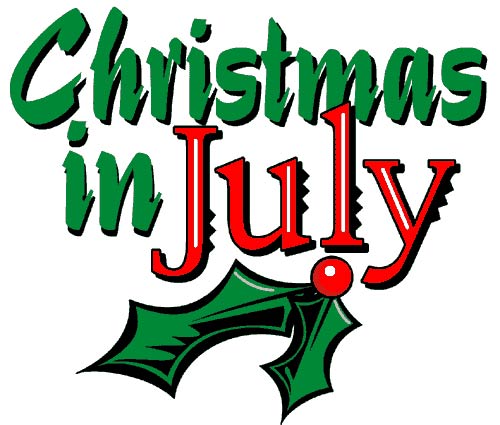 05249JN
8-1/2'' Golden Age Santa
on Ivory Satin $75.00

This "Golden Age" Ivory glass Santa is made from a mould designed by Jon Saffell and Robin Spindler created Santa's suit highlighted with 22k gold. Each Santa is numbered
and signed by the artist, so don't miss your opportunity to add this piece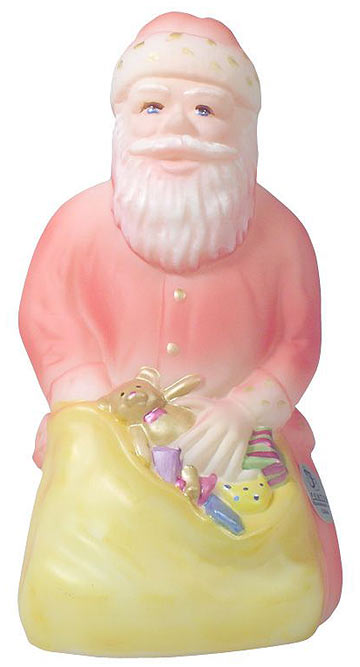 to your collection.
XS307HP
7'' Opal Satin Santa
Original price $85.00, now $63.75
Ho-Ho-Ho...another ever popular Santa mould designed by Jon Saffell. Handpainted on Opal Satin glass, this jolly Santa is ready to visit all good little girls and boys with his sack full of toys!