IN THIS ISSUE:
Gift Shop News

Fenton USA's Sky Blue

Gold Ruby Glass from
Fenton International

Paradise on Black Glass

Fenton Auction Update

Gift Shop Christmas in July!
FENTON GIFT SHOP NEWS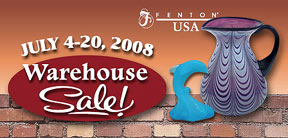 Once in a Lifetime Opportunity!
Make your own piece of glass at Fenton's Glassmaking School! Skilled Fenton craftsmen carefully guide you through the process, and you'll actually blow glass! There's more... you will take home a piece of glass you personally made. Perfect for the glass connoisseur or art enthusiast! Click here for details.
SPECIAL FENTON GIFT SHOP OFFERINGS!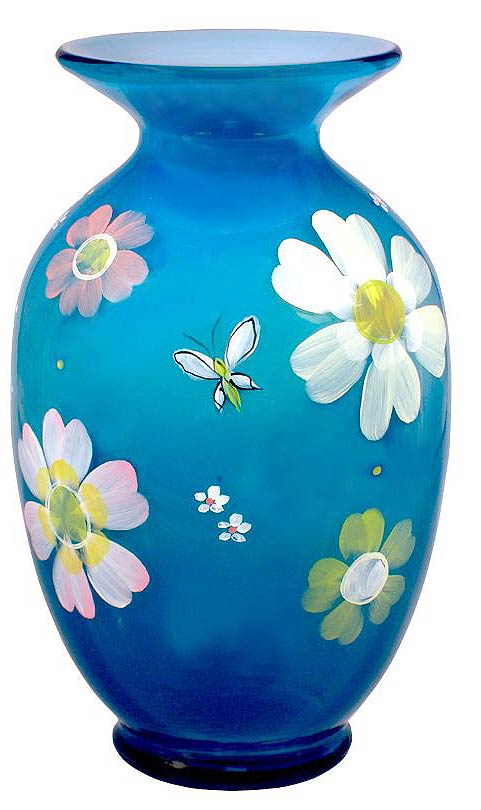 310002 9-1/2'' Indigo Blue Overlay Vase with Retro Flowers $119.50
Buy Now!

Liven up your home with Fenton! Designed by Gabriella Miller, this Indigo Blue Overlay Vase has a fresh and upbeat stylized
floral design.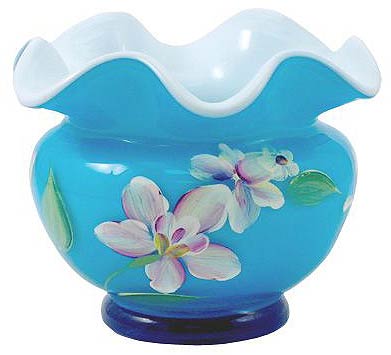 C5353LF 4-1/2'' Turquoise Overlay Handpainted Rose Bowl $83.50
Buy Now!
This charming 4-1/2" Turquoise Overlay Rose Bowl handpainted in a violet and white floral pattern will add style and grace to any décor.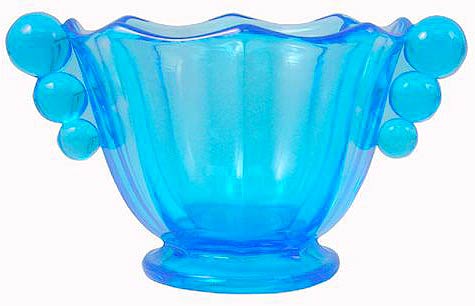 04388ML 6'' Fenton Gift Shop Azure Blue Nut Dish $37.50 Buy Now!
Ice cream...nuts...candies...potpourri
...tea lights...as is. The possibilities are endless!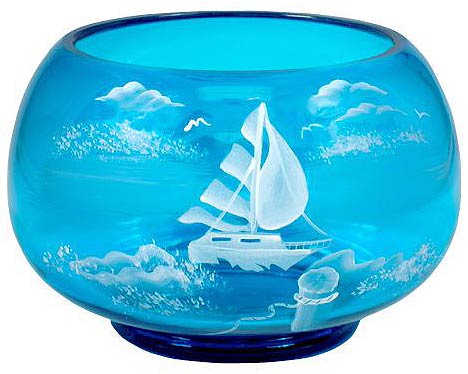 300015 4'' Turquoise Rose Bowl
with Sailboat Scene $73.50 Buy Now!
Original price $98.00 now $73.50 Escape to the sea of tranquility with this handpainted Turquoise Rose Bowl... proudly signed by the artist.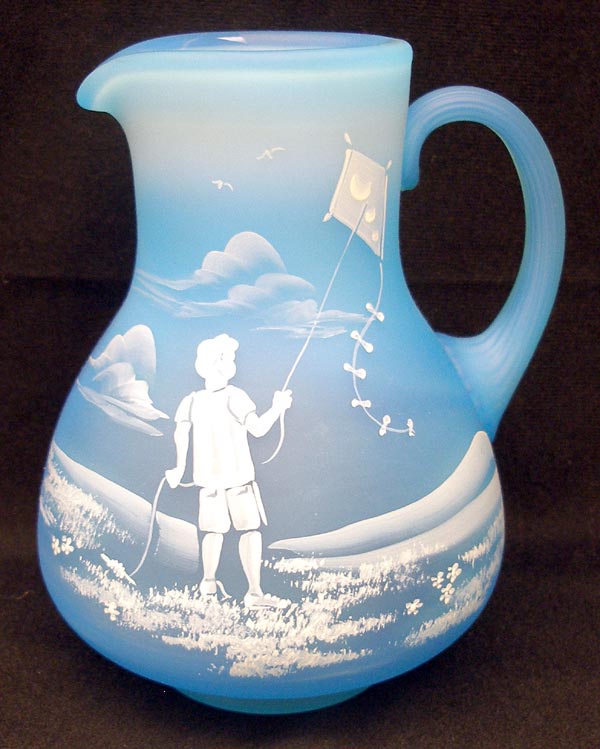 Fenton USA Presents. . .
A Clear Day for Flying
This Limited Edition Mary Gregory
7'' pitcher in our new Sky Blue color is called ''A Clear Day for Flying.'' As
the scene designed by Robin Spindler depicts, there's nothing better than a sky blue summer day to fly a kite!

The "Mary Gregory" painting style appeared more than 100 years ago as "Painted Cameo" and only the talented artists of Fenton continue this challenging decorating style. "Mary Gregory" describes glassware painted with white enamel resulting in raised details which create an image. 8143B8 Sky Blue 7'' Pitcher
''A Clear Day for Flying'' Limited to 1250 pieces ($119.50)
What's Coming. . . from Fenton International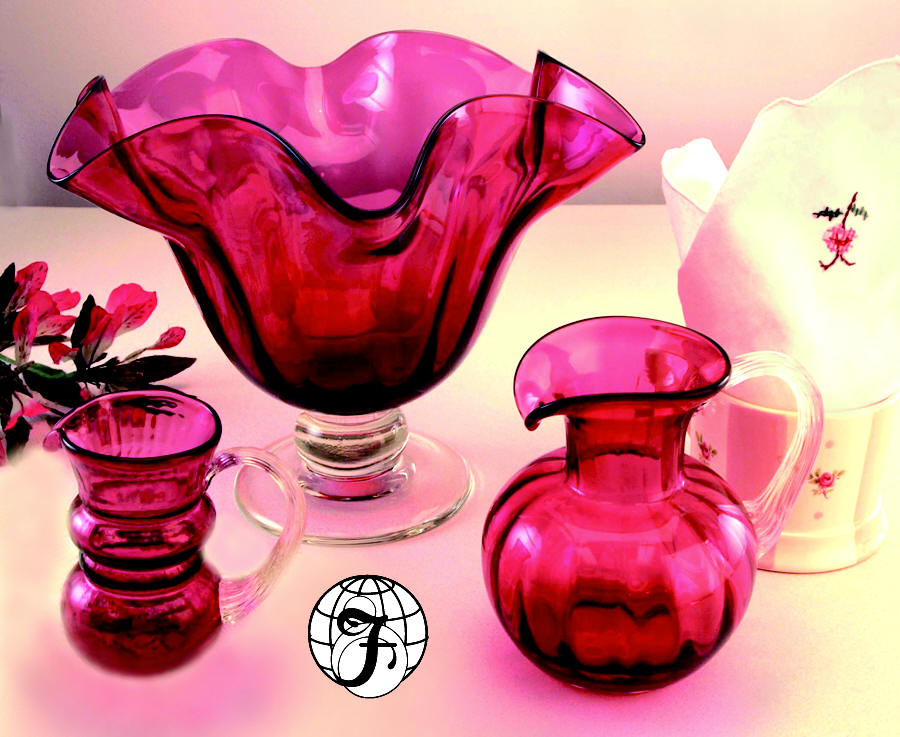 Fenton International has introduced new glass lines for 2008. For more than a century, Fenton has been known for its expertise as producers of fine quality handcrafted glass in color. The introduction of colored glass
designs into Fenton International is a response to many dealer requests to use our expertise to become the premier supplier of colored glass from around the world, as well as from America. Each piece will bear the Fenton International Logo (shown in photo above) and the production has been personally checked by a member of the Fenton staff.

We are especially excited about the Gold Ruby glass. This highly requested color has been done with all new designs and with a simple beauty that complements its rich color. We will continue to produce fine collectible glass in America under the Fenton USA brand for our large contingent of Fenton collectors.

To view current items available from Fenton International, please visit www.fentonartglass.com and click on the Fenton International links at the bottom of the page. Gold Ruby should be available to order online by the end of July.
Add a Touch of "Paradise" to Your Home!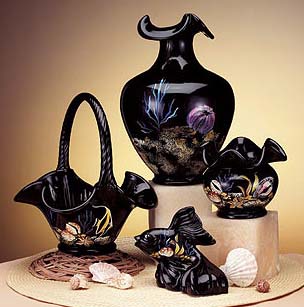 First offered in 2006,
the pieces in the Paradise Collection provide a tranquil,
yet exotic beauty for
your home décor.

Robin Spindler's love of travel inspired this scenic collection on lustrous Black glass. Each element is painstakingly handpainted with delicate shading so lifelike...they beg to be touched! The lush tropical flower and foliage carry us into Robin's world of
exotic beauty. Click each image to view details.


Fabulous Fenton Auction. . .
Monday, August 4 at the Fenton factory in Williamstown, West Virginia (preview at 11 a.m., auction starts at noon Eastern time). We'll have 250 lots of great Fenton glass − baskets, Burmese, color samples, designer samples, Favrene, Hobnail, Plum Opalescent, Rosalene, vases, whimsies, etc. For a complete listing and photos, visit: www.randyclarkauctions.com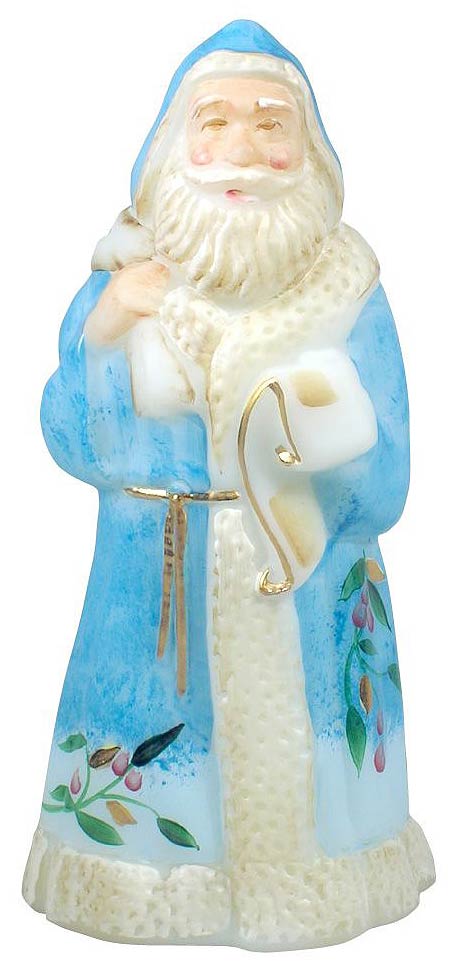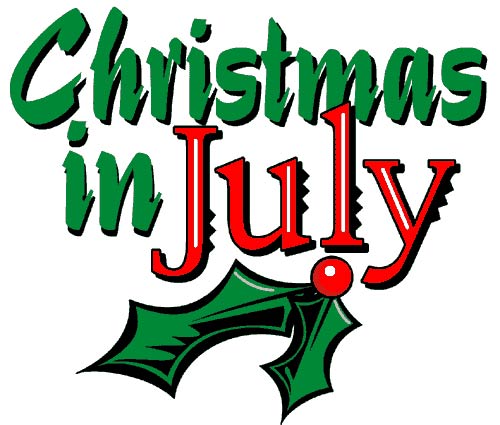 C5299 5A
8'' Opal Satin Santa $87.75

A must for any Santa collector! Handpainted with a teal blue robe, red berries and 22k gold highlights, this festive Opal Satin Santa is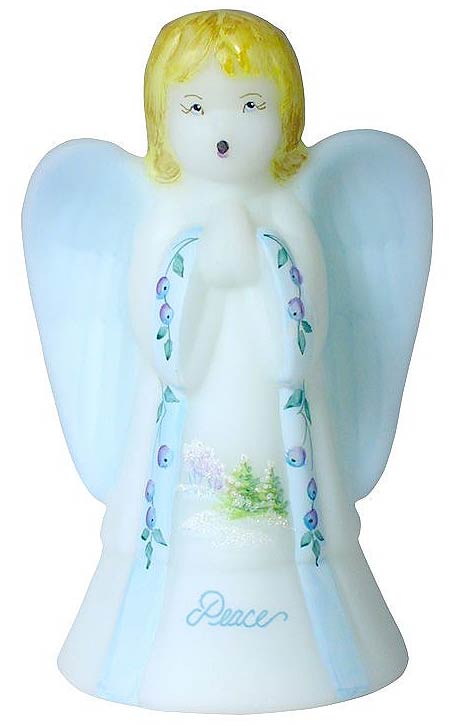 numbered and limited to 1000 pieces.
Z5014HP
6-1/2'' Fenton Gift Shop
Handpainted Opal Satin Angel $95.00

Our Gift Shop Featured Artist,
Susan Bryan, designed and handpainted this precious
Opal Satin angel... inspired by our 2006 Winter Wonderland Collection.