Once in a Lifetime Opportunity!
Make your own piece of glass at Fenton's Glassmaking School!
Perfect for any glass connoisseur
or art enthusiast!
Join skilled Fenton artisans and experience the various skills of
glassmaking. This 3-1/2 hour "school" begins with safety and skills orientation and continues with "hands-on" crafting of molten glass on our Hot Metal floor. Fenton craftsmen will carefully guide you through the most difficult glassmaking skills such as creating basket handles and crafting the desirable "hanging hearts." You'll actually blow glass! There's more - you will take home a piece of glass you personally made. (NOTE: Students must be 18 or older to participate.)
Due to the personal hands-on attention this event requires, we can only offer 14 tickets per school, so purchase your tickets early.

Glassmaking School #1
July 31, 2008: 6 a.m. - 9:30 a.m.
Glassmaking School #2
Aug 5, 2008: 6 a.m. - 9:30 a.m.
Only $ 250 per student - per school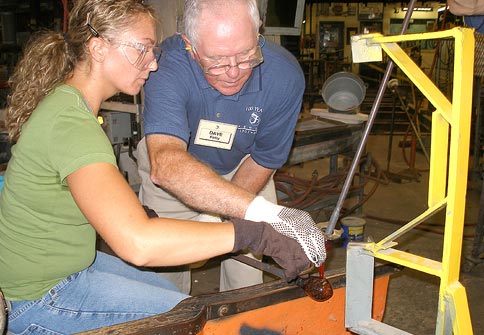 Glassmaking Student Lisa Johnson with Fenton Master Craftsman Dave Fetty
Planning to visit our area this summer?
If you are planning a trip to the Williamstown, West Virginia area this summer, we invite you to visit our factory! We also want to provide you with a list of other area events for general interest and those specifically targeted at glass collectors.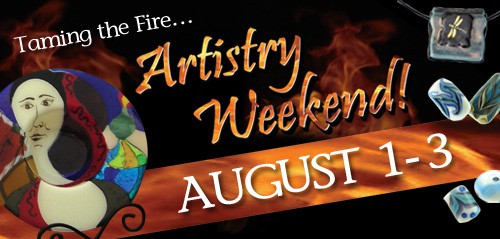 2008 Summer Schedule of Events
Please click on the link for each event for more information.
● July 4-20 Fenton Warehouse Sale
● July 11-13 Marietta, Ohio Riverfront Roar (Powerboat Superleague Racing)
● July 30-August 1 Stretch Glass Society Convention
● August 1-3 Artistry Weekend, Fenton factory, Williamstown
● August 4 Fenton Auction
● August 2-4 National Fenton Glass Society, Inc. Convention
● August 5-8 Fenton Art Glass Collectors of America, Inc. Convention
● August 8-10 MOVP Jr Players "Toy Camp" (family musical)
● August 29-September 1 Fenton Labor Day Sale & Signing Events
● September 5-7 Ohio River Sternwheel Festival
For more information on events in our area, please click on either logo below.
For questions or comments, please do not reply to this email. Instead, email: askfenton@fentonartglass.com. This email has been sent to you because you have agreed to receive offers and information from the Fenton Art Glass Company. We respect your privacy and do not sell your personal information. For details, please review our privacy policy.

How to unsubscribe: If you prefer not to receive offers or information from Fenton Art Glass, please use this page.

If you use a Challenge-Response system for email, please make certain that you can receive our email by adding askfentononline@fentonartglass.com to your Allow List. For specific instructions for major ISPs, click here.

The sender of this email is the Fenton Art Glass Co., 700 Elizabeth St., Williamstown, WV, 26187