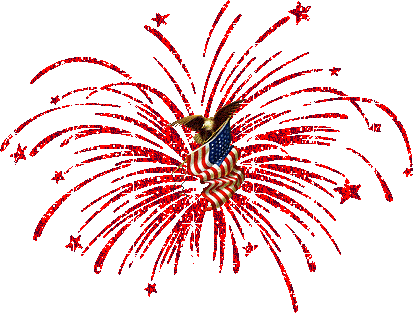 IN THIS ISSUE:
Gift Shop News

Marigold Carnival on Ruby

Fenton International Fireworks

Chameleon Green Rooster Box

Fenton Auction

Clearance Corner

Preferred Seconds
FENTON GIFT SHOP NEWS
Starts Tomorrow...
in Williamstown, WV!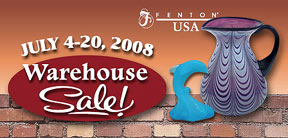 SPECIAL FENTON GIFT SHOP OFFERINGS!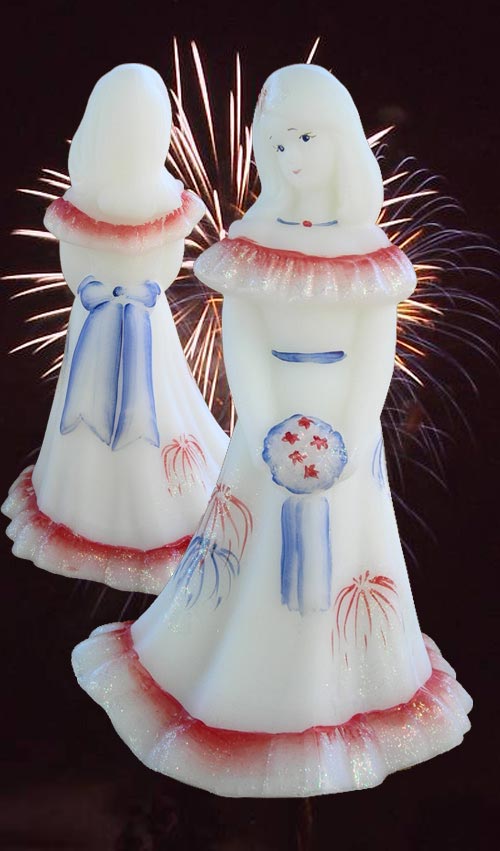 Z5228HPB 7'' Patriotic Doll
$61.25, Buy Now!
Another Star Spangled Gift Shop Exclusive! Introducing our hand- painted "4th of July" bridesmaid doll...the second in a series of
four holiday offerings. Made in the U.S.A. and proudly signed by the artist, this white opal satin collectible will sparkle in your home for many years to come!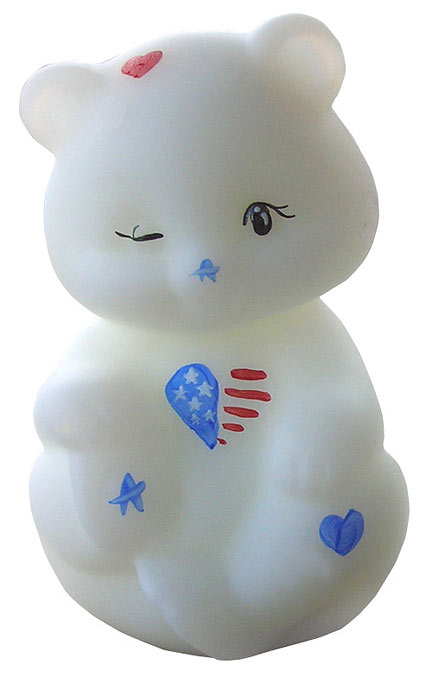 DS794HP1
3-1/2'' White Opal Satin July 4th Bear, $45.00, Buy Now!
Free Shipping
on this item!
Proudly display this patriotic
3-1/2" July 4th Bear. Signed by the artist and inscribed with Collectors' Showcase logo on the bottom.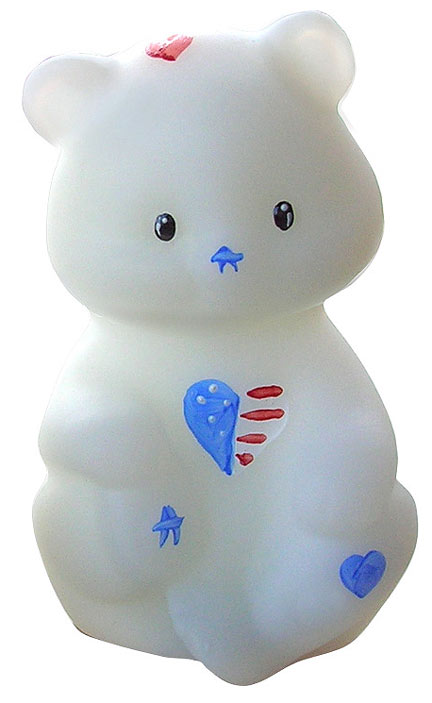 DS794HP1
2-3/4'' White Opal Satin July 4th Bear $35.00, Buy Now!
Free Shipping
on this item!
Proudly display this patriotic
2-3/4" July 4th Bear. Signed by the artist and inscribed with Collectors' Showcase logo on the bottom.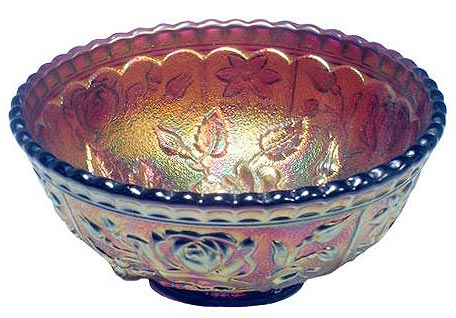 063474Q
2'' Aubergine Marigold Nappy $49.50
Buy Now!

This Aubergine Marigold Nappy is sprayed with metallic salts for a vivid iridescent effect. Carnival glass has been a Fenton hallmark since 1907.
Once in a Lifetime Opportunity!
Make a piece of glass at Fenton's Glassmaking School! Skilled Fenton craftsmen guide you through the process and you take home a piece of glass you made. Click here for details.
Happy July 4th from All of Us
at Fenton!
Fenton USA Presents. . .
Marigold Carnival
on Ruby

09188RC Marigold Carnival on Ruby
7-1/4'' Tobacco Jar
($159.00 U.S.)
First introduced in 1907, Fenton′s "iridescent ware″ as it was called then, was a great success and continues to be eagerly sought by collectors. We've improved much of the original chemistry and iridizing techniques since 1907. The special spray of metallic salts used while the glass is very hot is the secret to our Carnival glass. We continue to be amazed at the resulting rainbow of colors.
This Tobacco Jar, in the historic Grape and Cable pattern, is sure to become an heirloom of the future. Click here to see more 2008 items.


Fireworks. . . from Fenton International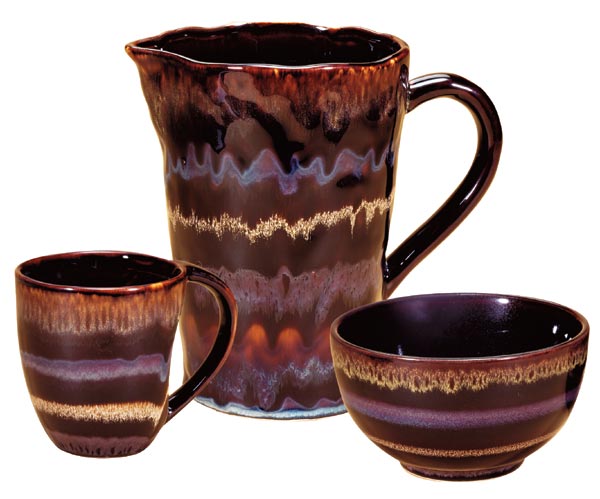 What an appropriate name for this holiday weekend! Like colorful minerals drawn from the earth, our Fireworks collection from Fenton International glows with natural beauty.
Three kiln firings are required to achieve the artistic blend of color. Reactive glazing separates the colors into droplets of texture, while the final glaze ensures safety in use. This unique collection fits casual tabletop trends everywhere. Fenton International features artistic handcrafted gifts from around the world. Click here to view more items in our Fireworks and other ceramic collections.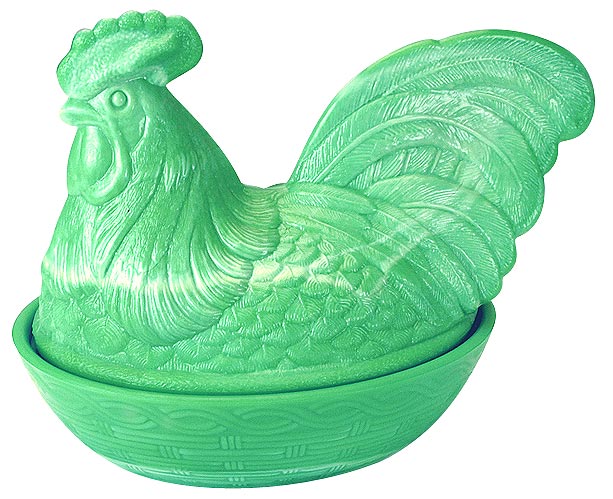 You'll Be Crowing
With Delight!

This new Rooster Box in our new Chameleon Green color will make you want to "crow" with delight! The opaque Chameleon Green glass features subtle color changes amidst the characteristic striations of this interesting hue. Items in this hue are also available decorated (Copper Leaf on Chameleon Green). To see more Chameleon Green, click here.
4680XE 8-1/2'' Rooster Covered Box ($69.50)
Fenton Auction August 4!
An auction of Fenton Art Glass will be held at the factory in Williamstown on Monday, August 4. The auction begins at Noon EDT with a preview at 11 a.m. Light lunch will also be available. For an auction preview, please visit www.randyclarkauctions.com
300007
5-1/4'' Fenton Gift Shop Grape motif Fairy Light
Original price $57.50, now $41.00
This Fairy Light with a lovely handpainted grape motif will add a warm touch to your home and a delightful welcome for guests.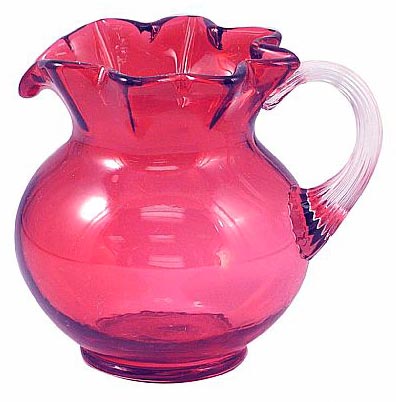 202202
4-1/2''
Cranberry
Pitcher $44.00

Preferred Second - This 4-1/2" Cranberry pitcher with crystal handle will be a perfect accompaniment to any Cranberry collection.